Ballerina:
The Life and Work of
Galina Ulanova
Anna Ilupina / 1965
Provident Publishing Co. / ASIN: B0006E2COM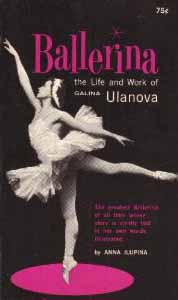 A slim and rather slick volume on the life and work of famed Russian ballerina
Galina Ulanova, this book was published at a time when the Cold War was still
very chilly and most of us didn't get to see the Russian dancers in person.
Nureyev had only recently defected to the West and become a major media star
and the KGB were guarding their preciously-trained dancers like diamonds.
In the case of Ulanova, it would seem from the book they had no problems;
she is made out to be the most perfect and loyal Socialist artist of her time.
Always faithfully doing her work-outs even during summer vacations as her
girlfriends froliced out in the sunshine, she comes to see her hard work
pay off when she becomes a prima ballerina and is able to live - alone - in a
nice apartment. She also won the USSR's highest award, the Lenin Prize.
Some interesting, archival film footage still exists and I've watched snippets of
Swan Lake, etc. on YouTube, but for those of us raised with the more
ethereal image of a dancer her solid, Slavic, 1950's style "Ballerina" will
unfortunately only bring to mind one thing: Les Ballets Trockadero de Monte Carlo.
---
---