Dear Rogue:
A Biography of the American Baritone Lawrence Tibbett
Hertzel Weinstat and Bert Wechsler / 1996
Amadeus Press / 1574670085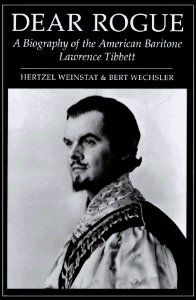 Another one of those heartbreaking books about a talented-but-doomed megastar.
I knew very little about Lawrence Tibbett (not being a huge opera fan) but by
the time I'd gotten half-way through this book I was on ITunes, downloading
everything I could find. Yes, like every other woman he ever met, I fell in love
with him -- knowing he was an alcoholic, knowing he was beyond saving, even
knowing he was dead... Lawrence Tibbett still casts a spell that defies time.
---
dimensions: 9.1 x 5.9 x 1.1 in / 1.5 lb / 283 pages
---
---