The Good Life
Tony Bennett / 1998
Pocket Books / 0671024698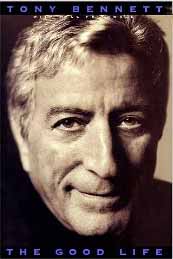 First of all - thank you, Tony, for including an index. Especially since your uncle was in vaudeville!
And thank you for remembering to include memories of all the people who helped you along the way --
especially the back-up musicians who usually never get their names mentioned. It shows a lot of class
that you felt obliged to tell them how sorry you were when Columbia left their names off the album liner
notes even though it wasn't your fault. And how did you manage to never really say a bad word about anybody
even when it was obvious they were breaking your heart and ruining your career? Class, that's the word.
I saw Tony Bennett perform at the Hollywood Bowl just after "Steppin' Out" became a big hit. Amazing.
My husband and I were "middle-aged grad students" at UCLA at the time so we were sitting in the cheap seats
(under the trees) but Tony seemed to be singing directly to us. This book is like that evening, a joy.
---
dimensions: 9.4 x 6.4 x 1.3 in / weight: 1.6 lb / volume: 304 pages
---
---