Josh
My Up and Down, In and Out Life
Joshua Logan / 1977
Dell Publishing / ISBN-10: 0440146089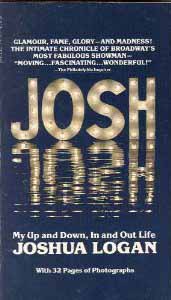 Annie Get Your Gun, South Pacific, Mr. Roberts, etc. etc.
And, imagine, all that time he was bipolar.
(Like so many artists and performers. We are a multitude.)
It sounds so obvious to our world of mandatory Prozac for all artistic types,
but in the days when Josh Logan was the top director of Broadway shows, having
a "mental problem" or - God forbid! - a "Breakdown!" meant long stays in hospitals,
brutal treatment and the certain loss of your place in society.
At best you might respond to Lithium, as Logan eventually did. It dulled his senses
and caused him to gain weight, but at last he could explain to everyone the demons
he'd been fighting all those years.
The ones that made him self-medicate on booze and display such obnoxious behavior.
But the work!
During one of his very worst times he created "Happy Talk."
---
dimensions: 7 x 4.3 x 0.8 inches / weight: 8.8 ounces / volume: 330 pages
---
---