On with the Show!
The First Century of Show Business in America
Robert C. Toll / 1976
Oxford University Press, USA / 1st Edition edition / ISBN 019502057X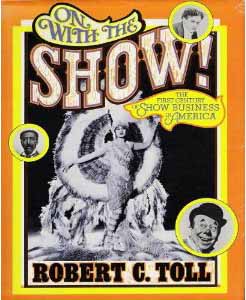 From P.T. Barnum to the overwhelming popularity of minstrel shows and
then on to the Glory of the American Girl as pictured by Flo Zeifeld,
the theater would never again be as popular or control the fashions and
tastes of this country as it did in the late years of the 18th century
through the early years of the 20th.
First moving pictures began stealing the audiences, the "talkies" and
finally television. But this book will remind you of the wonderful days
when the big call was always "On With the Show"!
---
dimensions: 11" x 8.4" x 1.3" / weight: 3 lb.s / volume: 374 pages
---
---