The Other Side of Oz

Buddy Ebsen / 1993
Donovan Publishing / 1880538083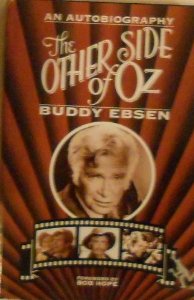 A delightful autobiography with a lot about vaudeville, because that's how Buddy Ebsen got started.
Like Fred Astaire, he and his sister had a singing-dancing act that could stop a show -- even when
a resentful star objected to a couple of kids reaping the glory. But they were that good... so good
that Hollywood came calling. His sister, who was married to a world-famous conductor, lost her contract
and returned to New York to be a wife. Buddy stayed on to star with Shirley Temple and Judy Garland.
Once, during a slow spot in his career, an agent advised him to "retire gracefully" -- that his time
as a star was obviously over. An allergic reaction to the make-up for the Tin Woodsman in The Wizard of Oz
put him in the hospital, and later - recovered - there seemed to be nothing on the horizon. Shocked and ashamed,
Buddy refused to take the advice. Luckily, television was waiting and before he knew it he was in Disney's
Davy Crockett series, to be followed closely by the hugely successful Beverly Hillbillies and
Barnaby Jones. By that time the agent had long since "retired gracefully".... to Malibu.
Buddy Ebsen died in 2003. Knowing that as you read this doesn't lessen your enjoyment because if ever a man had
a full and interesting life, Buddy did. At the time he finished writing this he was still performing, live, in Branson.
Performing was what he loved, plus oil painting and sailing. He died at 95 and his ashes were scattered at sea.
(As usual, my one complaint is that there is NO INDEX, so with all these wonderful references to old shows and theatres,
will I ever be able to match them up again when a stray program comes my way and I need information? But nitpicking...)
---
dimensions: 9.1 x 6.1 x 1.1 in / weight: 2 lb / volume: 288 pages
---
---