Queen of Vaudeville:
The Story of Eva Tanguay
Andrew L. Erdman / 2012
Cornell University Press / ISBN 0801449707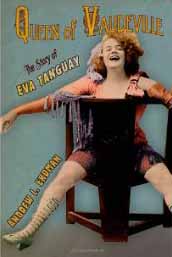 I'll have to give more serious consideration to what I call a "rave" review,
lest I steal from others more worthy and better-known ("two thumbs up!")
or simply repeat the age-old clichés ("a smash!, had them in the aisles!").
Awarding 1 to 5 (or ten) stars has been done, so I think my merit system
should be based on something completely meaningful that everyone in the
business would understand and respect -- I will use the "Tanguay."
It may seem a trifle self-serving to begin this rating method on a book about
the person who inspired it (Eva Tanguay) and immediately awarding it the
highest rating (five "Tanguays"), but the situation is unavoidable. The book
really is that good and I will not be deterred by a fear of false impropriety.
Author Andrew L. Erdman points out that - although Eva's closest descendents
in style became the "Diva" line, beginning with Mae West and running through gals
like Cher, Madonna and Lady Gaga, Eva herself was an anomaly. Luck for her
several things happened to make the times she lived capable of taking her her to their
hearts and not burning her at the stake, as they might have in a not-so-distant past.
Female suffrage had already begun its work toward getting the vote for women.
With people traveling to Europe and seeing performers at the Lido in Paris, they
came home more accepting of a little sexpot in their own back yard. Then -- the
biggest jackpot of them all -- she found a song that would be both her calling card
and her cash cow for years. A song that would come to define who she was.
Of course I'm talking about "I Don't Care," a song written for The Sambo Girl
by Jean Lennox, a newspaperwoman and Harry O. Sutton, a Tin Pan Alley songsmith.
They'd never get so lucky again with a song, but Eva became the "I Don't Care' Girl",
doing endless encores for the twenty-five years as her career flew up, then finally fell.
---
(This book was a gift, so a special "Thank You" goes to Tom Kinnee of the Butte College Drama Dept.)
---
dimensions: 6.1 x 1 x 9.2 in / weight: 1.8 lb / volume: 320 pages
---
---