Quick, Before The Music Stops:
How Ballroom Dancing Saved My Life
Janet Carlson
Broadway / ISBN 076792682X (2008)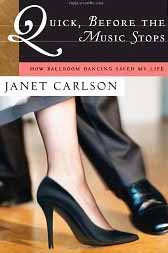 Once upon a time a young dancer gave up her career, like many
young dancers had before her, to marry and raise a family. And,
like nearly every single one, she found she missed the "music and
the mirrors." Dance has a powerful siren call.
And so the not-quite-so-young dancer found herself back in a studio.
But that's really only the beginning of the story. You have to read
the book to see how it all "saved her life"!
---
dimensions: 5.8 x 1 x 9 inches / weight: 13.6 ounces / volume: 272 pages
---