Theatres of San Francisco
Jack Tillmany / 2005
Arcadia Publishing / 0738530204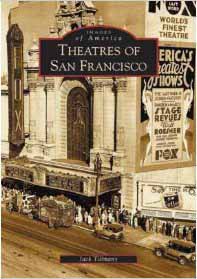 It's the same story we all cringe over... lovely, ornate old theatres are razed and replaced with ticky-tacky
commercial sites that won't last a generation. This is progress? We look at the beautiful, sepia-toned photos
of the original facades, sweeping stairways, awe-inspiring ceilings and proscenium arches... and we weep.
Jack Tillmany has more of a right than most of us -- he once owned the Gateway Cinema in San Francisco and has
carefully preserved vintage photos over the years of both his theatre and others in his city. For this we all owe
him a great debt. I was a child in the late 1950s and early 60s when my mother and big brother would take me to
"The City" (and that meant only one place - San Francisco) but I remember some of these houses. Little did I
know how soon they'd be gone. To me they seemed like they had been and would be there forever.
---
dimensions: 0.4 x 6.5 x 9 in / weight: 10.4 / volume: 128 pages
---
---