Your Face Looks Familar...
How to Get Ahead as a Working Actor
Michael Bofshever / 2005
Heinemann Drama /ISBN 0325007632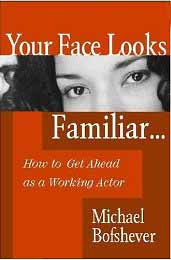 Michael Bofshever has a story to tell, and it's an all-too familiar one. A love of theatre leads to
a drama major in college, which leads to years of frustration and rejection after college. (Not to
mention living in 5th-floor walk-ups, finding any kind of job to pay the rent, etc. etc.)

I remember reading once about a star who said whenever anyone asked her about a life in the theatre
she would tell them, "Don't do it," knowing if they listened to her they were never meant for the life.
But if their desire for the stage was so strong that nothing would stop them, she knew she was
speaking to one of the "chosen" and her warning could do no harm.
Mr. Bofshever gives the benefit of his long experience to those of the "chosen" who still have the long
road ahead of them. May the wind be always at their backs...
---
dimensions: 9 x 6 x 0.3 inches / weight: 8.8 ounces / volume: 176 pages
---
---