A Fine & Private Place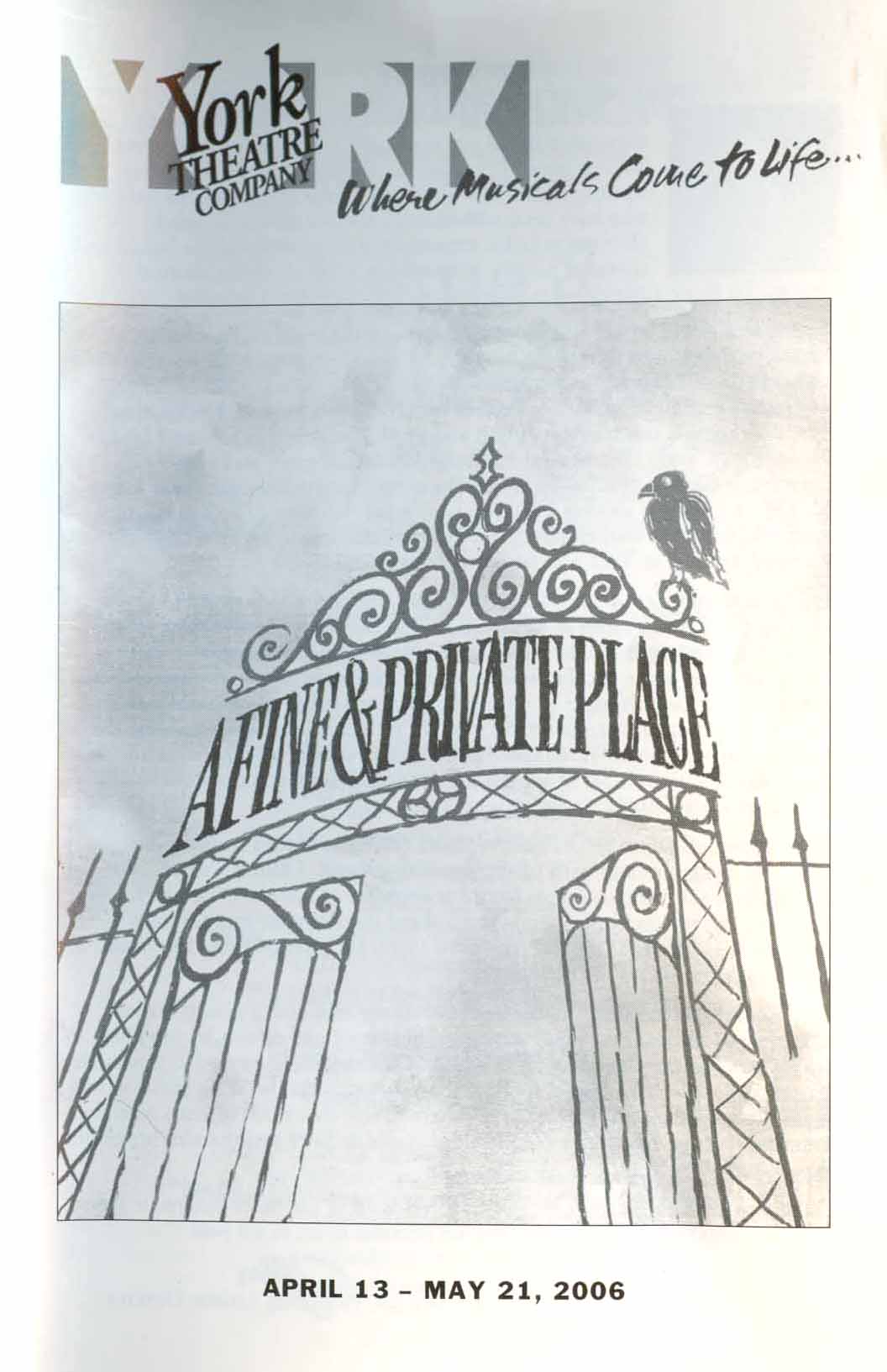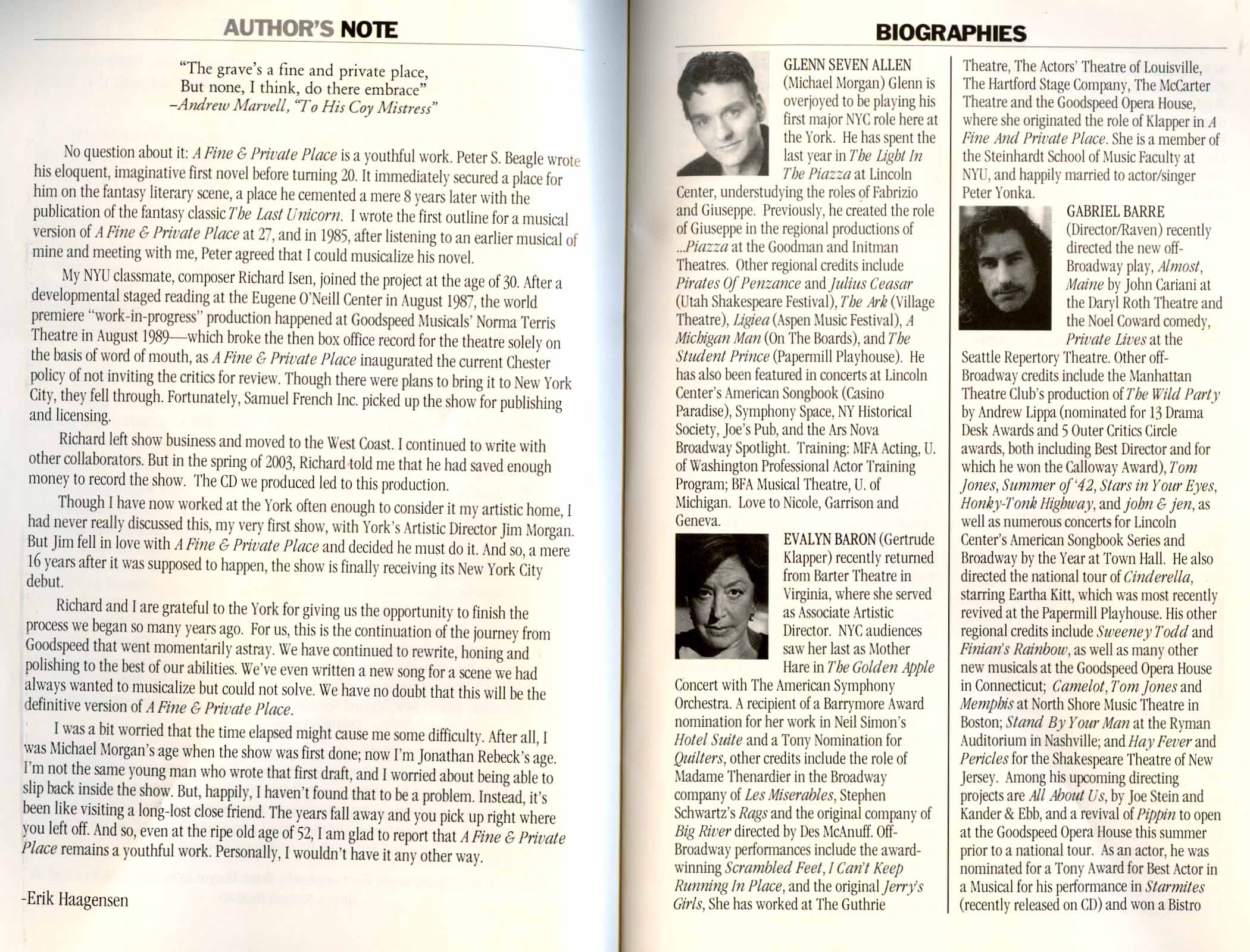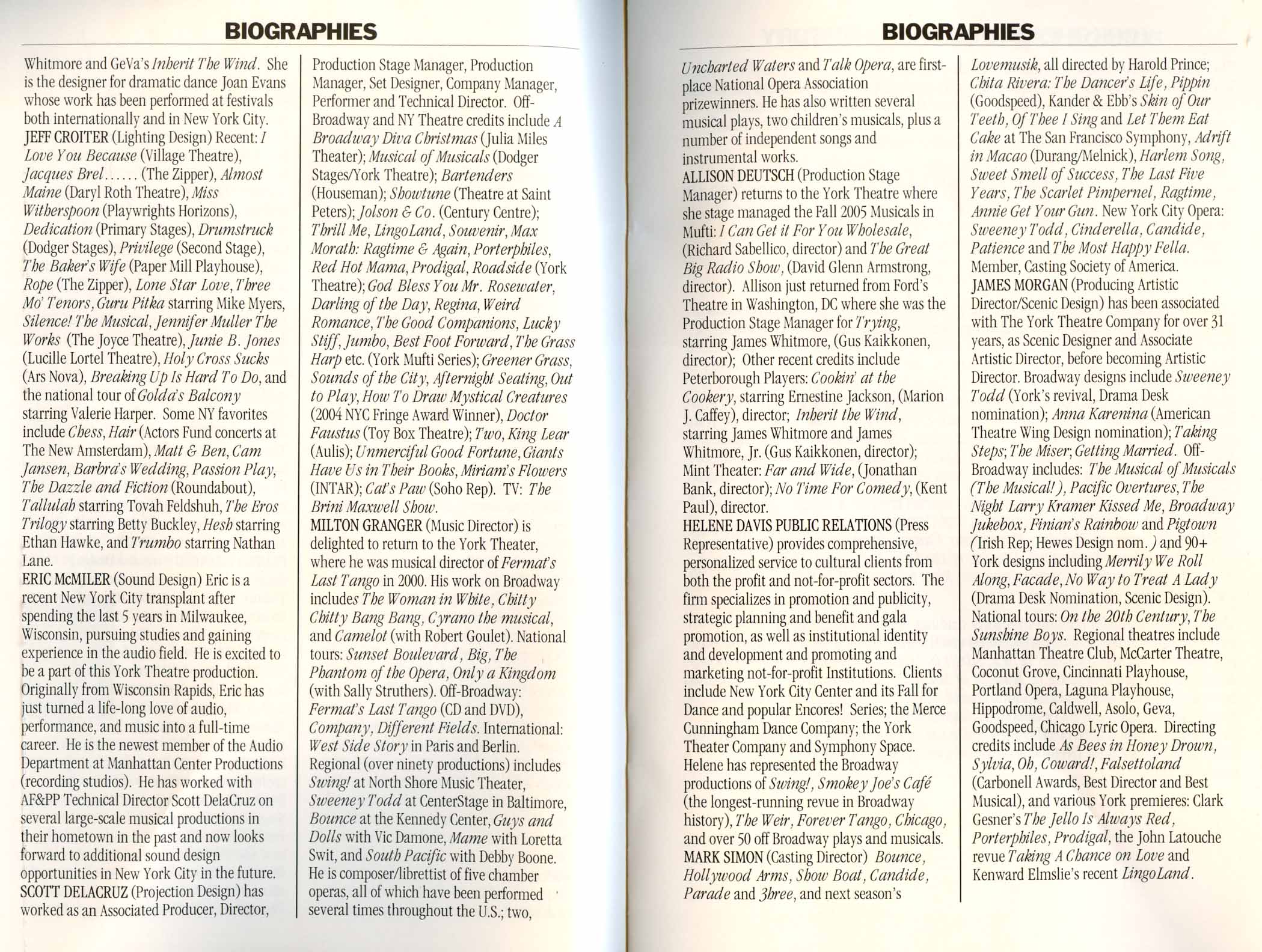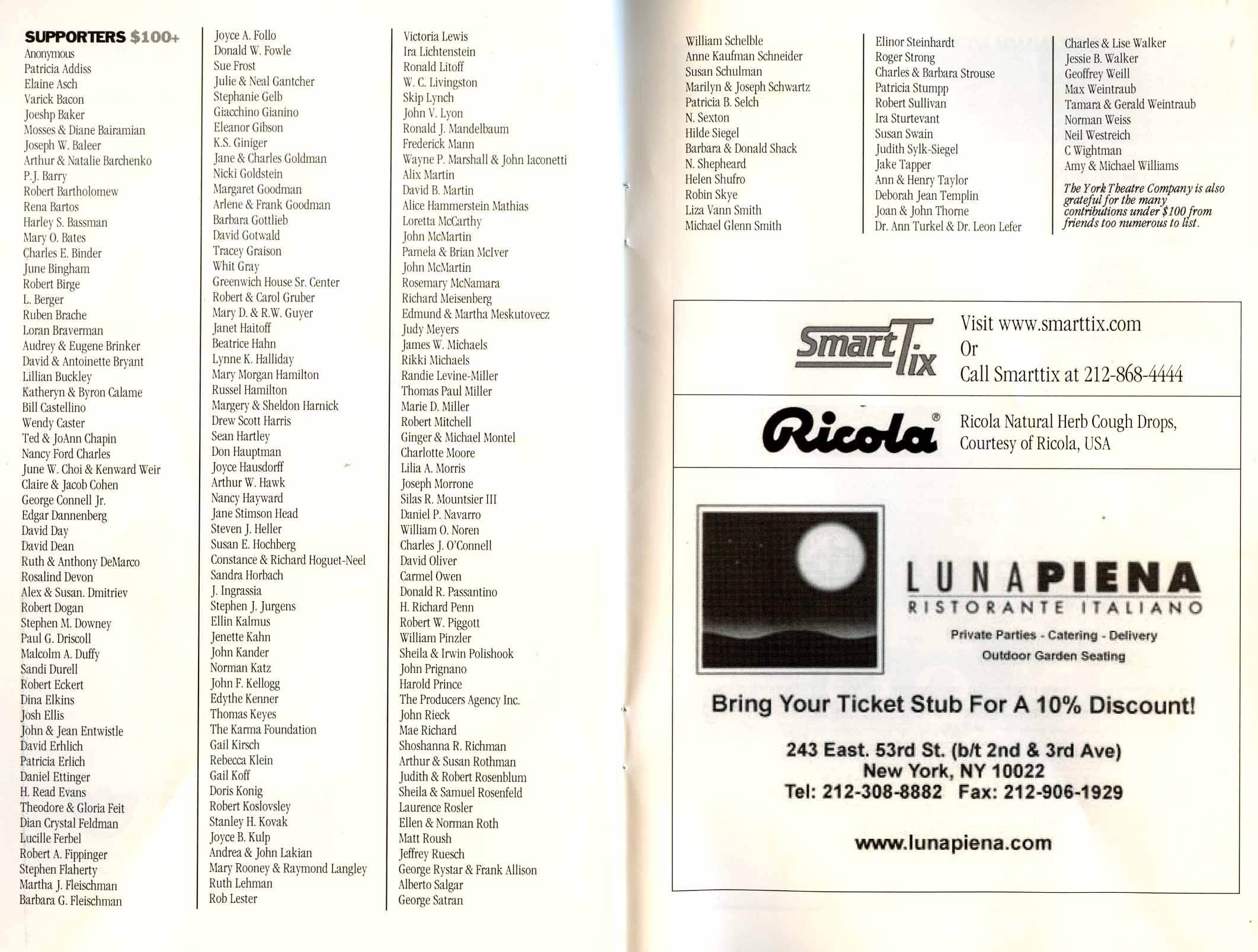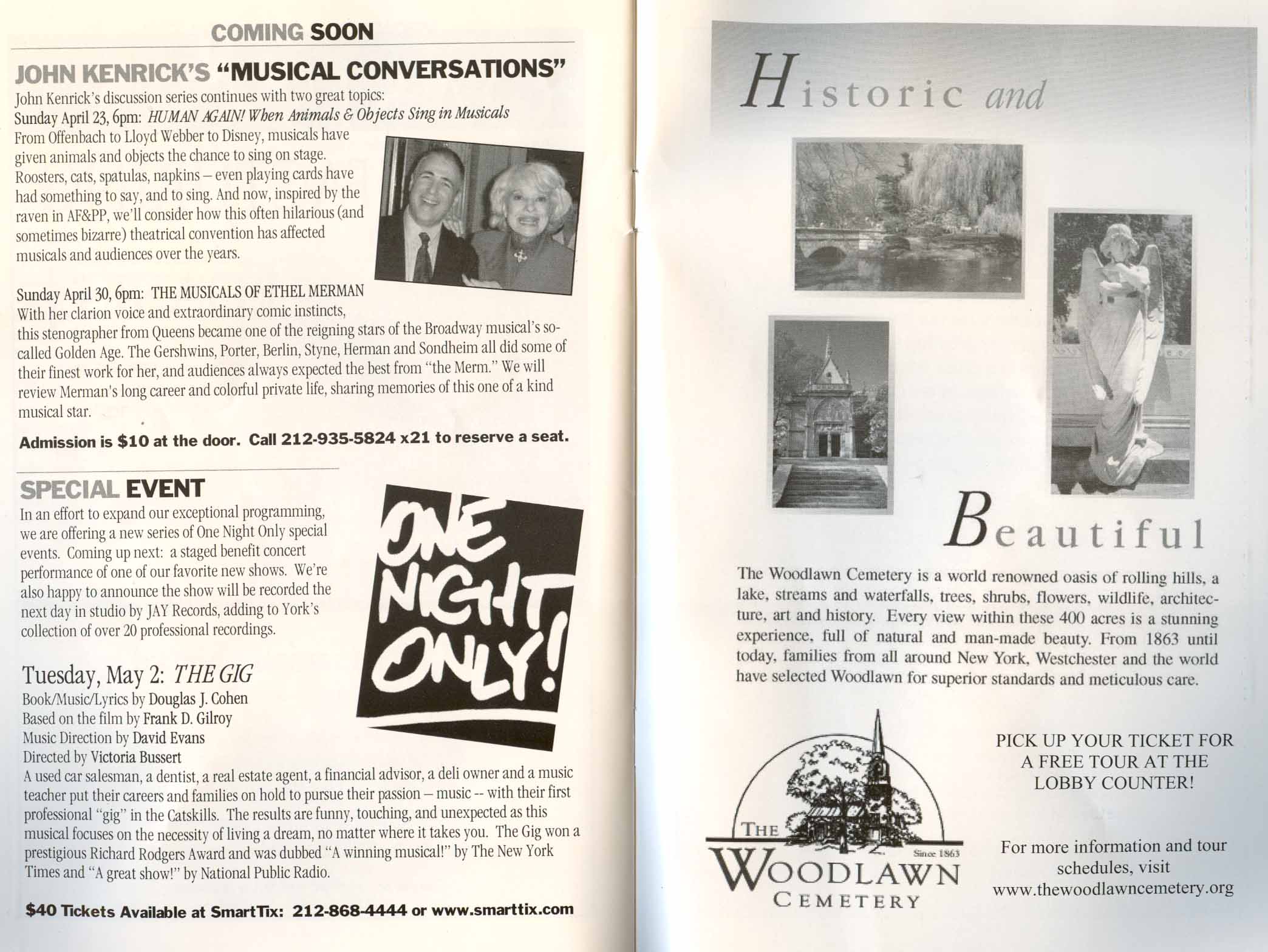 A Fine & Private Place opened April 11, 2006 and closed May 21, 2006 at the York Theatre; NYC.
(Actual program measures 5 1/2"x 8 1/2")
---
PLAYBILL / February 17, 2006:
Glenn Seven Allen, who is a Swing in the award-winning musical The Light in the Piazza,
has been cast in the York Theatre Company's upcoming production of "A Fine and Private Place.",
Allen told Playbill.com that he will play the role of Michael Morgan in the musical fantasy, which is based on the Peter S. Beagle novel.
Performances of A Fine and Private Place are set to begin April 11 with an official opening April 27. The limited engagement will play through May 21.
According to the show's official website, the cast, which is subject to change, is also scheduled to include Joe Kolinski as Jonathan Rebeck, Evalyn Baron as Gertrude Klapper,
Christiane Noll as Laura Durand, Gabriel Barre as The Raven and Larri Rebega as Campos. Barre will also direct the production.
A Fine and Private Place features book and lyrics by Erik Haagensen and music by Richard Isen. The musical was originally presented in 1989 at Goodspeed's Norma Terris Theatre.
A Fine and Private Place, according to press notes, tell the story of "Jonathan Rebeck, who lives in a Bronx cemetery courtesy of his feathered friend, a wise (and wisecracking) Raven,
who flies in stolen fast food in exchange for companionship. Rebeck helps newly arrived ghosts to accept death, after which they vanish. But Michael Morgan has other plans. A ghost at only 34,
he wants to live. His efforts bring chaos into Rebeck's life in the form of perpetually visiting widow Gertrude Klapper. He also romances the shy Laura, who never experienced love while alive.
But Michael has a secret, which could destroy everything. How Michael and Laura find love after death and how Gertrude cajoles Jonathan back to life in the real world comprise the conclusion
of this whimsical and touching fantasy." Glenn Seven Allen is currently making his Lincoln Center debut in The Light in the Piazza.
He was seen Off-Broadway in Mrs. Bromley, and his regional credits include Piazza, Pirates of Penzance, Julius Caesar, Student Prince, Ligiea, Tales of Hoffmann, The Ark
and A Michigan Man. Clearsong Records released a recording of A Fine and Private Place in July 2004. That recording featured the talents of Gabriel Barre, Evalyn Baron,
Maureen Silliman, Brian Sutherland and Charles Goff. The York Theatre Company is located at Saint Peter's Theatre in Citigroup Center at 619 Lexington Avenue.
---
---