Bells Are Ringing
December 10, 1956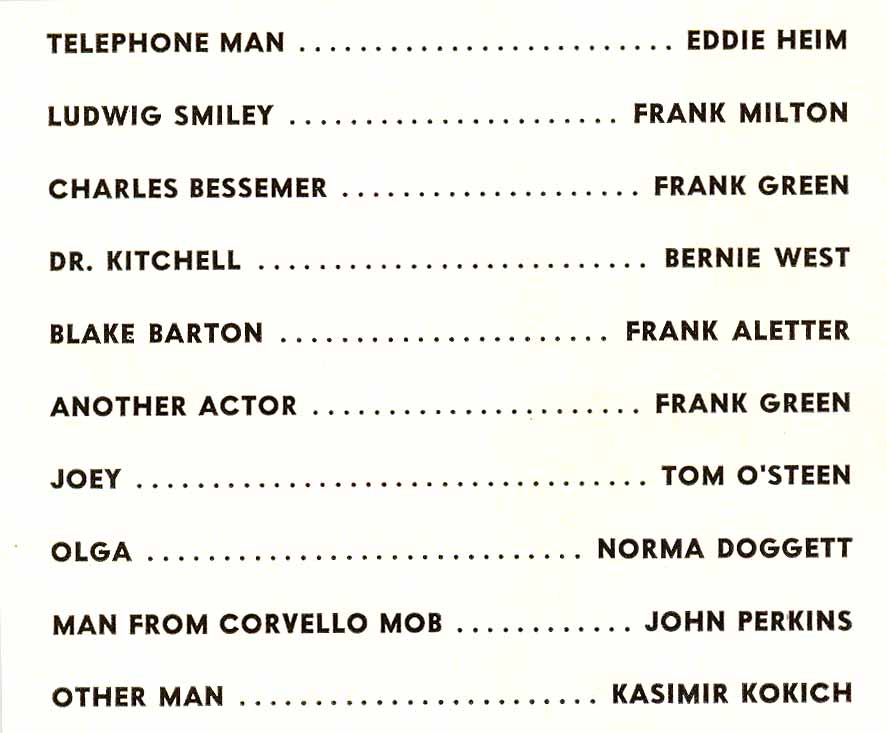 ---
(starring Judy Holliday / 924 performances)
Bells Are Ringing opened at the Shubert Theatre November 29, 1956 and ran through December 13, 1958
before moving to the Alvin Theatre December 15, 1958 where it ran through March 7, 1959.
---
Judy Holliday won the 1957 Tony Award for Best Actress in a Musical;
(Sydney Chaplin won both the 1957 Tony Award for Best Featured Actor in a Musical and a 1957 Theatre World Award.)
---
from theatrehistory.com:
"SUSANSWERPHONE" is a telephone-answering service in Manhattan run by Sue with the assistance of her cousin, Ella Peterson. Ella is the kind of girl who puts on lipstick before answering the phone, and who gets personally involved in the private affairs of her clients. One of them is a playwright, Jeff Moss, with whom Ella falls in love, even though she has never met him, a relationship she regards as perfect ("It's a Perfect Relationship"). Since Jeff is having trouble getting started on his new play, Ella is determined to help him out. Meanwhile, Sue allows her boyfriend Sandor, the head of Titanic Records, to set up a branch office in her telephone-answering establishment; actually his record business is a blind for a bookmaker establishment, the musical compositions and their opus numbers serving as code for making bets ("It's a Simple Little System"). The police suspect that Sandor's operations are just a front for a vice ring.
At long last Ella meets Jeff by invading his apartment in order to encourage him to start working on his play. She convinces him that people are friendly everywhere ("Hello, Hello There"), and in time even arouses his friendliness towards her ("Long Before I Knew You"). Meeting her later in Central Park, he confesses, at last, that he is in love with her ("Just in Time"). He then takes her to a party, where, at a loss for proper conversation, Ella tries to impress the guests by rattling off the names of famous people ("Drop That Name"). Aware that she did not fit in this company, that she was even unworthy of Jeff, she steals away from the party ("The Party's Over").
At a night-club Jeff meets some other clients of "Susanswerphone" whose careers have been helped by Ella. They decide to go and look for her. By now, Ella is determined to leave the big city and go home for good ("I'm Goin' Back"). But the arrival of Jeff quickly convinces her to change her mind, especially after he takes her in his arms.
In Bells are Ringing, Judy Holliday--veteran of stage and screen--made her musical-comedy debut. Singing, dancing, clowning and miming, she stole the show.
Sadly, Judy Holliday died In 1965 at the age of 44 from breast cancer.
She has a star on the Hollywood Walk of Fame at 6901 Hollywood Blvd.