Cheri
October 12, 1959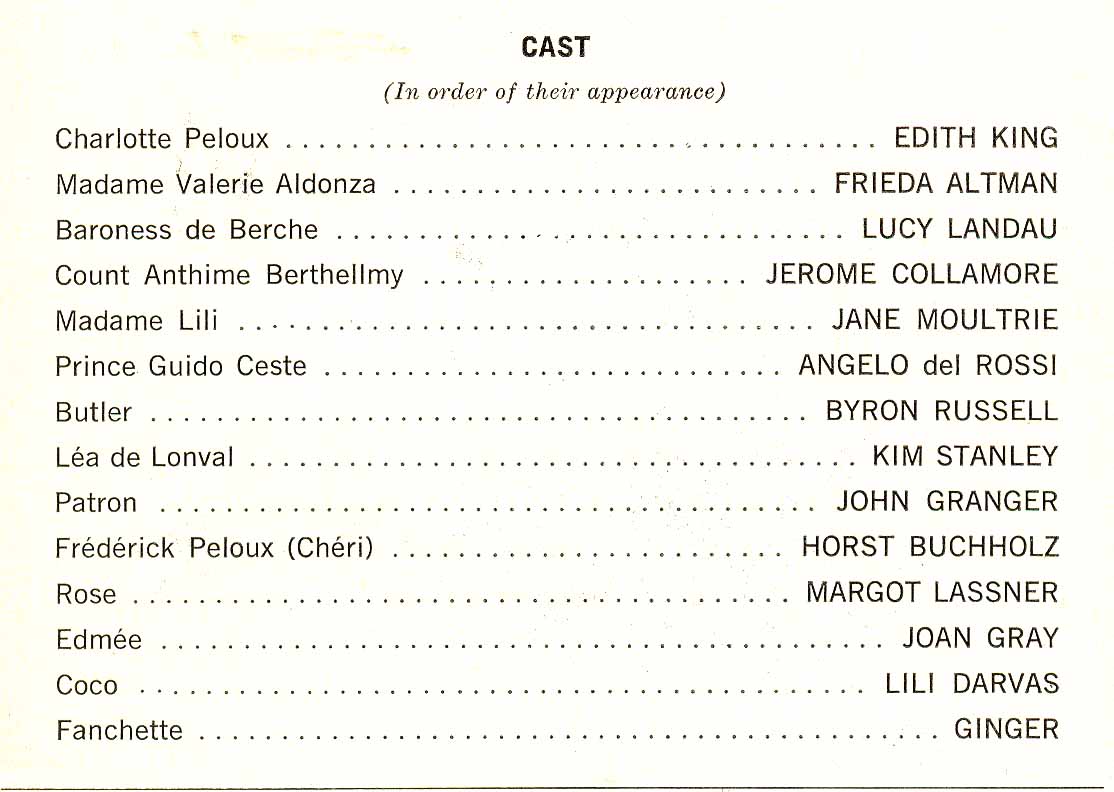 (starring Horst Buchholz, Kim Stanley / 56 performances)
Cheri opened October 12, 1959 and ran through November 28, 1959 at the Morosco Theatre.
From the Oct. 26, 1959 issue of TIME magazine:

Chéri, like Gigi, was adapted from Colette by Anita Loos. As Gigi hoisted a young girl, Audrey Hepburn, into the limelight, Chéri may hoist a young man, Horst Buchholz. Playing the title role, this European film actor manages—not wholly through ability but through his matinee-idol appearance—to be the most effective part of a generally empty show. He plays the overindulged, sexually precocious, humanly immature son of a pre-World War I grande cocotte, who has brought him up to make a rich marriage.
But before he makes it, he has a long affair with a cocotte (Kim Stanley) twice his age.
For both the teen-age Chéri and his between-age Léa, life is over at the end of Act I—and so is the play. Thereafter, the two can only mope while apart, come uneasily together, then part once more. When they meet, they talk too much, weep too much, moralize too much. Between whiles, Chéri chiefly features amusing-looking demireps, whose talk is incredibly dull. Eventually Léa. at 60, reaches the age of content, but Chéri kills himself.
Fairly interesting while chronicling its love affair, Chéri afterward does little realistically with fractured lives, little nostalgically with fragrant memories. There is no more wit to its frivolous scenes than depth to its sober ones. The audience can only watch a lost young man and a woman who gets older and older. At whatever age, Kim Stanley proves a gifted actress, but she seems about as Gallic as cornflakes and as demimondaine as Betsy Ross. She is forever fighting a role as well as a script.
---

---