Family Portrait
Morosco Theatre / April 17, 1939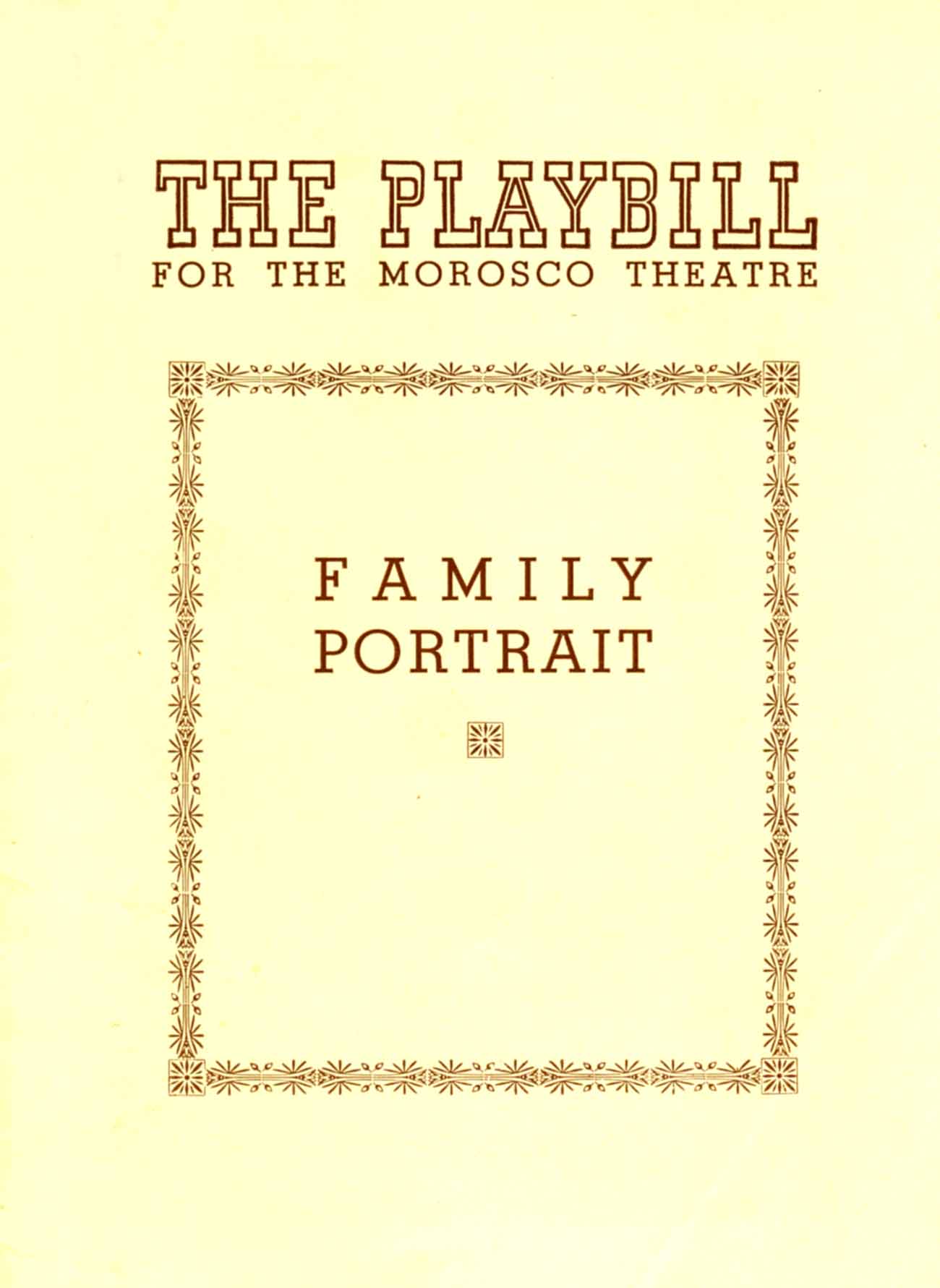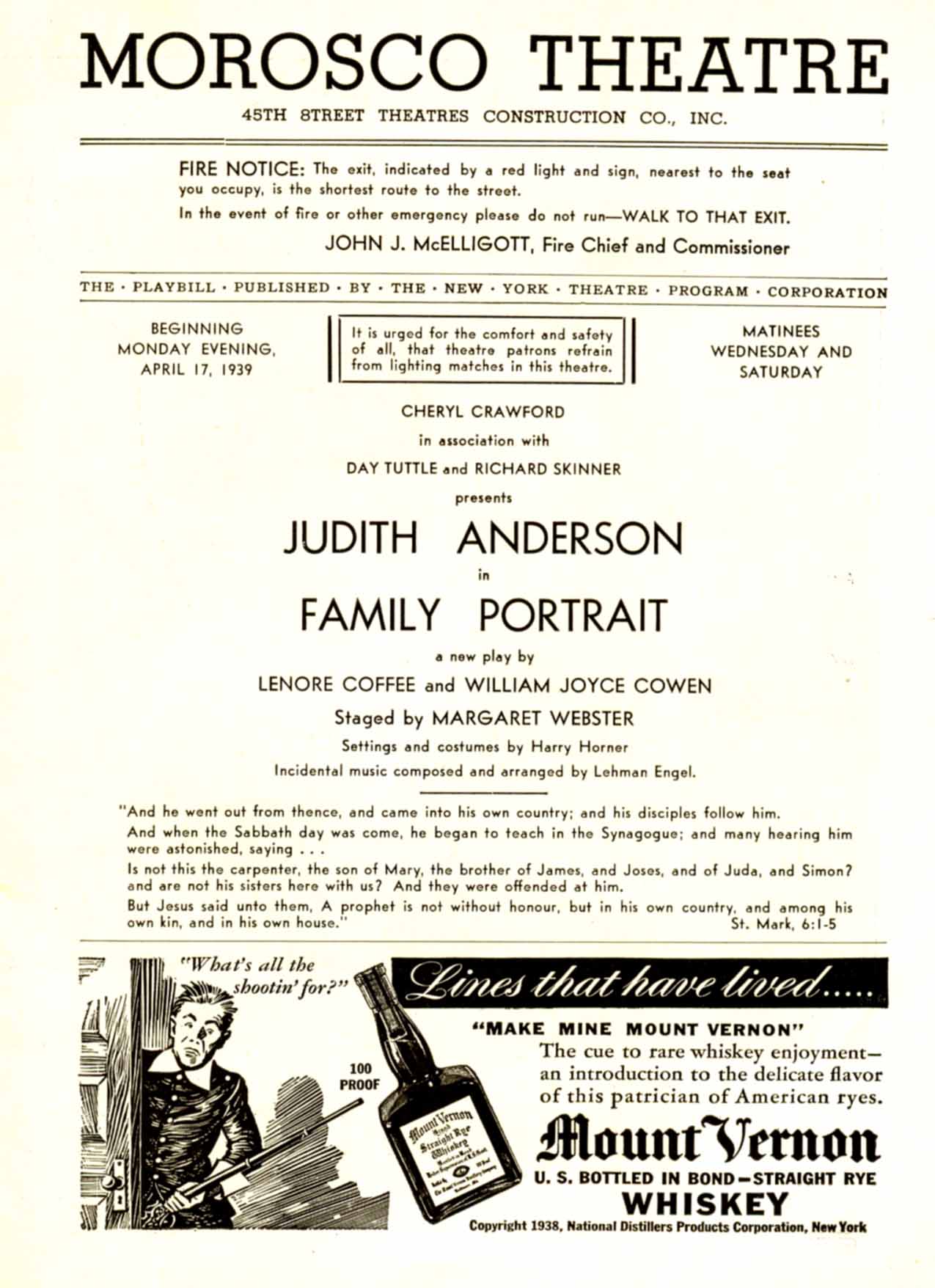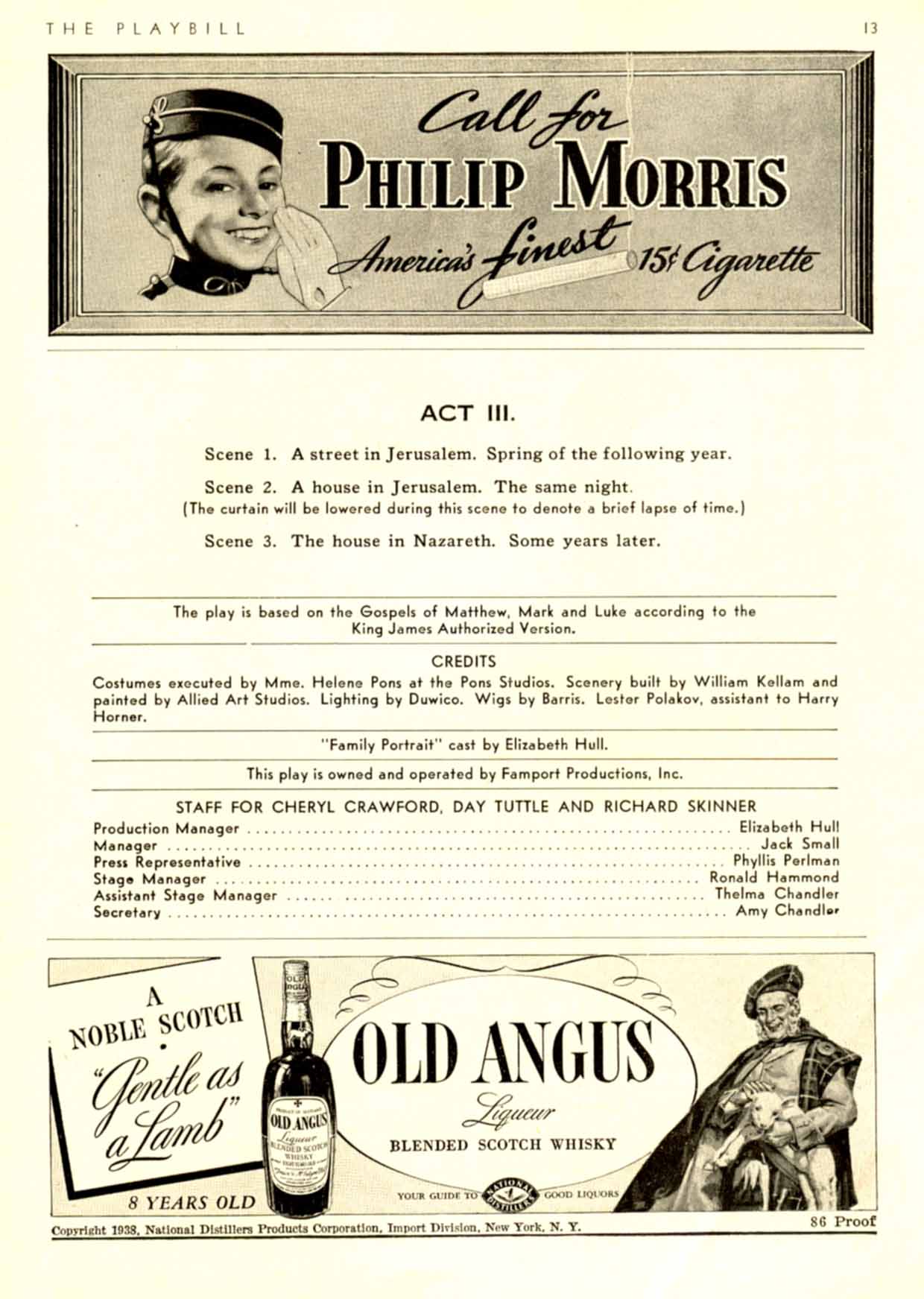 (starring Judith Anderson / 111 performances)
Family Portrait opened March 8, 1939 and ran through June 1939 at the Morosco Theatre.
---
from TIME Magazine The Theatre / Monday, Mar. 20, 1939;
"Family Portrait (by Lenore Coffee & William Joyce Cowen; produced by Cheryl Crawford) tells, colloquially, of the family of Jesus during the Time when He (who never appears in the play) was preaching away from Nazareth. Theme of the play is Jesus' own saying: 'A prophet is not without honor, but in his own country, and among his own kin, and in his own house.' Only Mary (glowingly played by Judith Anderson) has faith in Jesus: His brothers resent Him as a fanatic who hurts their business, their marriage prospects, and the family name.
Recounting their story with no Biblical diction, no religious fervor, and with nondescript, timeless costuming, Playwrights Coffee & Cowen make it plausible and human. To Mary they give dignity, and to her experiences in Jerusalem on the night of her Son's betrayal, drama. There is drama, too, when a likable young disciple introduces himself as Judas Iscariot.
But on two important counts Family Portrait falls down. It shows Jesus' family resenting and rejecting Him, over and over to the point of dullness. Worse, with its unbiblical, small-town atmosphere, it reduces Him to the stature of any misunderstood 'artist in the family,' and the play to a satire on petit-bourgeois respectability. This diminution of scale undoubtedly gives the play piquancy; but it proves fatal so far as evoking the unique spirit of Jesus is concerned. Though not at all irreverent, Family Portrait has none of the feeling that went into painting The Last Supper; rather the cleverness that goes into engraving the Lord's Prayer on the head of a pin.
Judith Anderson's fine portrayal of Mary adds another name to the season's long honor roll of acting. Not in years has Broadway showered so many actors with superlatives and exclamation points. Not only have rockets flared for such proven performers as Judith Anderson, Raymond Massey, Maurice Evans; such expert musicomedians as Beatrice Lillie, Victor Moore, Ethel Merman. Rockets have also flared in more unexpected places: For new stars on Broadway: Helen Claire in Kiss the Boys Goodbye, Robert Morley in Oscar Wilde. For a musicomedian who became overnight a magnificent dramatic actress: Ethel Waters. For a dramatic actor who became overnight a triumphant musicomedian : Walter Huston. For a fine actress who at last found the right play: Tallulah Bankhead in The Little Foxes. For an Alice-sit-by-the-fire who again became the belle of the ball: Laurette Taylor in Outward Bound."
---