Hamlet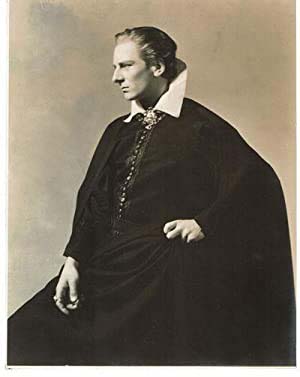 ---
(starring John Gielgud / 132 performances)
Hamlet opened Oct. 8, 1936 and ran through Jan. 1937 at the Empire Theatre.
(It then reopened at the St. James Theatre for an unknown number of performances.)
---
from Time Magazine: Monday, Nov. 23, 1936
When English William MacReady and American Edwin Forrest presented rival interpretations
of Macbeth in Manhattan in 1840, their partisans were lashed into such a frenzy of jealous
adulation that they staged a riot in Astor Place which took 21 lives. Last week English
Leslie Howard brought to Manhattan his version of Hamlet, set it up five blocks away from
the theatre that had been housing English John Gielgud's Hamlet for a month (TIME, Oct 19).
Not a life was lost. There was no riot. There was no rivalry.
The two performances were not in the same class.
General impression in show business is that fastidious Actor Howard would rather be on the stage
than in the films, would rather be on his country estate in England than anywhere. He undertook
his own production of Hamlet to escape for a turn the shackles of the strictly commercial theatre.
To support him he imported some middling Britons, including pretty Pamela Stanley as Ophelia,
who would not dim the Howard brilliance. Unfortunately, this time there was no brilliance.
Graceful, great-nosed John Gielgud had chosen for the background of his fine impersonation some rather
sombre, common place sets and costumes of Stuart England. Equally commonplace is the gaudier Howard
mise en sccne which represents 11th Century Denmark. The two productions, however, are separated by
more than five centuries of decorating history.
Actor Howard's blond charm and gentle British passivity have on occasion seemed to endow plays like
The Petrified Forest with a brooding, thoughtful quality not indicated in the script. But,
as those who saw his film Romeo last spring might have guessed, the nation's No. 1 matinee idol
does not have so easy a time with William Shakespeare as with Robert Sherwood Shocked and
disappointed at Actor Howard's failure in the most ambitious and demanding male role on the
English-speaking stage, critics found the Howard Hamlet enervated, thoughtless, unilluminating.
The antithesis of Actor Gielgud, Actor Howard robs Hamlet of every shred of dignity and nobility:
by being peevish with Polonius' garrulity instead of simply bored; by being quizzical when he
means to be sardonic; by indicating neither method in his madness nor madness in his methods;
by delivering most of his soliloquies while loping about the stage and peering under the
furniture; by failing at any point to convince the audience it is watching anything more
than Leslie Howard walking through a part. Unanimously, metropolitan critics found star
and production remarkably unexciting, agreed with the Post's scholarly John Mason Brown's

shattering judgment on Actor Howard: 'His spirit is still in slacks, even if his body is not."
---
---
- Judith Anderson (as Gertrude) - Lillian Gish (as Ophelia)(H5>
---

- New York Daily News / October 9, 1936 (pg.854) -
---
---