The Lights O'London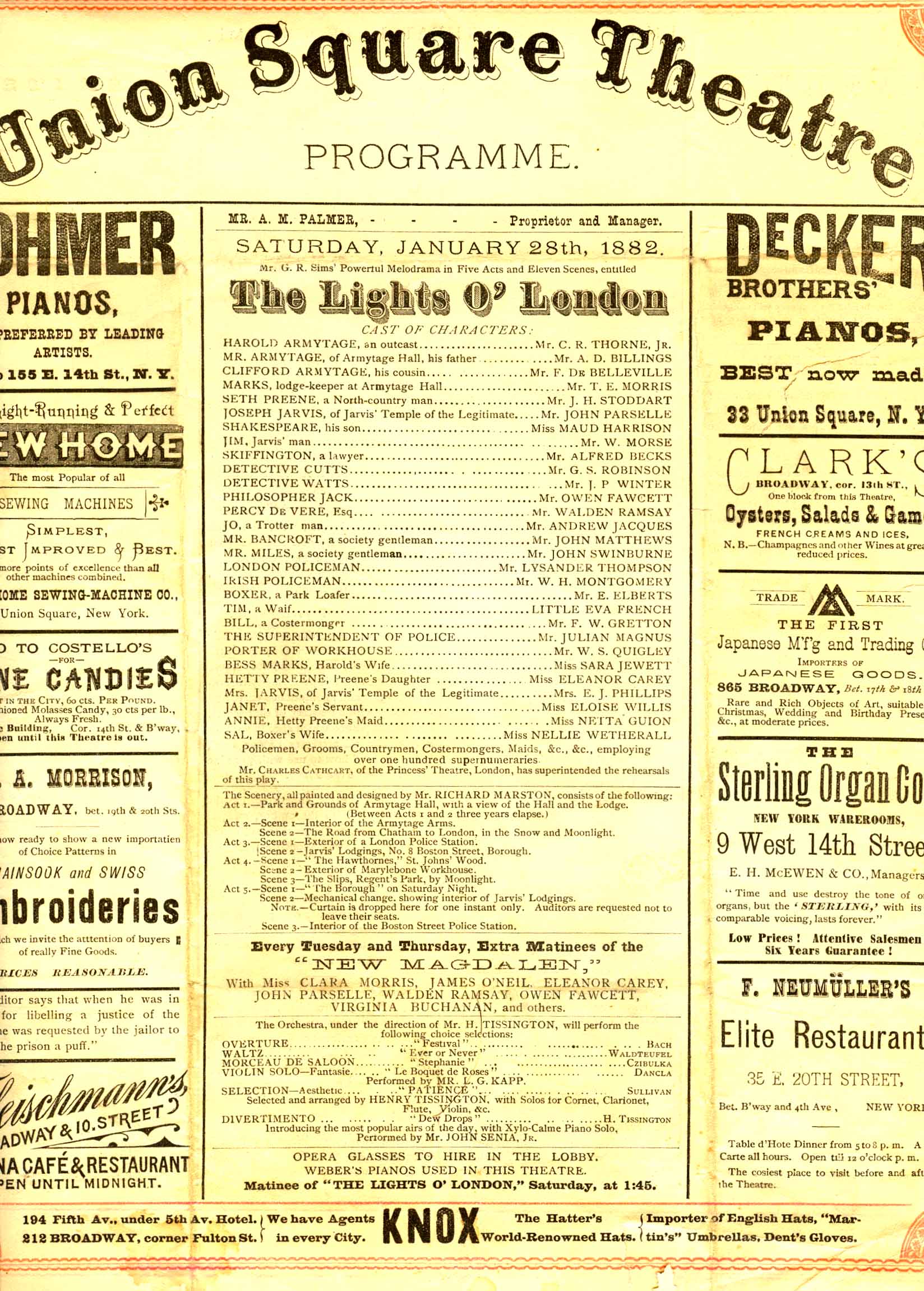 ---
The Lights O'London opened Dec. 5, 1881. The exact closing date and total number of performances are unknown.
---
from Union Square Theatre Company (http://mysite.verizon.net/vze85s68/unionsq.htm):

"And on Dec 5th George Robert Sim's powerful melodrama The Lights o' London with the falsely accused hero, the villainous cousin, the obdurate father, the long suffering wife, the comic relief, the elaborate scenery, the frequent change of scenes, virtue triumphant and villainy foiled. E.J. Phillips played Mrs. Jarvis to John Parselle's Dicken's like character of Jarvis 'of Jarvis' Temple of the Legitimate' and Maud Harrison their son Shakespeare Jarvis. The play was a great success and the last time Charles Thorne and Sara Jewett appeared together, as Thorne left the company at the end of the season and died a few months later.

'Some must have missed Marie Wilkins as Mrs. Jarvis, a part she should have played admirably, whereas the competent, conscientious Mrs. Phillips lacked something of the required touches of broad comedy'.

James O'Neill returned to the Union Square in January 1882, in The New Magdalen, and Virginia Buchanan was also in that cast. Alexander Salvini and Clinton Stuart were in Article 47. The Lights o' London celebrated its hundredth performance in March 1882. When the regular season closed in April, The Lights o' London moved to Brooklyn for two weeks, with Walden Ramsey replacing Charles Thorne."
---
Actual program size: 10x12 1/2 "
---
---