Mother-In-Law
Abbeys New Park Theatre
/ January 1882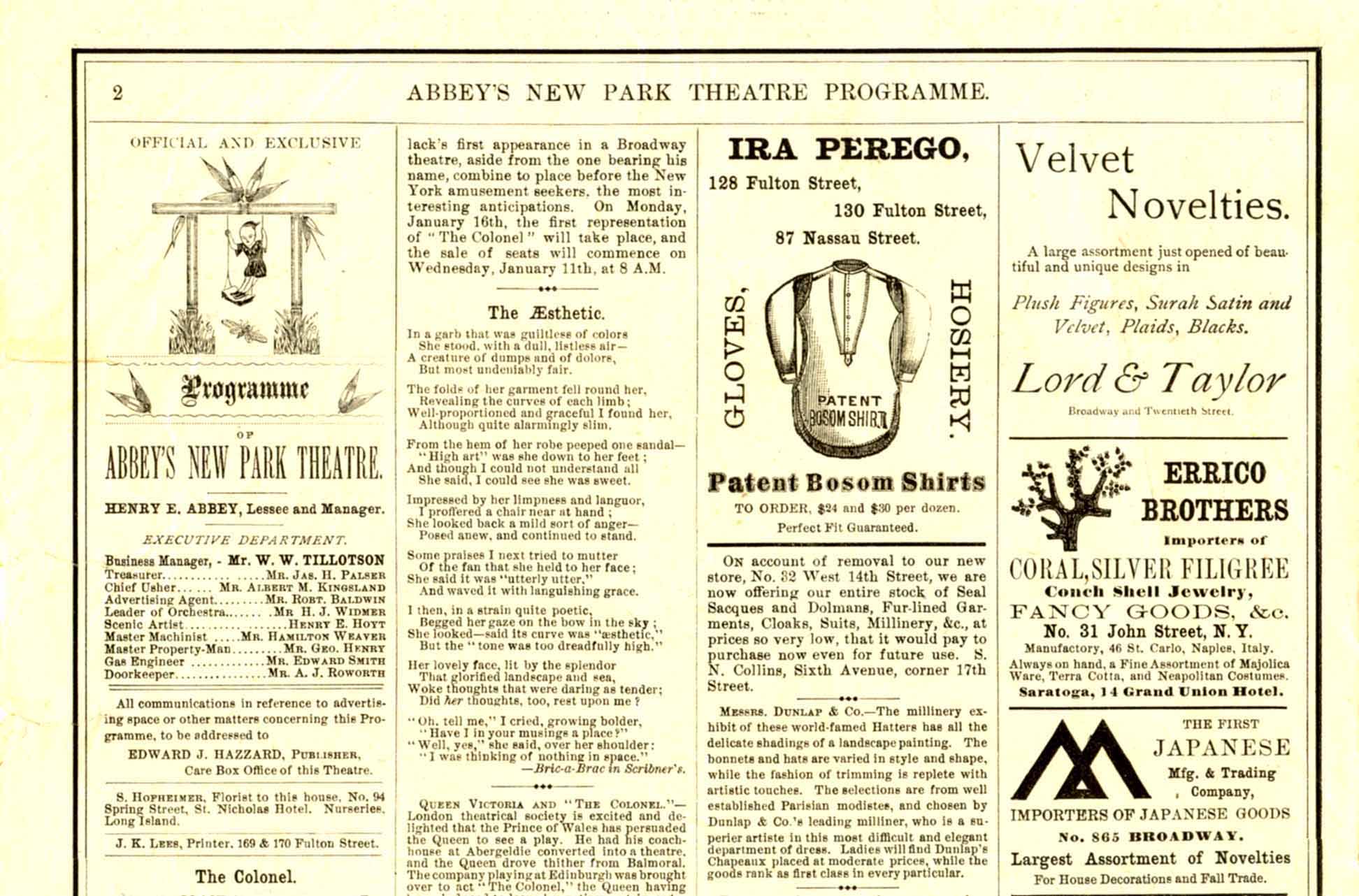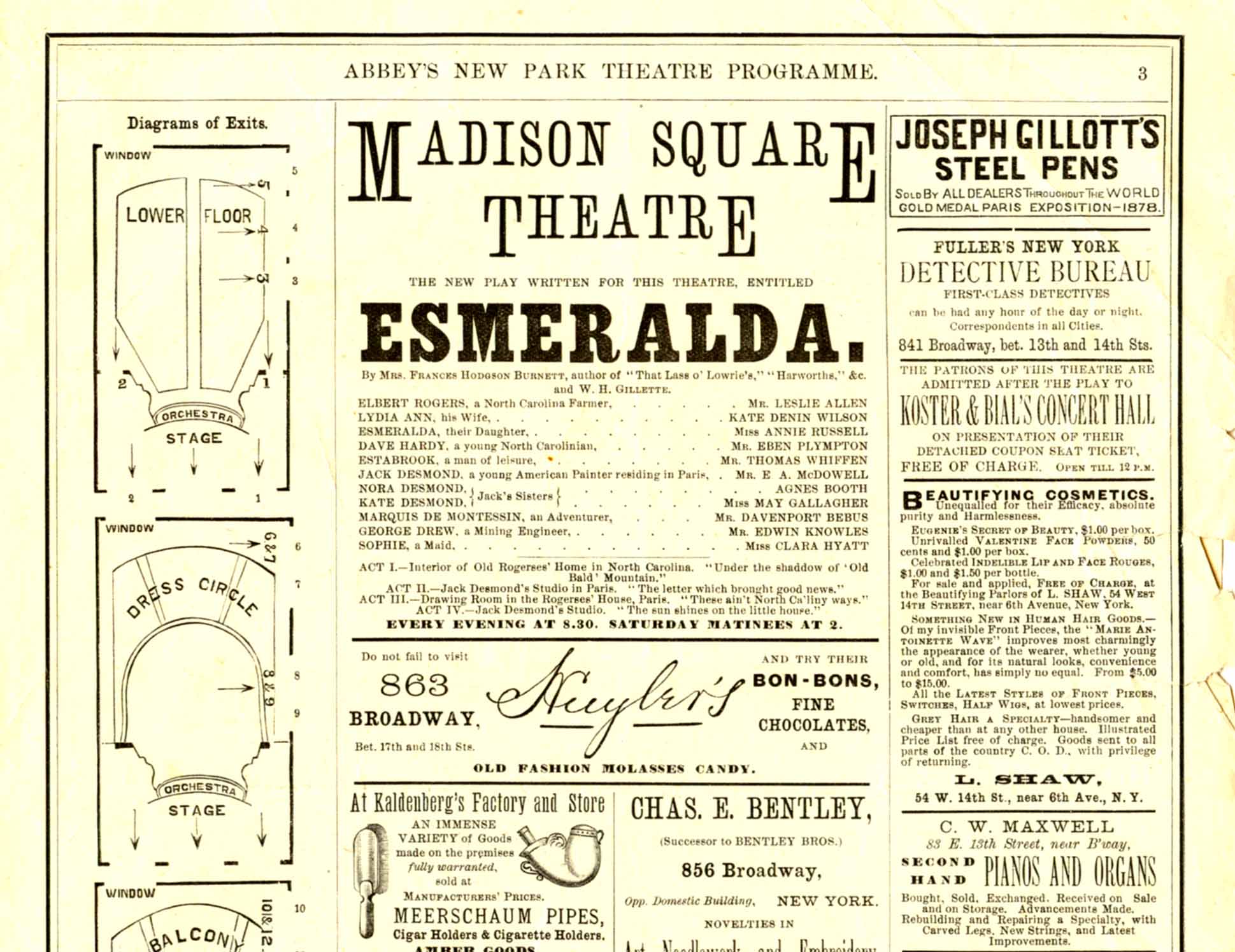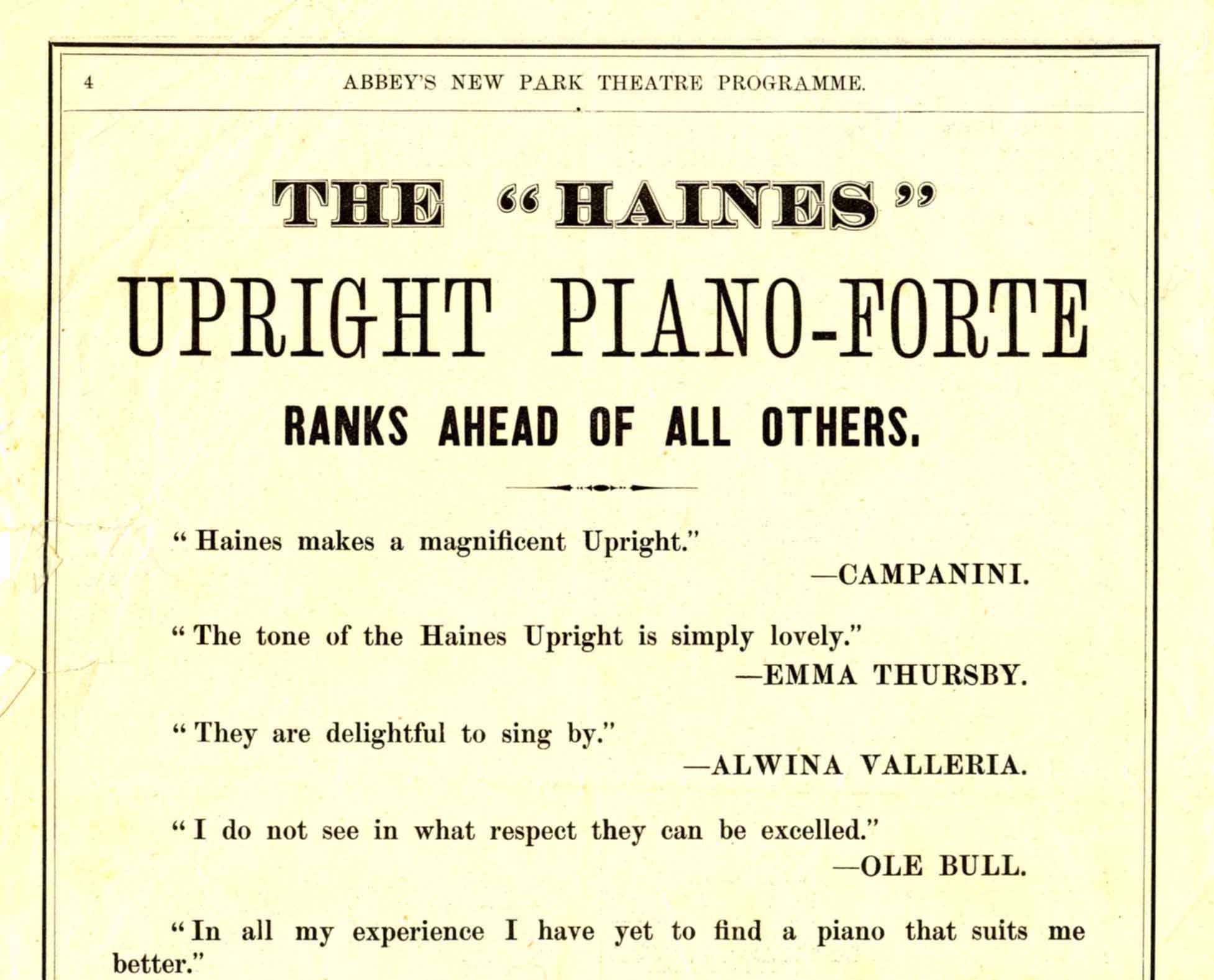 ---
(There is no date on the program, but the article on page two about The Little Colonel mentions it will bein on Monday the 16th. This theatre only operated under the name "Abbey's New Park" from 1876 to 1882, and within those dates the only year in which January 16th fell on a Monday was 1882.)
---
from ICQ Theatre Ring (http://members.tripod.com/~clairsedore/RazzleDazzle/my_cdnow_store.html):

Park Theatre(NYC) – 21-5 Park Row – first important theatre in the U.S. and known as "the Old Drury of America," it was built in 1798 to replace the John Street Theatre and was New York's only playhouse for 25 years.

- As You Like It, 1786; Female Patriotism or Death of Joan d'Arc, 1798; Hunchback; Andre, 1798, (3 performances); Fashion or Life in New York, 1845, (20 performances); Gladiator 1831, Lion of the West, 1831; Metamora or The Last of the Wampanoags. 1829; Hamlet 1832; Mighty Dollar 1875, (104 performances); Our Boarding House, 1877 (104 performances); People's Lawyer, 1842, (1 performance); Midsummer Night's Dream, 1826; She Would Be Soldier or The Plains of Chippewa, 1819; Spy; Tale of the Neutral Ground, 1822; Widow's Son or Which is the Traitor, 1825; In 1841 London Assurance ran for 3 weeks; Colonel Sellers, 1874, (119 performances); Brutus or Fall of Tarquin, 1819; Bianca Visconti or The Heart Overtasked, 1837;

Destroyed by fire in 1820, it reopened in 1821 as The New Park Theatre, It was expanded to 2600 seats in 1874 and in 1876 the name was changed to Abbey's New Park Theatre. It burned down in 1882 and was demolished.

A 2nd Park Theatre: the first professional playhouse built in Brooklyn became known as the "Park Theatre" from 1863 – 1876 when it became burlesque. It burnt down 1908 and not rebuilt.

A third "Park": from 1889 to 1894 the Herald Square Theatre was known as "Park Theatre."
---