Murder in the Cathedral
Ritz Theatre / February 16, 1938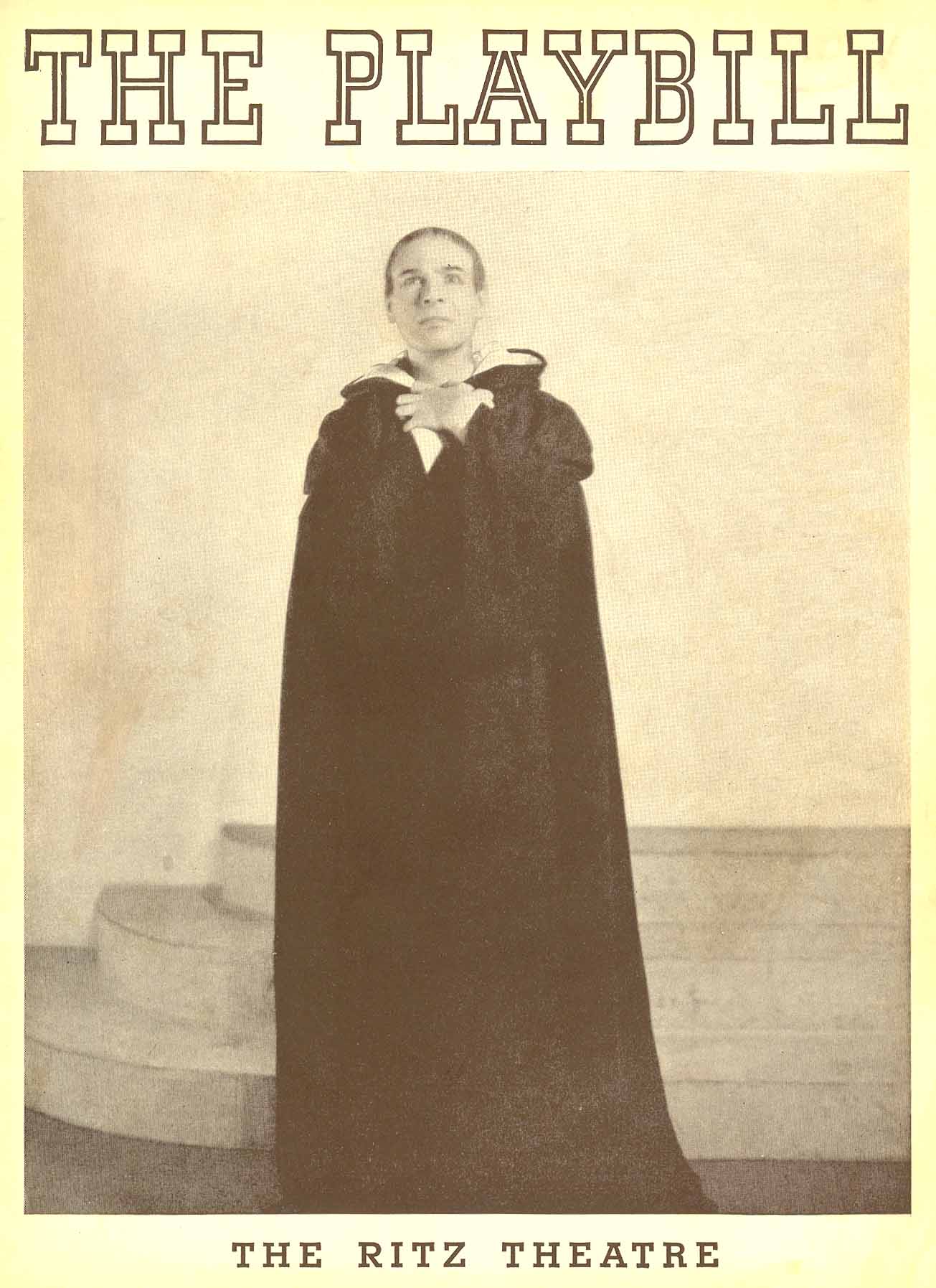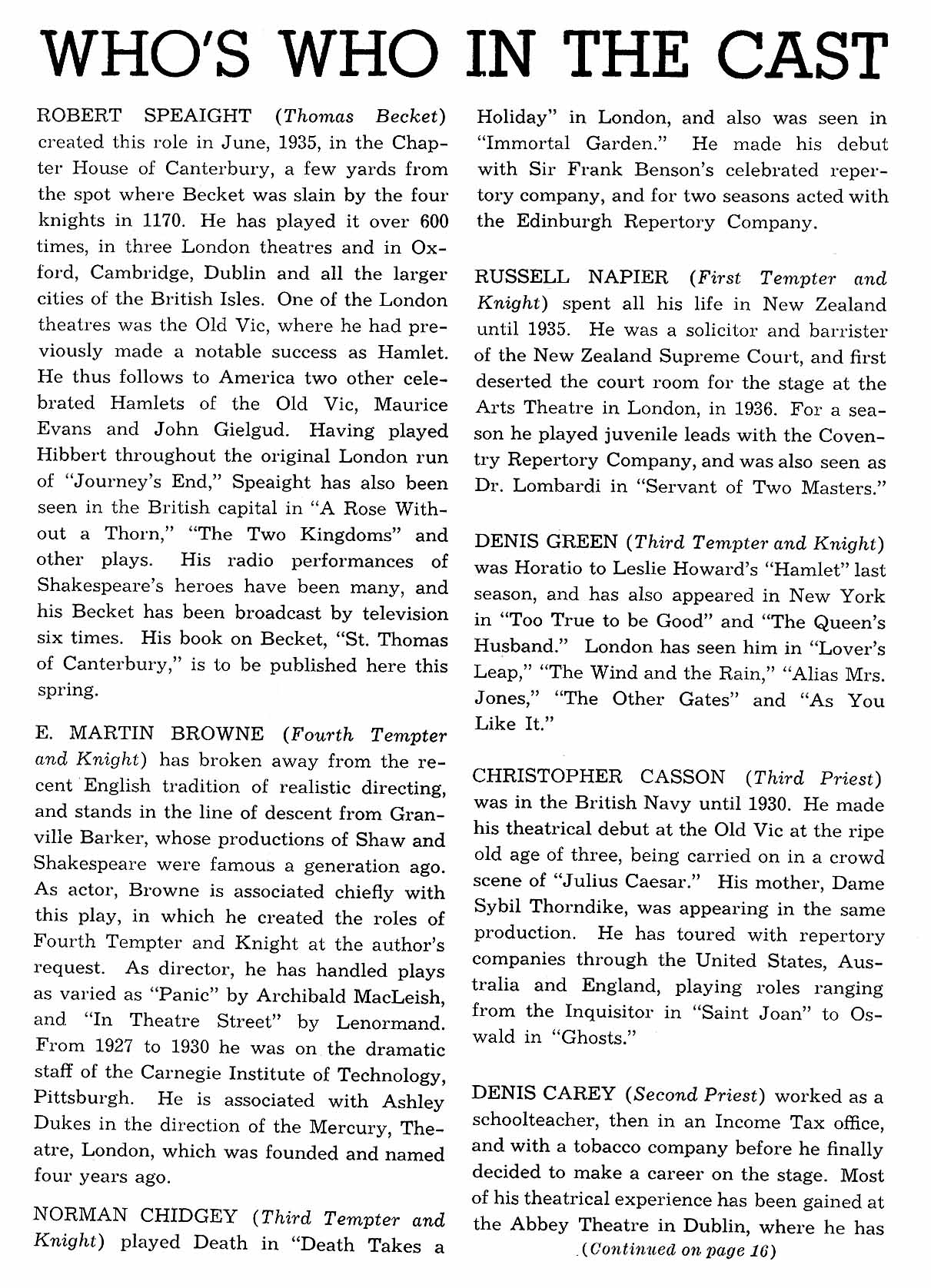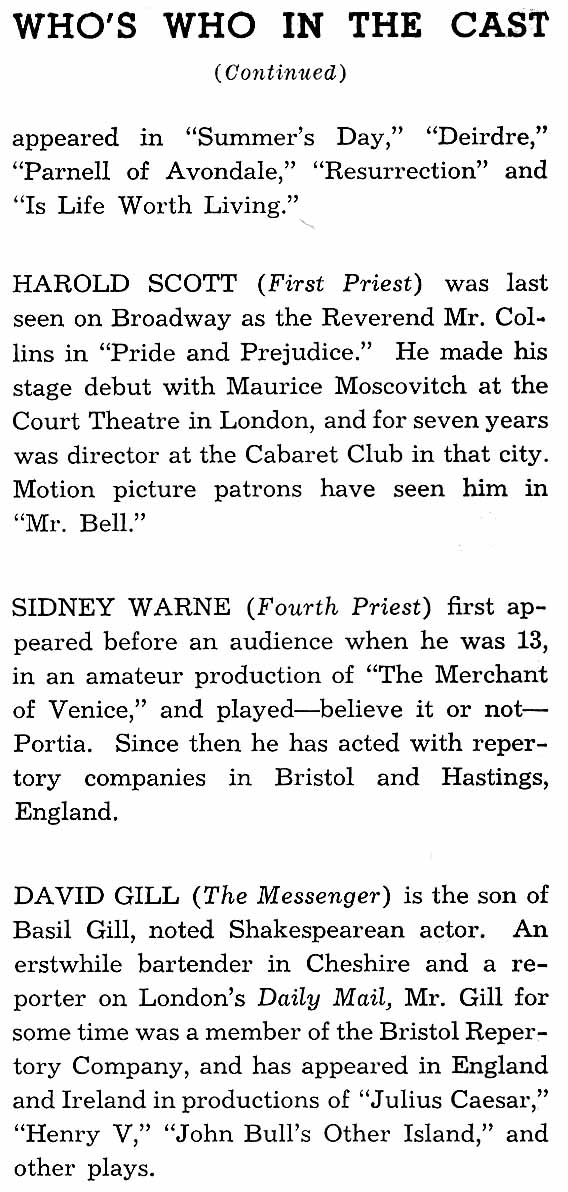 (starring Robert Speaight / 38 performances- first run) Murder in the Cathedral opened March 20, 1936 and ran through April 1936 at the Original Manhattan Theatre.
It reopened Feb. 16, 1938 (presumably after tour) and ran through March 1938 at the Ritz Theatre
for another 21 performances. This program is from the opening night of the second run.
---
from Time Magazine:
Feb. 28, 1938 Murder in the Cathedral (by T. S. Eliot; produced by Gilbert Miller & Ashley Dukes).
Poetic drama by modern writers has been chiefly the plaything of the Little Theatres or the largess of high-minded or highfalutin producers. With a contemporary background poetic drama seems nerveless, artificial, grandiose. But with a historical background it can still, in the right hands, achieve a noble movement.
This was proved nearly two years ago in Manhattan, when the Federal Theatre successfully produced Murder in the Cathedral. The proof still seemed valid last week when the English production of the play opened in Manhattan after 600 performances abroad.
Playwright Eliot's subject is the slaying of Thomas a Becket, Archbishop of Canterbury, in 1170.* In Anglo-Catholic Eliot's hands, Becket (Robert Speaight) stands forth as a tremendous spiritual figure who, before the play begins, has made his choice between Heaven and Earth.
Tempters only arouse his scorn. Assassins only increase his submission. Out of such an attitude comes the play's blazing religious exaltation, its lack of psychological drama. The great heroes of tragedy are inwardly lacerated; Becket is not. Hence the first half of the play is mainly declamatory. But in the second half Poet Eliot's richly cumulative rhetoric takes fire, makes antiphonal voices of his despairing chorus of women, his truculent band of murderers, his central, uplifted archbishop.
Then, at a stroke, the murder. Then, with a counterstroke, the murderers, using mealy-mouthed journalese, try to justify their crime. In this sudden contrast of shoddy human self-seeking with rapt spiritual self-abnegation, Eliot gets in a brutal and final punch.
The Author, Thomas Stearns Eliot is, with Novelist James Joyce and Gertrude Stein, the most famed of living highbrows.
Like them, he is an expatriate. A poet and critic long before he was a playwright alike, in his long poem The Waste Land (1922) and in his brilliant literary essays, he founded a movement. Becoming ever more conservative and religious-minded, Eliot finally, in 1927, stated his position as "classicist in literature, royalist in politics, and Anglo-Catholic in religion." All his later works are colored by this credo.
Born in St. Louis in 1888 and a member of the famed Harvard class of 1910 (Columnist Walter Lippmann, Economist Stuart Chase, Radical John Reed, etc.), Eliot left the U. S. in 1914, settled in England, eventually became a British subject.
Dandiacal in appearance, he has acquired an ostentatiously English accent. He once taught baseball in an English school, today writes long letters to the London Time's about cheese, edits the London Criterion.
His U. S. relations regard him as the black sheep of the family, confess that "his poetry still fuddles a lot of us." At present Eliot is working on a modern play laid in an English country house, but with a substratum of Greek drama.
* Once before this subject succeeded, in verse form, on the stage. Tennyson's Becket, with Henry Irving and Ellen Terry, had a good run in the 1890s.
---