Twelfth Night
St. James Theatre / January 13, 1941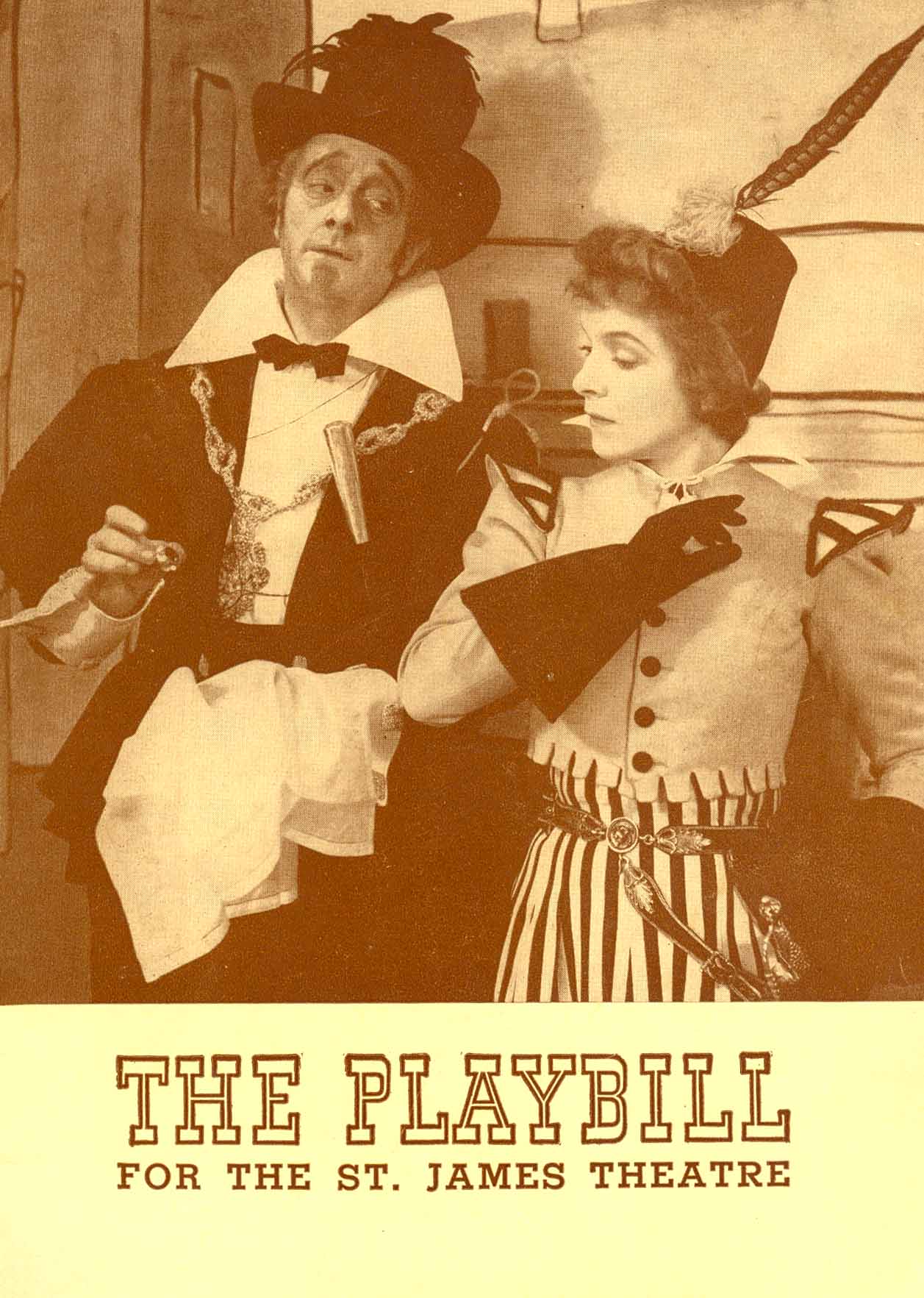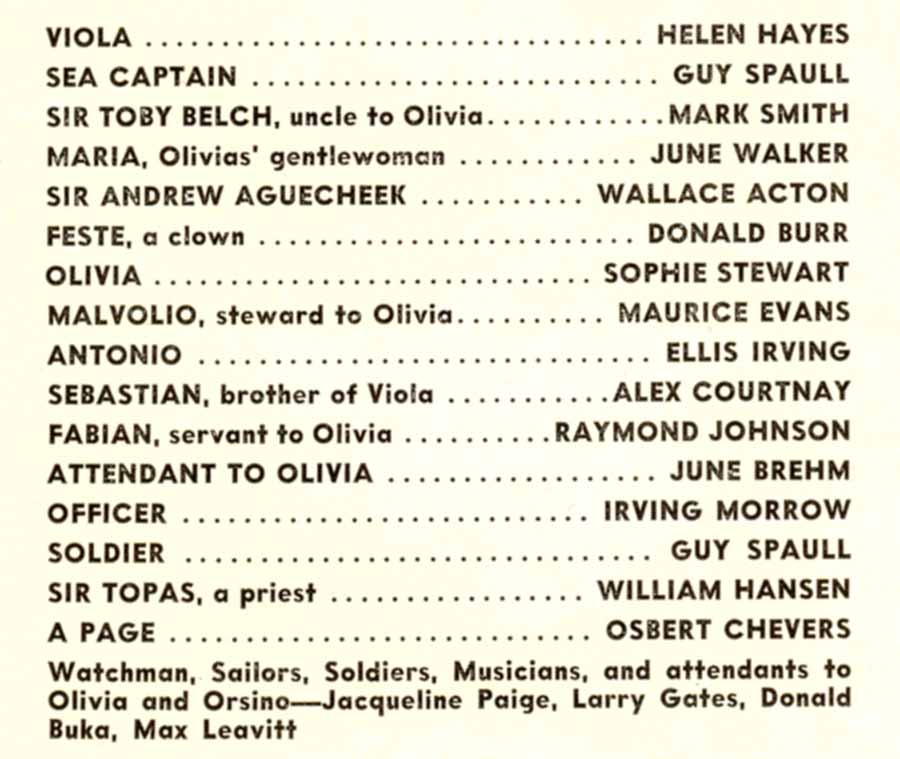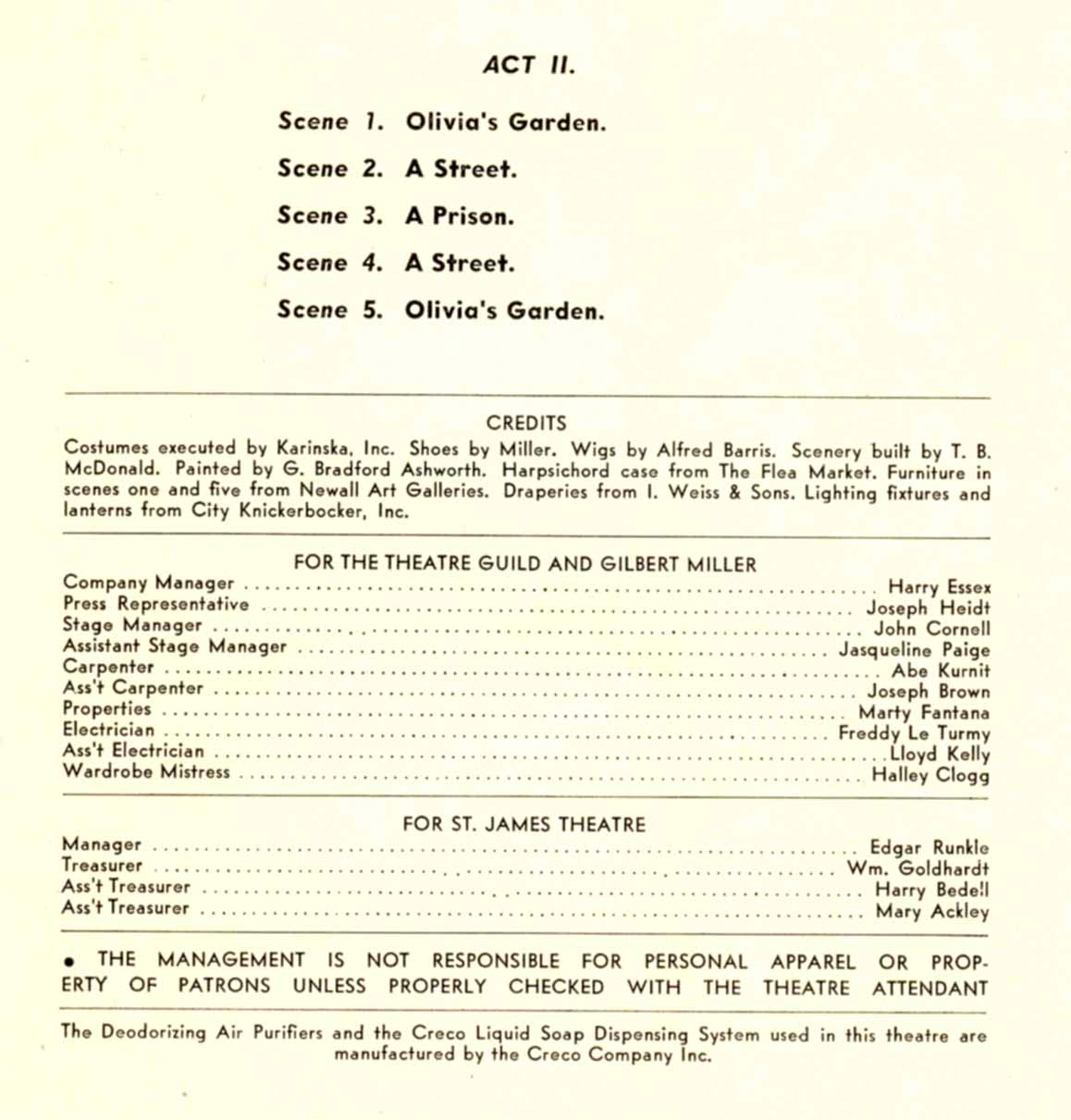 (starring Maurice Evans and Helen Hayes / 129 performances)
Twelfth Night opened Nov. 19, 1940 and ran through March 8, 1941 at the St. James Theatre.
---
from TIME Magazine The Theatre / Monday, Dec. 2, 1940:

"Twelfth Night (by William Shakespeare; The Theatre Guild-Gilbert Miller, Producers) was first produced on Candlemas Day, Feb. 2, 1602, in London's Middle Temple Hall, which a few weeks ago was struck by a Nazi bomb. Neither bombs nor centuries seriously alter Shakespeare's comedy. It can be richly indecent as in Measure for Measure, swift and slapstick as in The Taming of the Shrew. It can also be very mild, very mannered—as in Twelfth Night. The Guild production of the play is exquisite, but the net effect is that of a high ritual of antique jokes.

If the play's humor is weak, its potential charm is great, and the Guild's leading players are perfectly at home in the blandishing groove. Helen Hayes makes her Broadway Shakespearean debut (two years ago she played Portia in Chicago) in the role of Viola, who, in boy's clothes, pleads the amorous cause of the Duke of Illyria, Orsino, whom she loves herself. There is little in the part to show Miss Hayes's powers as an upper-case Shakespearean Actress. She scores merely by being Helen Hayes, very feminine despite her striped pantaloons, giving a clear, pliant reading of the part.

The leading Shakespearean actor of this time, Maurice Evans, plays the pompous Malvolio with his usual moist, resonant subtlety of speech. He also adopts a Cockney accent that undoubtedly makes the labored humor of the part more amusing than it really is. Into the pronunciation of the single word '"Run?" he manages to crowd an enormous amount of haughty comedy.

Shakespearean Directrix Margaret Webster who also did Evans's Richard II, Hamlet and Henry IV, Part I, has done her usual best by the Bard. Stewart Chancy has designed Italianate landscapes that loom softly behind the players. Paul Bowles, among the up-&-coming young American composers, has written lingering music for Shakespeare's songs, celebrating love and death with flute, oboe, harp, harpsichord, percussion and muted trumpet. The Bard, in his latest Broadway manifestation, has got all the breaks a playwright could wish. The audience's rewards are less solid.
---
from Twelfth Night (Vol. 26): Introduction." Shakespearean Criticism. Ed. Michael Magoulias. Vol. 26. Thomson Gale, 1995. eNotes.com. 2006. 2 Jan, 2007

"One of the most prominent American productions at this time was the Theatre Guild's presentation at the St. James Theatre, New York, in the 1940-41 season. This production was directed by Margaret Webster and starred Maurice Evans as Malvolio, a performance that departed from tradition in making use of a Cockney accent. Euphemia Van Rensselaer Wyatt commented that 'Olivia's majordomo emerges as the correct British butler.' Grenville Vernon enthused over this performance, maintaining that 'Mr. Evans reaches the peak of his accomplishment in the most subtle, most beautifully articulated performance of the part I have ever seen.' Joseph Wood Krutch, however, asserted that Evans's comic portrayal debased the role and was 'false to Shakespeare's conception.' Another portrayal that received mixed reviews was that of Helen Hayes in the part of Viola. Krutch argued that 'so far as she herself is concerned there is in truth, very little left to be desired.' Stark Young, by contrast, criticized her delivery of Shakespeare's blank verse, maintaining that she turned 'most of all that poetic treasure into mere chirpy prose.' Similarly, Rosamond Gilder commented that Hayes's performance lacked spontaneity and that only once or twice did she 'release the full lyric loveliness of the part.' Critics generally agreed that the production provided a splendid evening's entertainment, while nevertheless judging Webster's direction to have emphasized lively stage business at the expense of poetic interpretation.
---