Wingless Victory
Empire Theatre / February 22. 1937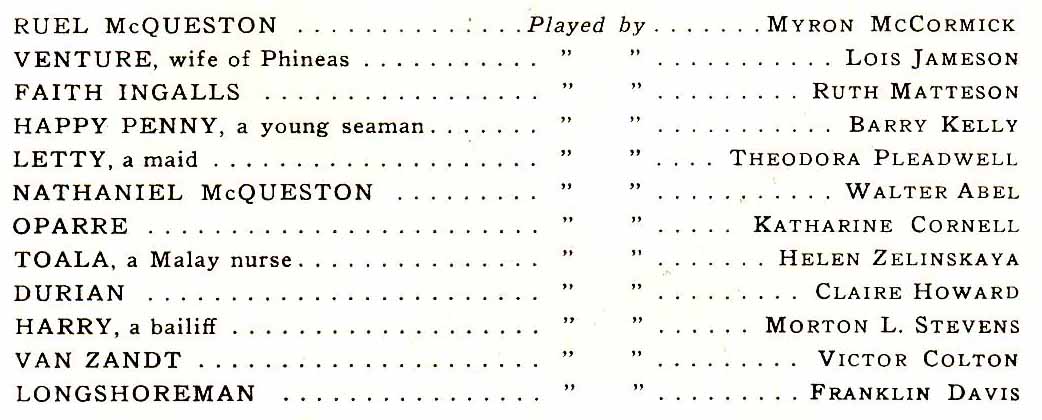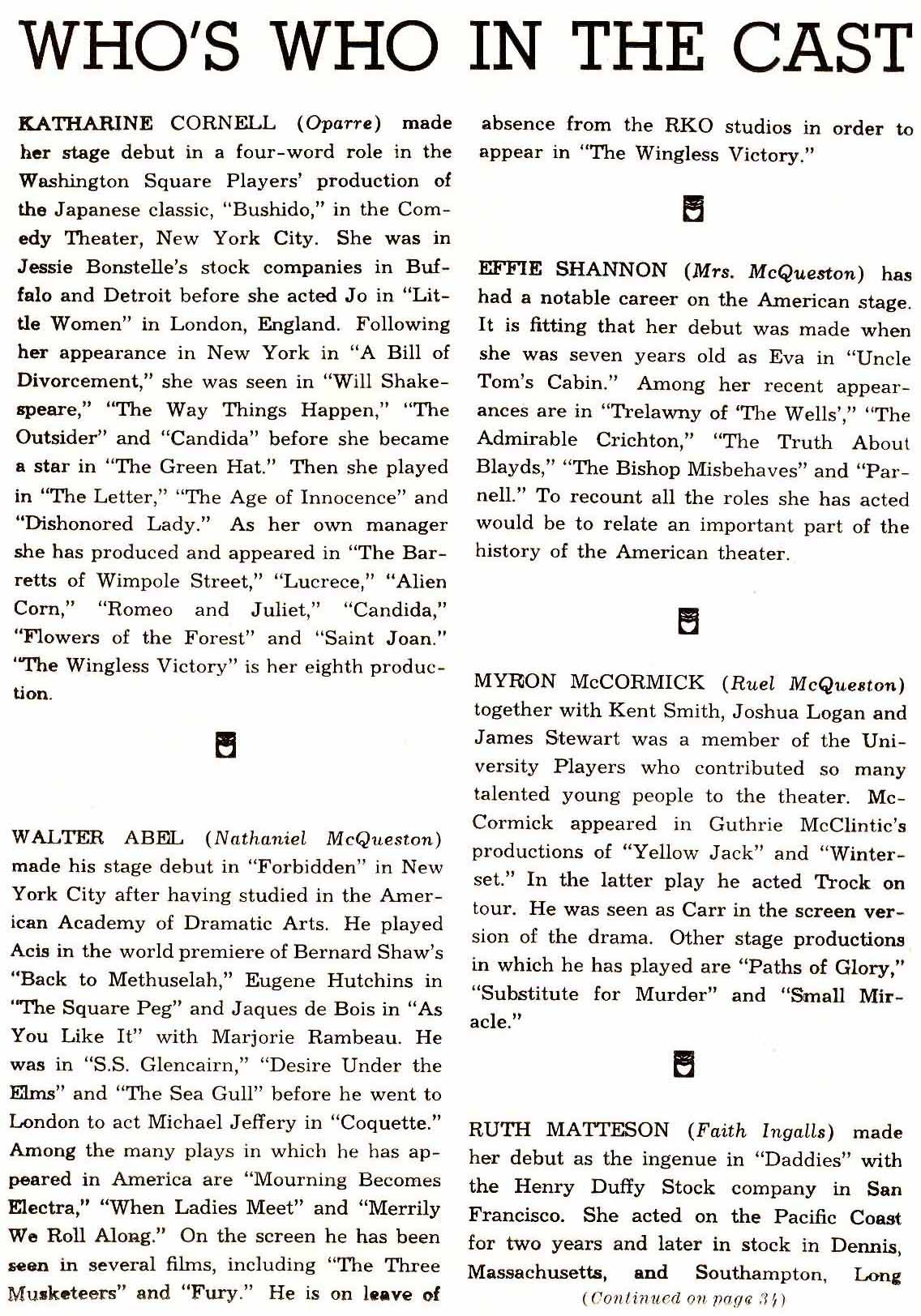 (starring Katharine Cornell / 110 performances)
Wingless Victory opened Dec. 23, 1936 and ran through March 1937 at the Empire Theatre.
---
from Time Magazine: Monday, Jan. 4, 1937:
"The Wingless Victory (by Maxwell Anderson; Katharine Cornell, producer).
The great moment in this play comes when Actress-Manager Cornell, as Princess Oparre from the Celebes, turns on her New England husband, his family and all igth-Century (sic) Salem. She reminds them of the goodwill with which she came among them, denounces them for the hypocrisy, humiliation and persecution with which they have repaid her. She declares that she is now turning from the Christ of Forgiveness, having found no mercy among His followers. She reviles her tormentors' pale, cruel faces and pale, spiteful lives. Daughter of a hot-blooded race which, when betrayed, goes mad and strikes, she cries out that she loathes herself for having been brought to childbed by one of them, as an eagle might loathe itself for having been crawled upon by a rat.
This high-powered scene, most resounding of the Broadway season and just the sort that any actress would give her false eyelashes to play, ends act II of The Wingless Victory and, in the opinion of most professional observers, in effect prematurely ends the play. How Oparre is made first to leave intolerant Salem, and then to destroy herself and her two half-breed children, is a story which has no surprises for those familiar with the Medea legend, or even readers of Joseph Hergesheimer's almost identical narrative, Java Head (1919). An eager minority of the play's first audience impulsively applauded the more ringing of poetic Playwright Anderson's soliloquies, went home satisfied that they had seen and heard an-other Mary of Scotland, another eloquent Anderson sermon about the depths of human love and human perfidy. Less impressionable people found Playwright Anderson off form this time, deplored his tendency toward purple prolixity wished he might comb the abundant and unruly skeins of his verse a bit more carefully instead of trying to turn out two or three masterpieces a year. Promised within the next month are his High Tor, to be presented by Actress Cornell's husband, Guthrie McClintic, and The Masque of Kings, to be produced by the Theatre Guild.
As for Actress Cornell's performance, spectators found it in her customary grand manner. In a sarong and dark makeup, she was perfectly at home in another of her bravura roles which please her devotees best and which have led her privately to observe that an actress of her stature cannot afford to appear in a good play."
---