(information on) Zombie Prom
Variety Arts Theatre; NYC / 1996
The original Zombie Prom was an off-Broadway production at the Variety Arts Theatre which opened in March 1996, with music by Dana P. Rowe,
book and lyrics by John Dempsey and based on a story by Dempsey and Hugh M. Murphy.
The show is set in "the Nuclear 1950s at Enrico Fermi High, where sweet and proper Toffee falls for class bad boy Jonny. When family pressure forces
an end to the romance, Jonny jumps on his motorcycle and speeds to the local power plant where he throws himself into the nuclear waste dump.
Although buried at sea in a metal casket, Toffeeís undying love penetrates all barriers and rejuvenates Jonny who returns to EFHS as a green-faced,
toxic zombie bent on graduating with his class and taking his dream girl Toffee to the prom. Tyrannical principal Delilah Strict has different ideas
and bars the goo-covered, cadaverous teen from rejoining his class. The schoolís discrimination policy prompts sensationalist journalist Eddie Flagrante
to expose the schoolís intolerance, bringing him face to face with the intractable Miss Strict. When principal and reporter realize their shared past,
true to his name, Flagrante rekindles the flame which softens the inflexible Strict."
Philip William McKinley directed the original production. Orchestrations were penned by Michael Gibson with musical direction by Darren R. Cohen.
The creative team also included Tony Stevens (choreography), James Youmans (sets), Gregg Barnes (costumes), Richard Nelson (lighting) and Abe Jacob (sound).
---
Songs:
1) Enrico Fermi High
2) Ainít No Goiní Back
3) Jonny Donít Go
4) Good As It Gets
5) The C Word
6) Rules, Regulations and Respect
7) Blast from the Past
8) Thatís the Beat for Me
9) The Voice in the Ocean
10) Itís Alive
11) Where Do We Go from Here
12) Trio (Case Closed)
13) Then Came Jonny
14) Come Join Us
15) How Can I Say Goodbye?
16) Easy to Say
17) Expose
18) Isnít It?
19) Forbidden Love
20) The Lids Have Been Blown
21) Delilahís Confession
22) Zombie Prom

---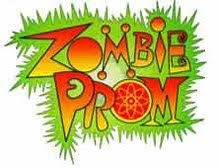 from: http://www.playbill.com/article/film-adaptation-of-musical-comedy-zombie-prom-in-the-works-com-350930
Film Adaptation of Musical Comedy Zombie Prom in the Works
BY OLIVIA CLEMENT / JUNE 09, 2015
Michael J. Roth and Steve Longi have acquired film and TV rights to Zombie Prom, which debuted Off-Broadway in 1996 at the Variety Arts Theatre, according to Variety. Vincent Marcello is tapped to write the screenplay, who wrote and directed the short film adaptation in 2006 starring RuPaul of "Drag Race" fame.

Variety reports that the screen adaptation will be penned by Marcello and Mark Landry, with Marcello directing. The two reunite after collaborating on "Teen Beach Movie." Set in the "nuclear 1950's" at a high school, Zombie Prom sees sweet Toffee fall for notorious bad boy Jonny, who throws himself into a nuclear waste dump after the relationship is forced to end. Saved by Toffee's love, Jonny returns as a green-faced toxic zombie determined to graduate with the rest of his class and to take his girl to the prom. Though his dream of returning to normal adolescence is made difficult by the school's dictator-like principal, Ms. Strict, played by RuPaul in Marcello's short film.

Zombie Prom the musical has music by Dana P. Rowe, book and lyrics by John Dempsey and is based on a story by Dempsey and Hugh M. Murphy. Philip William McKinley directed the original New York production, and orchestrations were penned by Michael Gibson with musical direction by Darren R. Cohen.

The stage show was first produced at The Red Barn Theatre in Key West, FL, in 1993, followed by a New York development workshop.

---

---