A Century of Dance
US Postal Service series / 2012
Souvenir Booklet: A Century of Dance Book
"Discover a century of dance in this exclusive 32-page, softbound booklet
which includes collectible Innovative Choreographers (Forever®) stamps,
featuring Isadora Duncan, José Limón, Katherine Dunham, and Bob Fosse."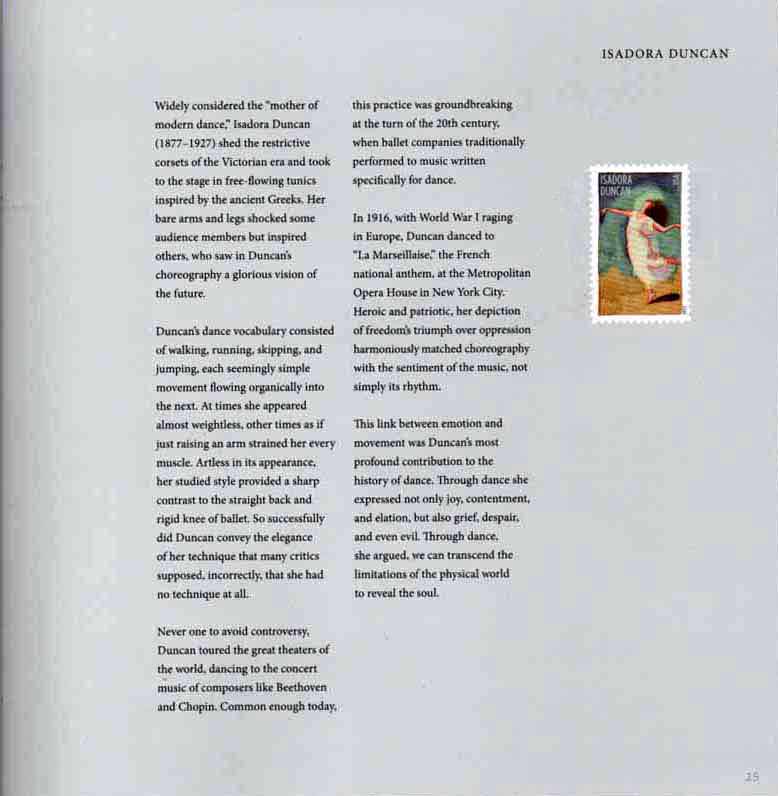 ---
Innovative Choreographers Uncut Press Sheet
Celebrate the art of dance with this suitable-for-framing Innovative Choreographers (Forever®) stamps uncut press sheet.
The stamp designs feature lively portraits of four renowned choreographers who forever changed the art of dance:
Isadora Duncan, José Limón, Katherine Dunham, and Bob Fosse.
Designed from watercolor illustrations on vintage paper, the stamp art is reminiscent of posters advertising a dance
performance. The 17.64 x 22.125-inch sheet contains 9 panes of 20 stamps positioned three across by three down.
Each pane includes selvage markings denoting the printer (Sennett Security Printers),
and the ink colors used to print the stamps.
---
Third annual National Dance Day…time to get up and move!
Saturday, July 28, 20012 is the third National Dance Day, an event initiated by "So You Think You Can Dance" judge Nigel Lythgoe to promote and
encourage everyone to get off their tushes and shake their booties.
In connection with the celebration, which began in 2010, this year the U.S. Postal Service will issue a new series of dance stamps, featuring modern dance
icons Isadora Duncan, Jose Limon and Katherine Dunham and Broadway jazz giant Bob Fosse. They are "forever" stamps, meaning you can buy a bunch now and
brighten up your postal missives for as long as they last, regardless of price increases.
by Carrie Seidman, Herald-Tribune / Friday, July 27, 2012
---
- Contributed to the archive by Butte College theatre instructor Tom Kinnee -
---
---