Shela Xoregos: On the Banks of the Surreal
Shela Xoregos is the founder and artistic director of the Xoregos Performing Company. In addition to directing, she is also a choreographer.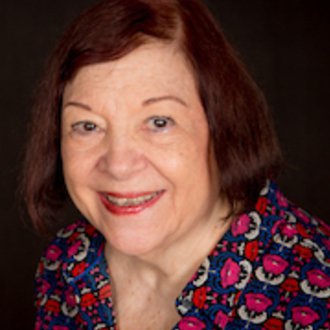 Could you give us some background about your company; why a repertory company, how large a company, and why concentrate on rarely performed works, etc.?
The Company was revived in Fall, 2001 for the Ionesco Festival. (We had slept through the 1990's! We are a non-profit corporation).
The piece we did for it is included here as it's appropriate,. Ionesco's Maid To Marry. We are a repertory company as so many good works should be re-done.
We usually have between 7-11 performers and try to have most performers do more than one piece, giving them a chance to be seen in varying works and
stretching them as actors. I find most plays boring as they're done and re-done. Also, they aren't always well-written. I try to find new
authors/composers/choreographers whose works are beautifully written, composed or choreographed.
Your current presentation will feature shorts plays all French and representing several styles. Why did you choose this unifying theme?
Paris of the early 20th Century is so fascinating and 'everyone' was there, including many American composers and writers: Gertrude Stein, Ernest Hemmingway,
George Antheil, Virgil Thomson, etc. It was a simmering kettle of mad ideas and wonderful people combusting with each other. Painting and literary forms were
changing and morphing into various new genres. It seemed a natural thing to choose plays originally written in French from 1920-1953, showing off a range of writing
and ideas. Most plays in this show are comedic. They're presented in English.
ou generally direct the productions. How do you and the company decide on what to present and how are duties within the company shared?
I decide what to present, after speaking and discussing with my Board of Directors and various friends and people who know what we're trying to do. Our range is vast,
our financial resources slim. But we try to present the programs with as high a quality as possible within our means. Imagination takes the place of money and high
quality designers and casts all aid the beauty of what we try to do.
Your company is "known for unusual plays and productions, combining music, dance, text and song in various ways". Could you explain what this means and how you go
about accomplishing this?
We began as the Xoregos Dance Company, but soon were presenting works of music, plays and poetry, short operas, historical dance programs and changed our name to reflect that.
People coming only to see dance would be disappointed. Often we combine text with movements and dance, music with text, poetry with dance and all combinations of the theatrical
elements available to us. All pieces don't lend themselves to combination performance art. In Maid To Marry, for example, Ionesco's text of the play is given simultaneously with
a movement score--Dadaesque, if you will--it works quite well. We've previously done a dance/drama adaptation of The Picture of Dorian Gray (written by Leonard Cahn) which
featured dancers speaking the lines of the novel and moving at the same time. There was also a commissioned score by Janice Giteck including a mezzo soprano and pianist on stage.
How do you go about attracting an audience to view pieces that are not as familiar to many theatergoers and do you feel you must work within a special demographic?
It has been difficult to build an audience and it takes time. Now that reviewers have come, it has helped as well. I think some audiences are tired and bored with kitchen sink
drama or male/female fighting plays and welcome a different type of theatre. Especially New Yorkers, who really know theatre and will try something different. One has to just keep trying
and present good theatre so the word spreads. It always helps to have wonderful collaborators in the designers and actors, which we are lucky to have had.
What have audience reactions been to previous pieces and how do these influence future choices?

The San Francisco Examiner / 26 Feb 1978 (pg.255)
Most anyone attending our programs want a diverting evening and they do return. One must have patience and expect to spend several years building word of mouth and a good reputation.
The journey is fascinating! At present, we do one or two programs a year.
A nytheatre voices cyber-interview / Saturday, July 30, 2005
---
(This article is included in both Theatre and Dance sections because the webmaster has such fond memories of taking dance classes at the Xoregos dance studio in San Francisco during the early 1970's... and because of the shortage of articles beginning with an "X.")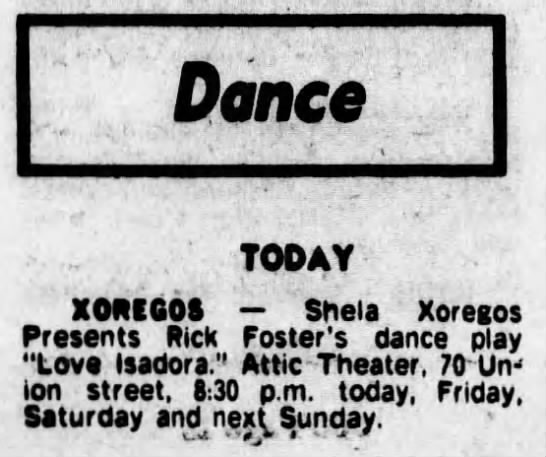 The San Francisco Examiner / March 5, 1978 (pg.296)
---
---