The Lancers
Bijou Theatre / Boston / October 22, 1883
---
(Actual program measures 7 1/4"x 7 1/4")
---
- Boston Globe / October 23, 1883 (pg.4) -
---
The original production of The Lancers (based on the French play Le Fils de Famille by G.W. Godfrey) opened in 1853
and a second version (renamed The Queen's Shilling) was produced in 1877 at the Court Theatre in London.
---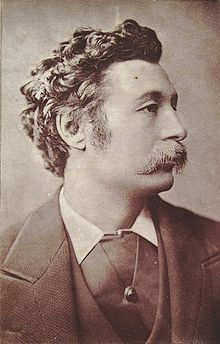 - (L) Mr. Charles Wyndham, actor, as Garrick - (Center) Sir Charles Wyndham, after knighthood - and - (R) as Capt. Smooth in Money -
---
Sir Charles Wyndham (23 March 1837 – January 12, 1919) was an English actor-manager, born as Charles Culverwell in Liverpool, the son of a doctor. He was educated abroad, at King's College London and at
the College of Surgeons and the Peter Street Anatomical School, Dublin. His taste for the stage - he had taken part in amateur drama - was too strong for him to take up either the clerical or the medical
career suggested for him, and early in 1862 he made his first professional appearance in London, performing with Ellen Terry.
Further stage work was not forthcoming, and he returned to medicine. There was a shortage of surgeons in the United States, which was in the throes of the Civil War, and he volunteered to became brigade
surgeon in the Union army. He served at the battles of Fredericksburg, Chancellorsville and Gettysburg. On 17 November 1864 he resigned his contract with the Army to return to the stage. He starred, in 1867,
in W. S. Gilbert's La Vivandière. In later years he was to appear in America: between 1870-1872 in his own Wyndham Comedy Company; and in later tours between 1882 and 1909. On one occasion he appeared in
New York with John Wilkes Booth.
Returning to England, his career blossomed. Although he was occasionally to play Shakespeare, his work mostly consisted of the popular melodramas and comedies of the time. From 1885 onwards his leading
actress was Miss Mary Moore (Mrs. Albery), who became his partner in the proprietorship of the Criterion and Wyndham's theatres, and of his New Theatre, opened in 1903; and her delightful acting in comedy
made their long association memorable on the London stage.
Wyndham was knighted in 1902. In 1916 he married Mary Moore (widow of James Albery), who for 30 years had been his leading lady and had also been associated with him as a manager.
---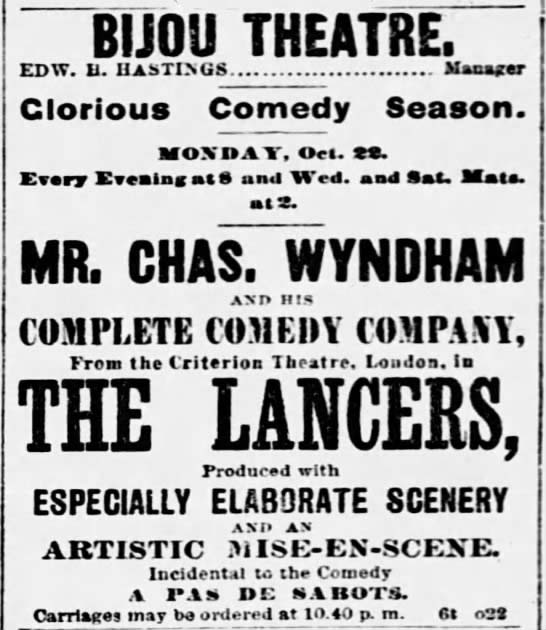 - Boston Globe / October 24, 1883 (pg.7) -
---
---