The Rosary
Taylor Opera House / Trenton, NJ / March 21, 1911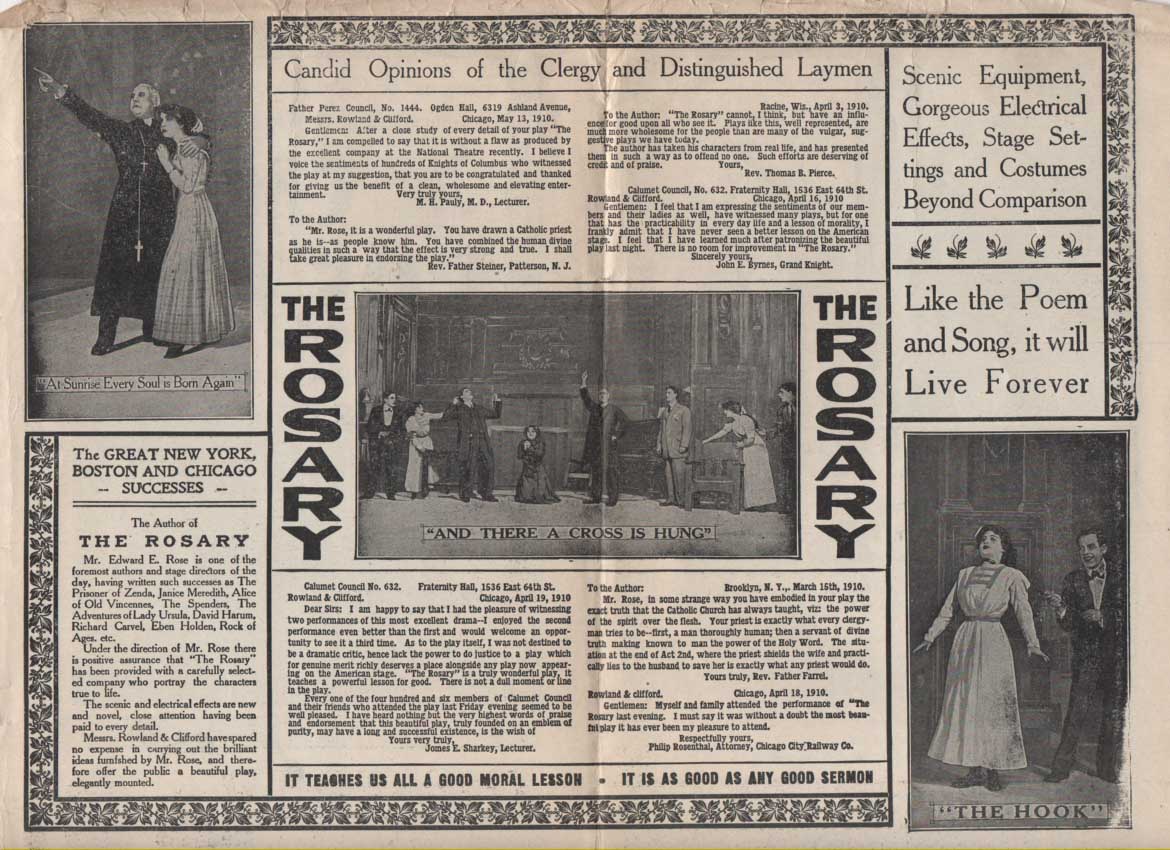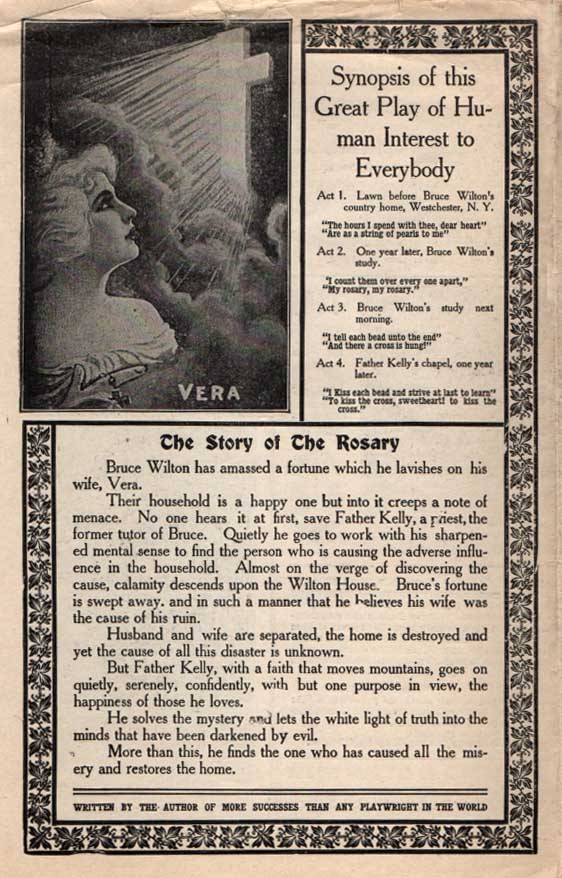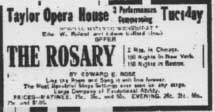 Trenton Evening Times; March 20, 1911 (pg. 8)
---
The Rosary had opened on Broadway at the Garden Theatre October 24, 1910
and ran through November 1910 for a total of 24 performances.
Produced by Edward W. Rowland and Edwin Clifford
Written by Edward E. Rose
Cast
Alice Marsh: Jessie Arnold
Kathleen O'Connor: Lois Burnett
Lee Martin (Skeeters): Billy Champ
Kenward Wright: J.M. Clayton
Charley Harrow: Edgar Murray, Jr.
Lesura Watkins: Eleanora Rella
Father Kelly: Harrington Reynolds
Bruce Wilton: Ramsey Wallace
Vera: Loretta Vermont
---
The review in the December 1910 Theatre magazine (V.12) described
this as "a drama of tears and bathos...artificial...mawkish...crude..."
and yet "not without merit" and it preaches "a wholesome lesson." In spite
of a large Irish population, I can see why this only ran 24 performances,
especially at a Broadway theatre where ticket prices were the highest in
the city; an evening performance might be as high as ten dollars for a box.
A reviewer for The New York Daily Tribune (Wednesday; October 26, 1910)
suggests that Mr. Woods, the manager of the Garden Theatre, will soon
organizze a Dramatic Uplift Society "...and so vie with Messrs. Frohman
Shubert and Brady in their yearning for saving the souls of the people by
the aid of Sunday theatricals." Years ago, the reviewer remeninisces, "the
good were so very good; the bad so very bad;" and there's nothing like that
today... "except in politics."
---

Shawnee Daily Herald; Friday, October 3, 1913 (pg.4)
- showing that the play still had enough appeal by 1913 to
&nbsp be produced by a local stock theatre company in Oklahoma.
---
Within Our Gates: Ethnicity in American Feature Films, 1911-1960 By Alan Gevinson
A seven-reel (black & white) feature film was released by Selig Polyscope Co.
("A Red Seal Play") June 28, 1915. It was directed by Colin Campbell and although
"based on the play by Edward E. Rose" the screenplay was written by Lanier Bartlett
and has a very different synopsis.
A second version was released January 16, 1922 by "A First National Attraction" films
(Selig & Rork), directed by Jerome Storm, "written by Bernard McConville, story based on
Edward E. Rose play," starring Lewis Stone as Father Brian Kelly, Jane Novak as Vera Mather,
Wallace Beery as Kenwood Wright, Robert Gordon as Bruce Wilton, Eugenie Besserer as Widow
Kathleen Wilson, Dore Davidson as Isaac Abrahamson, Pomeroy Cannon as Donald MacTavish and
Bert Woodruff as Captain Caleb Mather -- also with a much-changed screenplay.
---
(Actual program measures 5 3/4 "x 9")
---
---