You Can't Take It With You
Southern Orange Co. Shakespeare Festival Gala (Garden Grove, CA) / June 13, 2015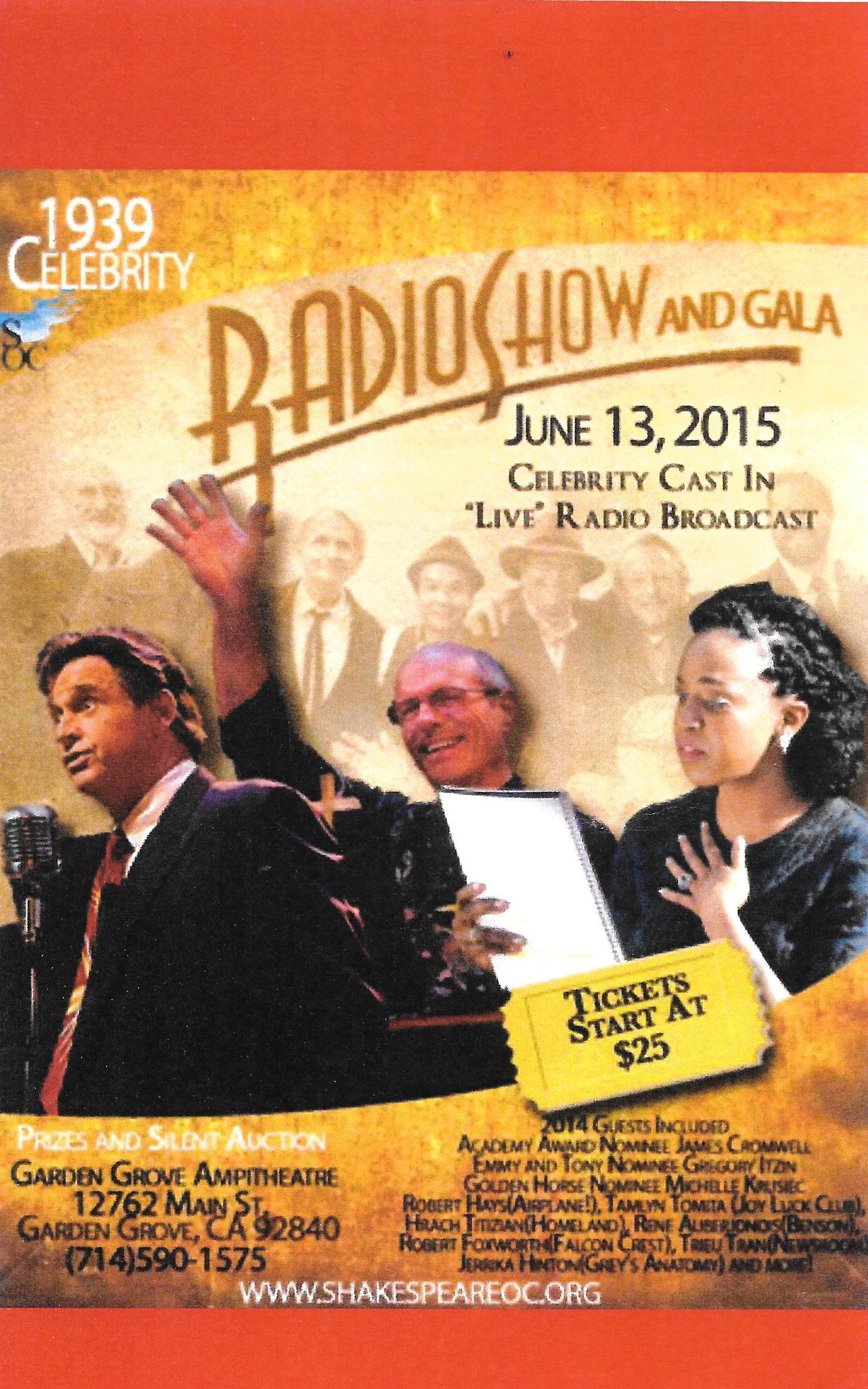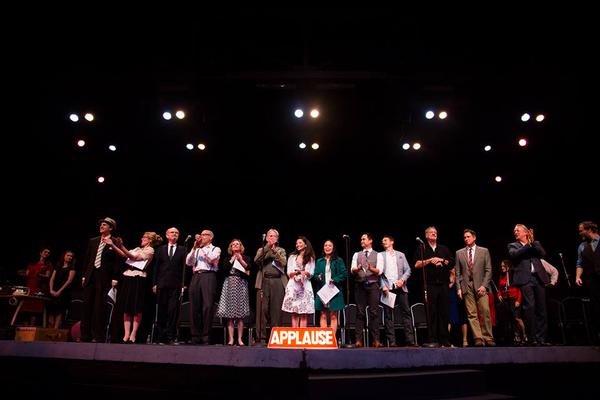 ---
You Can't Take It With You
"Live" Radio Broadcast / Garden Grove Amphitheatre / Garden Grove, CA / June 13, 2015
review for fanzine: Oracle
I'm a huge fan of outdoor performance venues, and from the Hollywood Bowl to Oregon's Ashland Shakespearean Theatre.
I've tried to experience as many on the West Coast as possible. Last night was the first chance I've had to attend the
Garden Grove Amphitheatre, home of the Southern California Shakespearean Festival, and I'm happy to report it is well worth
the visit. Small, but with excellent sightlines and attentive management, the venue is located just off Historic Main Street
with plenty of surrounding lawn area for those family-friendly pre-performance picnics.
The occasion was a fund-raiser for the company's upcoming season. An all-star cast recreated the 1946 "Theatre Guild on the Air"
radio adaptation of Kaufman and Hart's 1930's hit comedy You Can't Take It With You, bolstered with silent auctions and
last-minute raffle-ticket sales. (Sorry, we were warned not to use the word "raffle" or they'd lose their NFP status.)
We were asked to say we bought "donation" (tickets!) Winners were announced during the intermissions of the three-act play,
and the general atmosphere was one of total merriment.
Beginning the show was a trio of young women representing the "Modernaires," (historically three young men), setting the mood
with period songs like "The Way You Look Tonight", and "Someone To Watch Over Me" as the cast slowly wandered onto the nearly-bare stage.
A semi-circle of 12 chairs was flanked on each end by a 1930's cabinet-style radio, 4 1940's microphones stood on the apron, a foley table
(sound effects) was stage right and a separate area for musicians and announcers stage left; this was all you had to look at for the duration
of the performance, which is one of the beauties of reader's theatre… you have to use your imagination.
When I told the friend (now a drama instructor at a college upstate) who attended the ACT performance of The Ruling Class in San Francisco
starring René Auberjonois in 1974 that I'd be seeing him in this production, my friend said, "Well, he'll be playing the patriarch, of course."
I actually didn't like the sound of that. Knowing the play I was rather hoping he'd be playing the villain (evilly!), but my friend was right.
At the same time I was seeing René at ACT, I was watching Joe Spano over at Berkeley Repertory Theatre, and now I had a chance to see them together
on the same stage; a dream forty years in the making! In addition, how about John de Lancie, JoBeth Williams, Robert Hays, Seamus Deaver ("Castle"),
direction by René's godson, Bo Foxworth, etc? SOC, you did very well!
My biggest disappointment was with the show itself, which had nothing to do with cast or staging. You Can't Take It With You, in my opinion,
just isn't a show that adapts well to a chamber-theatre style production. If you've ever seen it performed on stage in its entirety
(or seen the film starring Lionel Barrymore as Grandpa Vanderhof) you'll understand that the house itself is almost as much a character as any one of the players.
An old Victorian home crammed with overstuffed furniture, a xylophone, a table holding a typewriter and stacks of paper representing an unfinished play, a doorway
to a basement that opens regularly to random explosions… none of this can be properly conveyed by a bare stage and a foley table. It left you completely relying on
the actor's interpretations of roles that were written to be over-the-top even by 1930's standards.
Just a thought, but one improvement would have been if René and Joe Spano had switched places. Joe morphed seamlessly in and out of a variety of roles, and
I think the need to change character would have been an incentive for René to have seemed like more than a shadow of the patriarch. Grandpa talks about people
being "lilies," but he himself can't be played as a lily. He's the epoxy that holds the show together.
I think I saw the real René once all evening. Shortly after entering and before taking his seat, the Modernaires sang "Can't Help Loving That Man of Mine."
Suddenly a tall, lanky man drifted away and began to softshoe a paddle-turn around the foley table.
Just a beautiful moment…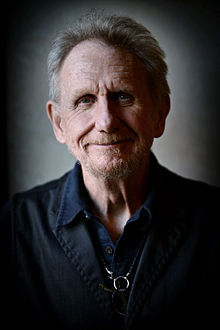 ---
---

---
(Actual placard measures 5 1/2" x 8 1/2")
---
---