Johnny Burke
comedian/lyricist / early 1900s
- Johnny Burke (May 21, 1881 - March 9, 1952) -
---
Listings:
Boston Sunday Globe (pg220) Sunday, December 25, 1921 / Keith's Theatre; "Johnny Burke in 'Drafted"
&nbsp&nbsp&nbsp "As a Christmas extra one meets Johnny Burke, who entertained along original lines. He calls his
&nbsp&nbsp&nbsp offering 'Drafted' and it is an amusing bit of comedy in which the facial work is especially good.
&nbsp&nbsp&nbsp Incidentally, there is just a dash of seriousness in a couple of efforts at the piano."
Oakland (CA) Tribune (pg26) Sunday, September 5, 1926 / Orpheum Theatre
&nbsp&nbsp&nbsp "Johnny Burke, who has returned to vaudeville for a short tour during the interim of his making
&nbsp&nbsp&nbsp picture comedies for Mack Sennett... Burke characterizes the troubles of a doughboy."
- Lima (Ohio) News (pg10) / Sun. February 17, 1929 -
Alton (IL) Evening Telegraph (pg14) Sat. January 19, 1929 / "Sennett's Nine-Reeler" (The Good-bye Kiss)
&nbsp&nbsp&nbsp "Johnny Burke, who seems to have taken Harry Landon's place -- and capably -- is the comedian."
Montreal Gazette (pg6) July 20, 1936 / Lowe's Theatre
&nbsp&nbsp&nbsp "Johnny Burke, Comedian, Provides Principal Act of Stage Show"
&nbsp&nbsp&nbsp "Headed by Johnny Burke, a comedian of merit, a good stage show heads the bill this week at Loew's Theatre."
&nbsp&nbsp&nbsp "Johnny Burke, the monologlst, did his standard patter about the 1918 selectee and was right in the groove. His routine, some old,
&nbsp&nbsp&nbsp some new and a little that was blue, covered the WAACS, drafts board, medicos, camp, transport, trenches, and hospital
&nbsp&nbsp&nbsp phases of army life."
Billboard (Vol. 55, No. 12) March 20, 1943

---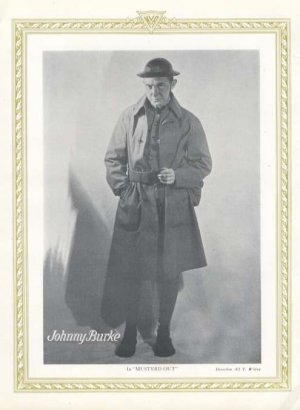 ---
(Biography by Sandra Brennan)

"American lyricist Johnny Burke was once a performer in vaudeville and in the Ziegfeld Follies. He also appeared in musicals
during the late '20s and early '30s. He began penning songs for Hollywood movies and popular songs in the mid-'30s. Among his
hits are "Moonlight Becomes You." In 1940, Burke began a long-term partnership with James Van Heusen and in 1944 won an Oscar
for their song, "Swinging on a Star", from Going My Way. The duo went on to compose many songs for singer/actor Bing Crosby.

---

---

Programs:
Orpheum Theatre / Brooklyn / Vaudeville Program / December 5, 1921

---
Return to Index of Performers
---