Billy Single Clifford
"late of Clifford & Huth" / 1910s
Billy Single Clifford
Source: Billy Rose Theatre Collection photograph file
Location: The New York Public Library for the Performing Arts / Billy Rose Theatre Division
Catalog Call Number: *T PHO A - Digital ID: th-03423 - Record ID: 505457
---
Located in Urbana, around the corner from the former Clifford Theatre
(N 40° 06.358 W 083° 45.199)
Clyde Shyrigh, better known as Billy Clifford, was born in this house on January 24, 1869,
to Levi and Sarah Shyrigh. Coming from a musical family, he developed an early interest in
music and practiced with the family in the barn behind the house.
At the age of ten, Clifford joined the circus when it was in town and played the snare drum,
sold tickets, and eventually performed a song and dance routine. A leading vaudevillian of
his time, Clifford once performed with Buster Keaton and went on to act with the best troupes
in New York City, Baltimore, Norfolk, Richmond, and Europe. Eventually, he created his own
company of performers, including an all-girl orchestra. Clifford died in this house on
November 20, 1930, and is buried in Oakdale Cemetery in Urbana.
In 1905, Billy Clifford built the Clifford Theater, now the Urbana Cinema, on the spot where
his family's barn stood on South Main Street. That was the same year motion pictures were first
shown in Urbana. Built at a cost of $75,000, the theater was the first building in Urbana constructed
solely for theatrical purposes. The ground level was large with an eighty-foot stage; the theater
held an audience of 700. The building had three floors each with separate exit doors. While visiting
Columbus and Dayton, Clifford and his troupe traveled to Urbana using Clifford's private railcar.
A separate railcar transported the scenery and baggage. In addition to Clifford and his troupe,
the theater hosted performances by such noted entertainers as John Philip Sousa and his band.
Fire destroyed the Clifford Theater years later, taking with it most of Clifford's personal belongings.
---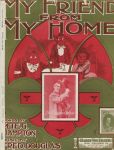 My Friend From My Home
(Composer: Fred Douglas)
Lyric: "There was a coon named Jackson had an awful disposition..."
(first line of chorus) "He's my friend from my home"
Contributors: Pete G. Hampton, Billy Single Clifford, Harry Von Tilzer / 1902
---

- Dedicated to our friend Billy "Single" Clifford -
Billy (I Always Dream of Bill)
Author: Joe Goodwin (lyricist); Kendis (composer); Paley (composer) / 1911
---