Flora Parker
dancer-actress-comedian / 1890s-1920s



- Flora Parker -
Born: September 1, 1883 (New Jersey)
Died: September 9, 1950 (Hollywood)
(information edited from Wikipedia, IMDB, IBDB, etc.)
Flora Parker (DeHaven) who became a film star of the early 1920s (Universal, Paramount-Artcraft) with her husband,
Carter DeHaven, had early shown a desire to go on the stage, being an exceptionally fine dancer.

- (L) Flora Parker, 1908 , and (R) in 1920 -
Her initial stage appearance was made at New Orleans in stock. On Broadway she appeared in:
His Little Widows ("Annabelle Lloyd") / Original musical comedy / 4/30/1917 - 6/30/1917
All Aboard ("Mary") / Original musical comedy / 6/5/1913 - 9/6/1913
The Girl and the Wizard ("Felicitas") / Original musical romance / 9/27/1909 - 1/1910
The Queen of the Moulin Rouge ("Princess Marotz Rakovitza") / Original musical drama / 12/7/1908 - 4/4/1909
Mr. Bluebeard ("Fatima") / Original musical extravaganza / 1/21/1903 - 5/16/1903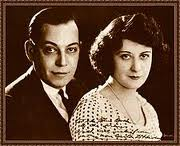 Later she became a leading lady for Nat Goodwin, then going into vaudeville with her husband.
Her screen debut was made under the Universal banner, from which company she went to Goldwyn
as co-star with her husband in a series of two-reel comedies and then to Paramount-Artcraft,
also as co-star. She was often billed as "Mrs. Carter DeHaven."
Mrs. DeHaven was of medium height and had a dark complexion and dark eyes.
She was the mother of actress Gloria DeHaven.

- Flora Parker, in later years -
---
The Contitution, Atlanta (GA); January 13, 1901 (pg.16)
- (listed in the company of The Telephone Girl as "Flora Parker, the dainty commediane")
---
Chicago Tribune; August 19, 1906 (pg.1)
- "The Olympic announces that Carter DeHaven and Flora Parker as the stars of this week's bill. They will be seen in singing and dancing specialties."
---

San Francisco Chronicle
June 9, 1918
---
Filmography:
The Panic's On (1923) (as Mrs. Carter DeHaven)
Rice and Old Shoes (1923) (as Mrs. Carter DeHaven)
Borrowed Trouble (1923) (as Mrs. Carter De Haven)
Private -- Keep Off (1923) (as Mrs. Carter DeHaven)
Say It with Diamonds (1923) (as Mrs. Carter DeHaven)
A Waggin' Tale (1923) (as Mrs. Carter DeHaven)
Christmas (1923) (as Mrs. Carter DeHaven) .... Florence Carter
Keep 'Em Home (1922) (as Mrs. Carter DeHaven)
Entertaining the Boss (1922) (as Mrs. Carter DeHaven)
Twin Husbands (1922) (as Mrs. Carter DeHaven)
Their First Vacation (1922) (as Mrs. Carter DeHaven)
Marry the Poor Girl (1921) (as Mrs. Carter De Haven) .... Julia
My Lady Friends (1921) (as Mrs. Carter De Haven) .... Catherine Smith
The Girl in the Taxi (1921) (as Mrs. Carter De Haven) .... Mignon Smith
Twin Beds (1920) .... Blanche Hawkins
Am I Dreaming? (1920)
Spirits (1920) (as Mrs. Carter DeHaven)
Kids Is Kids (1920) (as Mrs. Carter DeHaven)
Never Again (1920)
Vacation Time (1920)
A Model Husband (1920)
Beating Cheaters (1920) (as Mrs. Carter DeHaven)
Spring (1920)
What Could Be Sweeter (1920)
Rare Bits (1920)... aka Rarebits (USA: copyright title)
Teasing the Soil (1920) (as Mrs. Carter DeHaven)
Forget-Me-Not (1920)
Hoodooed (1920) (as Mrs. Carter DeHaven)
Excess Baggage (1920)
A Sure Cure (1919)... aka The Sure Cure (USA: copyright title)
The Little Dears (1919)
Moving Day (1919)
Why Divorce? (1919)
Honeymooning (1919)
Close to Nature (1919)
After the Bawl (1919)
Their Day of Rest (1919)
In a Pinch (1919)
Perils of the Parlor (1918)
A Five Foot Ruler (1917)
Where Are My Trousers? (1917)
A Novel Romance (1917)
The Losing Winner (1917)
Behind Life's Stage (1916)
The Whirlpool of Destiny (1916) .... Polly Martin
The Seekers (1916) .... Ruth Heck
The Madcap (1916) .... Flora Fairbanks
A Youth of Fortune (1916) .... Mary
The Wrong Door (1916) .... Fern Hardy, aka Miss Frou Frou
The College Orphan (1915) .... Daisy Woods
---
Koster and Bial's Music Hall & Roof Garden / NYC / Vaudeville Program / July 17, 1899

---
---