14th St Theatre / NY
Fourteenth Street (between 6th and 7th Avenues) / NYC
Built: 1866 / Demolished: 1938
Also named: Theatre Francaise (1866), Fourteenth Street (1870), Lyceum (1872), Haverly's 14th Street (1879), Fourteenth Street (1885)
History: The Fourteenth Street Theatre was a New York City theatre located at 107 West 14th Street just west of Sixth Avenue.
It was designed by Alexander Saeltzer and built by producers M. Guignet & C. Drivet and opened in 1866 to hold French plays and comic operas.
The theatre was renamed the Lyceum in 1871 and switched to a less restricted booking policy. The handsome house then became home to J.H. Haverly's
minstrel troupe and in 1879 was renamed Haverly's 14th Street Theatre. By the mid 1910s it was being used as a movie theatre, until actress
Eva Le Gallienne turned it into the Civic Repertory Theatre in 1926. It had a final blaze of glory as home to Eve Le Gallienne's Civic Repertory
company 1926-1932. She mounted 34 successful productions, but the Great Depression ended her venture in 1934. The building was demolished in 1938.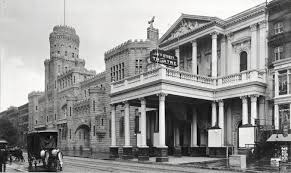 - Theatre Francais (1866-1871) -
---
- 1827 - - 1916 - - 1930s -
---
Selected productions:
Evangeline! (1885-1886) (252 perf.)
The Still Alarm (1887)
The Old Homestead (1887, by Denman Thompson) (155 perf.)
A Romance of Athlone (1889, 1890, by Chauncey Olcott)
Blue Jeans (1890)
Mavourneen (1891)
- Civic Repertory Theatre (1936) -
Civic Repertory Theatre productions:
Alice in Wonderland (1932-33, adapted by Eva Le Gallienne) (127 perf.)
Peace on Earth (1933-34, by George Sklar and Albert Maltz) (126 perf.)
Let Freedom Ring (1935-36) (108 perf.)
---
Programs available from this theatre:
Widow Bedott (1880)
Evangeline (1885)
---
---