Garden Theatre
Madison Ave. at 27th Street (near Madison Square Gardens) / New York City
Opened September 27, 1890 / 1200 Seats / Demolished 1925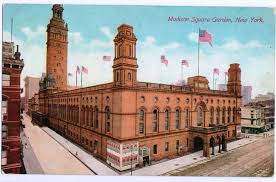 - Madison Square Gardens / 1890 -
from Wikipedia
The Garden Theatre was a major theatre on Madison Avenue and 27th Street in New York City, New York.
The theatre opened on September 27, 1890, and closed in 1925. Part of the second Madison Square Garden complex,
the theatre presented Broadway plays for two decades and then, as high-end theatres moved uptown to the Times Square area,
became a facility for German and Yiddish theatre, motion pictures, lectures, and meetings of trade and political groups.
The Garden Theatre was architecturally and structurally part of, but managed separately from, the Madison Square Garden (1890)
complex designed by Stanford White of McKim, Mead & White, that replaced the original Madison Square Garden (1879) at the same site.
Unlike most theatres of the day, patrons entered from street level and it was described as "fireproof", in an era when theatre fires
were not uncommon. The auditorium had eight boxes, a gallery and a balcony, with 1,200 seats plus room for 400 standees. The building
was 117 feet long and 70 feet wide, and the stage was 39 feet deep and 70 feet wide.
The Garden was the only New York theatre McKim, Mead & White designed, but they "provided an elegant interior...They introduced Beaux Arts
classicism to playhouse design, inaugurating a new formalism and standard of decor that would influence theatre architecture for the next
four decades. The coffered sounding board, the swag and lattice box fronts and proscenium are especially noteworthy." The interior was
decorated "in the style of Louis XVI", with views of Versailles on the main curtain.
Besides the large arena itself, the Garden Theatre was one of three separately operated attractions in the Madison Square Garden complex,
and the only one that met with any business success. The others were a concert hall and a restaurant. The theatre and the rest of the complex
were razed in May, 1925, and were replaced on the site by the New York Life Building.
The Garden Theatre has been erroneously referred to as the Madison Square Garden Theatre. It was not related to a theatre on New York's
Madison Ave. and 24th St. that was called the Madison Square Theatre from 1879 to 1891 and later called Hoyt's Theatre.
---
Programs available from this theatre: