New Amsterdam Theatre
214 West 42nd Street / NYC
(from www.nyu.edu/)
After two full years of construction, this theatre opened in 1903 on the same night as the Lyceum Theatre.
It is hardly surprising that it took two years to complete work on this massive and ornate complex.
Originally, it was a very large theatre with a roof theatre designed to be used as another complete playhouse.
The main ground floor theatre was 86 feet wide by 90 feet deep from the edge of the stage to the back wall of the general
reception room and 80 feet from the floor of the orchestra to the dome in the ceiling. The theatre also featured two balconies
and 12 boxes with a total of 1771 seats. The stage itself was 100 feet wide by 60 feet deep, and a large part of its floor was
devoted to elevators to the basement used for massive scene changes. Structural steel which was previously only used in
office buildings comprised the building's skeleton. Another unique feature that was announced but never utilized was that
the orchestra section was built to be converted into a ballroom in a matter of hours.
The venue was decorated entirely in art nouveau style which was rarely used in the United States at that time. Animals were
carved into the staircase newel posts, and trees adorned the vestibule columns. Thirty-eight heads of famous "Loves of
Historical Drama" were depicted in the wainscotting of the reception room, and an enormous mural was placed over the
proscenium arch. The builders eliminated posts supporting the balconies which improved sightlines so that every seat gave
a full view of the stage. The dressing rooms were built large enough for 500 people, and a special elevator was installed to
take actors up to the roof theater.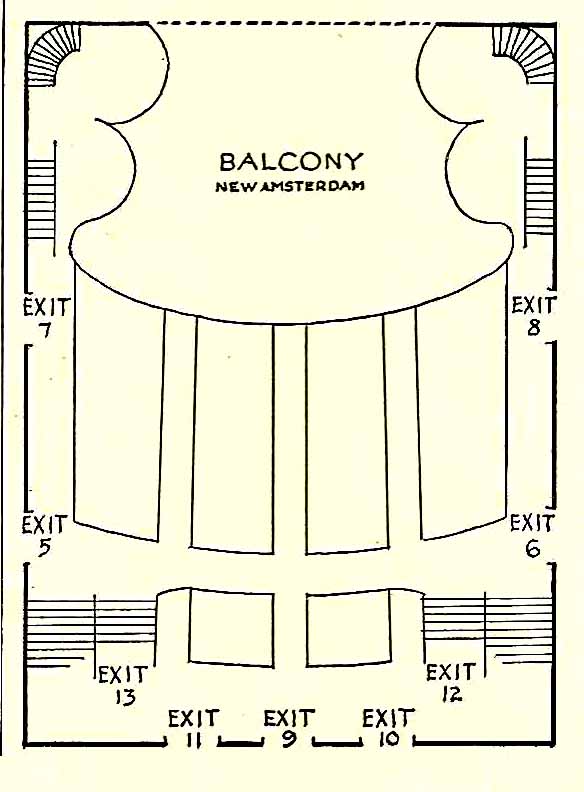 The roof theater itself was 90 feet by 60 feet. It contained 1200 seats with orchestra, box, and balcony sections. It was also
designed to be an open-air garden of sorts with its three auditorium walls as almost completely pivoting windows.

The outside of the theater was a plain brick exterior and the 42nd street side featured friezes and sculpture. This massive
construction project cost $1.5 million at that time. For all of its unique and splendid features, the theatre was nicknamed
"The House Beautiful" and won numerous awards for design and renovation.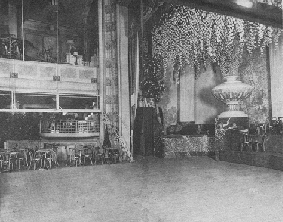 In 1936, the theatre became a movie house, and it is interesting to note that the first film and play to open in each of these
manifestations was "A Midsummer Night's Dream". In 1937 the exterior and the lobby were renovated, and a new marquee
was erected. It was recently bought by Disney and restored for a whopping $34 million. Now uniformed ticket takers who
look like they stepped out of a 1930's movie greet you. Also there is a New Amsterdam room downstairs which is a broad
round space that connects the men's and ladies' lounges and features deluxe upholstered benches.
- Past productions include the Ziegfeld Follies and The Great Ziegfeld
---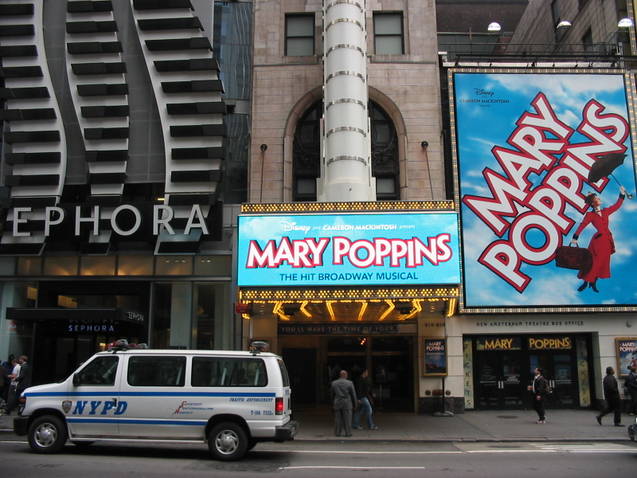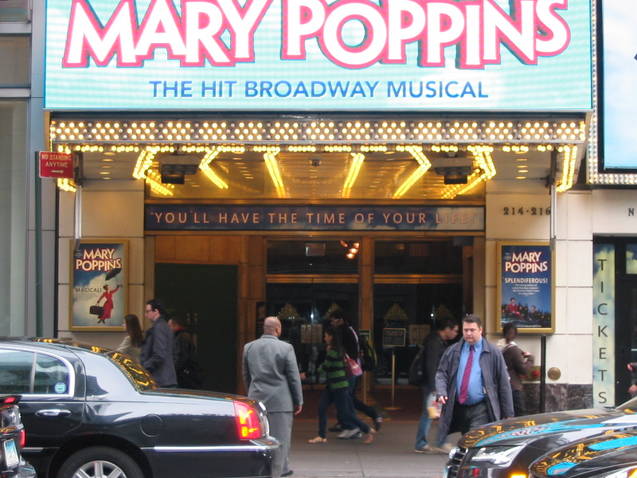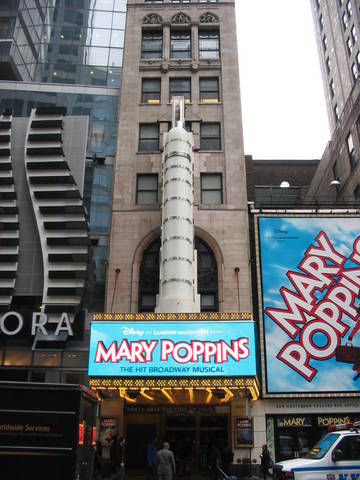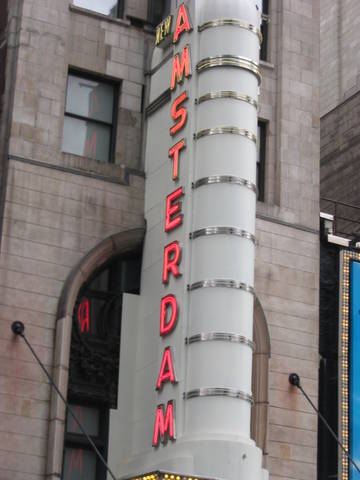 (2012 photos of sign, marquee and entrance by Robert A. Goldberg)
---
Programs available from this theatre:
Rosalie (1928)