The Playhouse
940 S. Figueroa Street / Los Angeles, CA 90015
(Also known as the Major Theatre, Times Theatre, Figueroa Playhouse, Figueroa 9th Street and Variety Arts Center)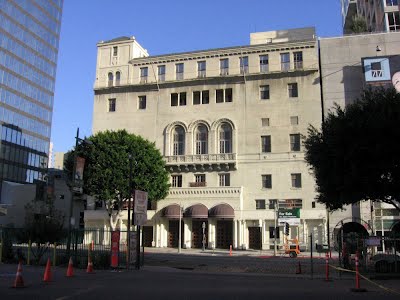 The Playhouse opened on May 5, 1924 as the "Friday Morning Club", a social-political group for women originally
founded in 1891. Allison and Allison was the architectual firm chosen to design the 6 story building and
Will Rogers was the toastmaster at the opening. Guests included Charlie Chaplin and C.B. DeMille.
The Friday-Morning Club
The idea was that the main theatre, known as The Playhouse, would generate revenue to support the building.
Speakers included Eleanor Roosevelt and Dorothy Parker. Live radio shows from the building included performers
such as Al Jolson and Eddie Cantor.
In the 1936 city directory, the main theatre was listed as the Major Theatre. By 1941 it was known as the
Times Theatre. It has also been known as the Figueroa Playhouse and the Figueroa 9th St.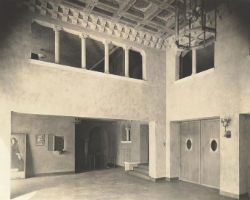 The Playhouse lobby
William Larsen (owner of the Magic Castle) bought and renamed it the Variety Arts Center in 1977,
operating it until 1989 with programs that were tributes old-time variety and vaudeville entertainers.
After two additional owners it was sold in 2012 to Robhana Management, Inc. and is still available
for film shoots and special events.
The Playhouse - 1977
The main theatre (on the ground floor) seats 1,100 and the smaller theatre (on the third floor) seats 250.
The building also has a ballroom, lounges and many other public spaces.
Programs available from this theatre: