Provincetown Playhouse
Greenwich Village / New York City
from Wikipedia:
The Provincetown Playhouse is a historic theatre at 133 MacDougal Street between West 3rd and West 4th Streets in the Greenwich Village neighborhood of Manhattan, New York City.
It is named for the Provincetown Players, who converted the former bottling plant into a theater in 1918. The original players were Eugene O'Neill, Edna St. Vincent Millay and
Djuna Barnes. Paul Robeson performed at the theatre, and E. E. Cummings had his plays performed in the building. Bette Davis and Claudette Colbert made their New York stage
debuts in the facility.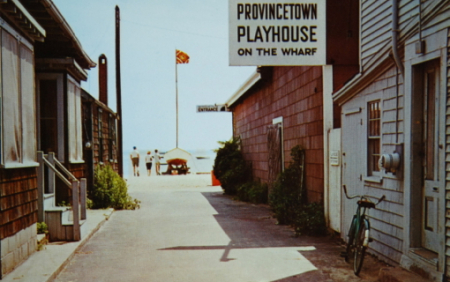 History
The Provincetown Playhouse was originally located at 139 MacDougal when it opened in 1916; it moved to its current space in 1918. The building was extensively renovated in 1940.
There has been controversy over whether the site deserves to have landmark status. The New York City Landmarks Preservation Commission on April 29, 2008 said that the site did
not have the "historical and architectural integrity required for individual New York City landmark designation", but the New York State Office of Parks, Recreation and Historic
Preservation found the building eligible for listing on the State and National Registers of Historic Places, in response to a request from the Greenwich Village Society for
Historic Preservation (GVSHP).

The same year, New York University proposed to demolish the entire building and rebuild a facility for its law school, as well as a new theater. In the face of community opposition,
NYU agreed to preserve just six percent of the old building: the walls containing the small theater in the southern corner of the building. However, during construction, NYU tore
down parts of the walls they had promised to preserve, a fact revealed by GVSHP.
---
Programs available from this theatre: