Riverside Theatre
2561 Broadway / New York, NY 10025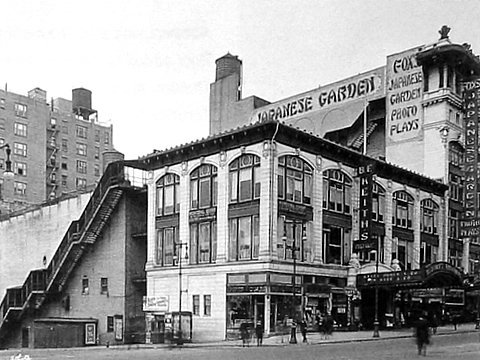 The Riverside Theatre was built for the Shubert Brothers in 1912, along with the next-door Riviera, which has a theater in the same building called the "Japanese Gardens".
All three theaters were designed by Thomas W. Lamb. The Riverside Theatre could seat 1710.
Along with the Riviera Theatre it was part of the so-called "Subway Circuit" of legitimate houses in its earlier years.
In its later years, the Riverside Theatre (and Riviera Theatre) were part of the Skouras Theaters Corp. chain and later United Artists chain.
All three theatres have long ago been razed, and an apartment tower sits on the site today.
In the advertisements of the day the Riverside was described as... "a concrete and iron structure, equipped with every convenience, and seats 1,829 persons.
Pictures and vaudeville alternate at the two performances given daily."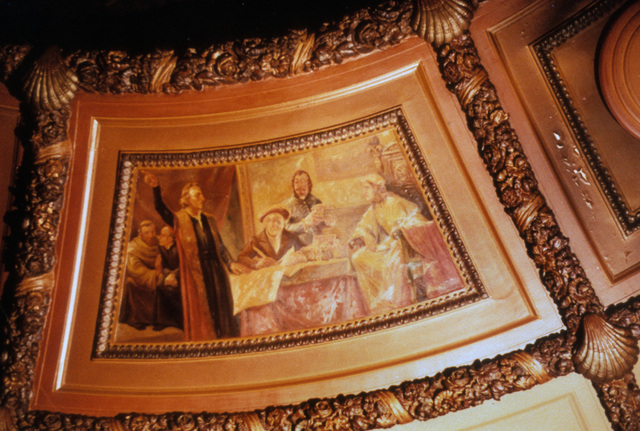 Written by a former patron, "The panel appears to depict Christopher Columbus declaring the earth to be round
and his desire to sail the ocean blue in the year 1492. As a child I spent a great deal of time in the Riverside
and it's neighbor the Riviera. The theaters were dark and the balconies were closed and you could barely see the
sounding board above the proscenium or ceiling, but you knew that there was something up there. If you stared long enough you knew."
---
---
Programs available from this theatre:
Keith Riverside Vaudeville Evening (starring Sarah Bernhardt) / 1918
---