Theatre Mart
605 N. Juanita Ave. / Los Angeles


- Theatre Mart, 1937 -
Constructed in 1927. noted theatre patron Alice Pike Barney opened the building as a theatre in 1928.
She had previously produced several shows at the Hollywood Playhouse (now the Avalon).
Ms. Barney ran the venue for three years with a different production every week -- some written by her.
Several 1929 productions at Theatre Mart include "Luna, The Man in the Moon," "The Women Plays" and "Transgressors."
The building is at corner of Clinton St. and N. Juanita Ave. -- one block east of Vermont, one block south of Melrose. Theatre Mart usually used the address of 605 N. Juanita Ave. in their advertising.
In the 1942 city directory Theatre Mart is listed as at 4049 Clinton St. The City of Los Angeles currently uses 4051 Clinton as the address for the property.
---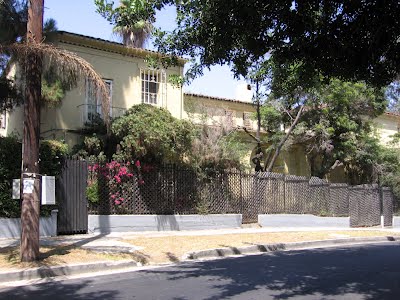 - Theatre Mart, 2011 (photo by Bill Counter) -
---
Programs available from this theatre: