Town Casino
681 Main Street / Buffalo, NY

Nowadays, most of us consider a nightclub a place to go and hear some music, have a few drinks, and maybe even dance.
Today's nightclubs are essentially bars that are transformed each night into vibrant destinations with live music and loud crowds—
Mohawk Place, the Sportsmen's Tavern, Nietzsche's, and the late Continental are all examples. Among the other extinct venues, the
Copa Casino featured great jazz while the Chez Ami, the Calumet, Dan Montgomery's, Murphy's Omega, Leonardo's, and the Alhambra were
supper clubs offering dinner and music. But the Vendome, Little Harlem, McVan's, and the Moon-Glo were the real deal: floor shows with
emcees, private banquettes, cigarette and hatcheck girls, and big-name entertainers.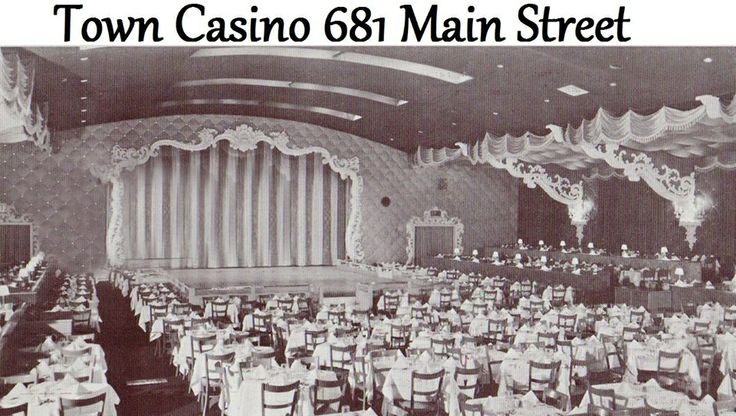 The best of them all was the Town Casino. Located on Main Street across from Shea's Buffalo, the Town Casino billed itself as
"the largest nightclub between Chicago and New York City." Its big wraparound marquee advertised three shows a night, at 7:30 and 10:30 p.m.,
and 1:30 a.m. Dinners were served from 5:30 to 9 p.m. and included the show and dancing. During the heyday of New York nightclubs like the
Copacabana, the Town Casino booked many of the same stars—Sammy Davis, Jr., Danny Thomas, Julius La Rosa, Milton Berle, Mae West, Jack E. Leonard,
Dorothy Dandridge, Perry Como, and Johnny Ray. Also appearing at the club were some of the top jazz players of the day including Charlie Parker
(with strings), Nat King Cole, Pearl Bailey, George Shearing, Miles Davis, Duke Ellington, Louis Armstrong, Les Paul, Erroll Garner, Denzil Best,
Carmen McRae, Dinah Washington, and John Coltrane, who played alto saxophone with Dizzy Gillespie and his Bebop Band at the Town in 1949.
The Town was founded and run by Harry Altman and Harry Wallens throughout its golden years from the 1940s through the '60s. WEBR-AM had a permanent
radio booth in the nightclub where staff announcers Bernie Sandler and Ed Little conducted interviews and broadcast music and nightly activities from
the club. After the Town Casino and much of downtown folded in the 1960s, the building was successively inhabited by the Studio Arena and Pfeiffer Theaters
and later became the Sphere Entertainment Complex. In 2005, new owners restored the Town Casino bar and lounge to its former splendor,
created a large concert venue behind it, and renamed it the Town Ballroom.
---
Programs available from this theatre: