Alexandrina (Alexandra) Dagmar
"The Danish Nightingale" / 1880s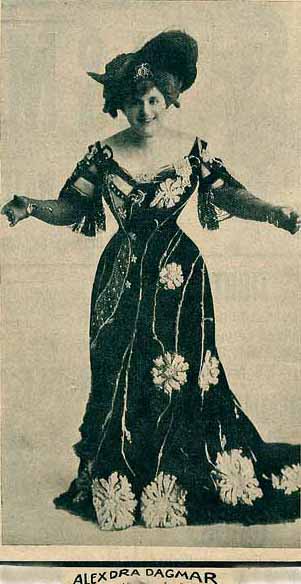 Broadway Credits:
Countess Maritza / An operetta in three acts
Century Theatre / April 09, 1928 - April 21, 1928 (16 performances)
Alexandra Dagmar as Princess Bozena Klopensheim
Blossom Time / Musical-Operetta Revival
Jolson's 59th Street Theatre / March 8, 1926 - March 20, 1926 (16 performances)
Alexandra Dagmar as Mrs. Kranz
---
Alexandra Dagmar (1868-1940), English music hall vocalist and pantomime player, began as "principal boy, Dandini" in the Ballroom Scene of the pantomime Cinderella,
produced at Drury Lane Theatre on Boxing Night, December 26, 1895. (cabinet size photo: Alfred Ellis, 20 Upper Baker Street, London, W, negative no. 20706-7, early 1896)
"Miss Alexandra Dagmar, the Dandini, is an accomplished vocalist, and her singing adds much to the general effect." (The Standard, London, Friday, December 27, 1895, p. 2b)
Alexandra Dagmar, whose real name was Dagmar Alexandra Heckell, was born in Polar, east London, on 13 March 1868, one of the daughters of her Danish-born parents, Charles Heckell
(1828?-1889), a ship's chandler (bankrupt, 1868) and later a wholesale provision merchant, and his wife, Christine (1833?-1898).
Miss Dagmar first came to general notice on 8 November 1884 under the management of 'Lord' George Sanger at his Grand National Amphitheatre, Westminster Bridge Road, London. Sanger,
who billed her as 'First appearance in England of the celebrated American actress Miss Grant Washington,' cast her as Richard, Duke of Glo'ster to appear in 'the Fifth Act of "Richard III.,"
portraying the Battle of Bosworth Field and Death of White Surrey – a scene of unparalleled effect.' (The Era, London, Saturday, November 1, 1884, p. 16b) '… and then the last act of
"Richard III." was given, an especial novelty being the representation of the chief personages by ladies. It had certainly a comic effect when Miss Grant Washington appeared as the crook-backed
tyrant with beard and moustache, fighting and declaiming in the most "robustious" manner. If Shakespeare was shaky it could not be denied that Miss Grant Washington was a handsome young lady
with a fine figure and a good voice, and her rendering of Richard was vigorous in the extreme.' (The Morning Post, London, Monday, November 10, 1884, p. 2f)
Miss Dagmar subsequently toured the United States under the auspices of the Boston Redpath Lyceum Bureau. Here she met Edmond DeCelle (1854?-1920), a tenor, and the couple were married in New York in 1888;
their son, Edmond Carl DeCelle (1890-1972), became an artist and costume designer. Mr and Mrs DeCelle subsequently appeared for a few years together on both sides of the Atlantic, billed as Dagmar and DeCelle,
before Miss Dagmar resumed her solo career. She appears to have retired on the outbreak of the First World War, after which she and her family resided exclusively in America.
Alexandra Dagmar died in Mobile, Alabama, on December 8, 1940.
---
The Pittsburgh Press - Sep 26, 1901
"A vaudeville show full of stunning acts is scheduled for the Duquesne next week.
Heading the list is Alexandra Dagmar, vocalist. Dagmar is a superb musician and is
justly styled the Danish Nightingale. Her physical beauty is pronounced, and this,
combined with her exquisite taste and sumptuous wardrobe have won her the cognomen
of 'The Most Stunning Woman In Vaudeville.'
---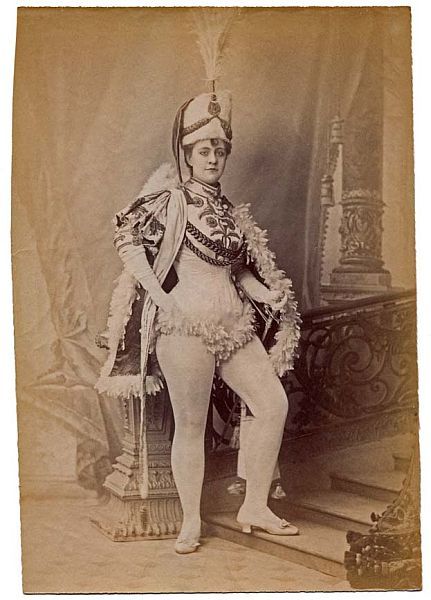 ---
Tony Pastor's 14th Street Theatre / NYC / Vaudeville Program / November 18, 1889
---
---