Artie Mehlinger & George W. Meyer
singers & songwriters / early 1900s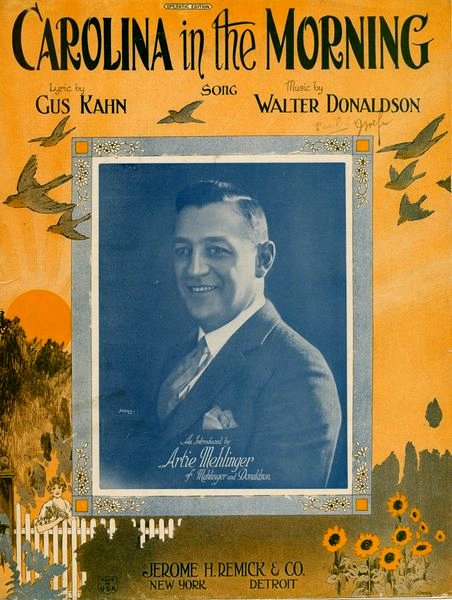 - 1913 & 1922 sheet music, showing Artie Mehlinger (tenor) -
---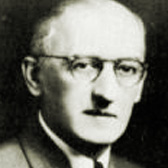 Composer George W. Meyer was born in Boston, Massachusetts on January 1, 1884. After graduating from Roxbury High School,
Meyer began working in the accounting field for Boston department stores.
Moving to New York City in his mid 20's, Meyer began working as a song plugger for Tin Pan Alley publishers.
In 1914, he was a charter member of the American Society of Composers, Authors and Publishers (ASCAP), which
he also acted as a director from 1920-1923 and 1932-1959.
Meyer collaborated with the greatest lyricists of his day including Sam Lewis, Joe Young, Grant Clarke, Roy Turk,
Arthur Johnston, Al Bryan, Edgar Leslie, E. Ray Goetz, Pete Wendling, Abel Baer and Stanley Adams.
Highlights from the Meyer catalog include such hits as "Lonesome", "When You're a Long, Long Way from Home",
"My Mother's Rosary", "Come on and Baby Me", "Since Maggie Dooley Learned the Hooley Hooley", "There's a Little Lane
Without a Turning", "Where Did Robinson Crusoe Go with Friday on Saturday Night?", "For Me and My Gal", "Everything
is Peaces Down in Georgia", "Bring Back My Daddy to Me", "In the Land of Beginning Again", "Beautiful Annabelle Lee",
"Now I Lay Me Down to Sleep", "Tuck Me to Sleep in My Old "Tucky Home", "Sittin' in a Corner", "Way Down in Iowa",
"Brown Eyes Why Are You Blue?", "I've a Little Blackbird Looking for a Bluebird", "Mandy, Make Up Your Mind",
"Dixie Dreams", "I Believe in Miracles", "There Are Such Things", "If I Only Had a Match", "In a Little Book Shop"
and "The Story of Annie Laurie."
Meyer also wrote the Broadway score for Dixie to Broadway and contributed songs to films including Footlights and Fools.
George Meyer died in New York City on August 28, 1959
---
- Brooklyn Life (pg14); February 16, 1918 -
---
- The Brooklyn Daily Eagle (pg42); Sun. January 22, 1922 -
---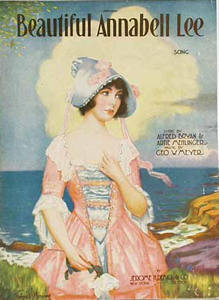 ---
Programs:
Orpheum Theatre / NYC / Vaudeville Program / December 5, 1921

---
---