Ethel Clifton & Company
stock company /early 1900s
---
from Variety (1906):
"Billy Barklay's Baby is a comedy sketch and may be new or almost so.
Played by Ethel Clifton and company early in the evening, it failed to arouse
either laughter or applause. The fault does not lie with the players, but it
may be found in the sketch itself. The scene, dialogue and situations are
hackneyed and the theme was rather a risque one for a Keith house, although
Coghlan act is none too dignified. Miss Clifton played in a sincere manner,
worthy of reward, and Thomas Chatterton as a misjudged husband both looked
and acted well, but the plot is shallow, mitigating against substantial
results. Pauline Rona as an Irish cook did the best possible, although
any other nationality for the character would have been preferable."

---
Winnipeg (Manitoba) Free Press
Monday, March 6, 1916
Orpheum Theatre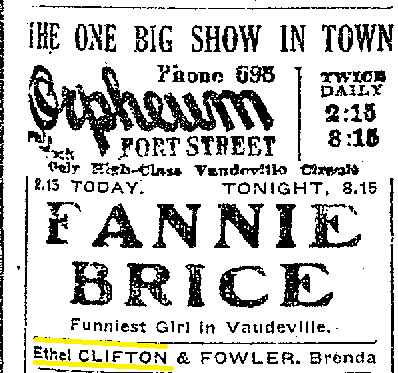 ---
San Antonio (Texas) Light
Sunday, November 19, 1916
(from Majestic bill)
"Ethel Clifton and Co. have won favor in their presentation of their graphic sketch 'The Saint and the Sinner"
---
_ Boston Sunday Post
Sunday, November 24, 1918
Gordon's Theatre

---
Waterloo (Iowa) Evening Courier
Wednesday, June 9, 1920

---
Programs: