Hale Hamilton & Grace Larue
stage, film actors / 1920s

Hale Hamilton and Grace LaRue, 1924
Broadway stars Hale Hamilton and Grace LaRue were married in May 1920 according to their passport application,
his third and her second marriages. Several months before, Hamilton's second and current wife, Myrtle Tannahill,
sued LaRue for alienation of affection in the amount of $100,000.
---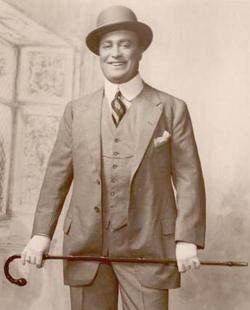 Hale Hamilton (1883 - 1942) was a popular leading man whose greatest role on the stage had been in George M Cohan's Get Rich Quick Wallingford in 1910. He performed widely on the New York stage and in London and went on to a lengthy career as a character actor and screenwriter in silent and talking pictures.
He wrote 3 plays and appeared in 78 films including: "The Greater Glory" (silent), "Dance, Fools, Dance," "Susan Lennox (Her Fall and Rise)," "Love Affair," "I Am a Fugitive From a Chain Gang," "The Girl From Missouri," "The Woman in Red" and "The Adventures of Marco Polo" in addition to a number of stage plays from 1901 to 1929.
---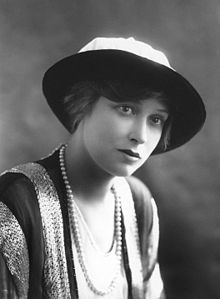 Grace LaRue, born Stella Gray, (1880 - 1952) began her career as part of the team Burke and La Rue, with her first husband Charles Burke. One of their numbers was a minstrel piece entitled "Grace La Rue and her Inky Dinks". She soon broke away from the act - and Burke - to appear in musical comedy. She had her greatest fame on Broadway, where she starred in the Ziegfeld Follies of 1907 and 1908.

In 1909, she married Byron (The Millionaire Kid) Chandler in Bennington, Vermont. The marriage broke up in 1914 when La Rue left the relationship, alleging that Chandler was unfaithful and that he beat her.

La Rue made her debut as a Vaudeville single act in November 1912 at Poli's in Springfield, Missouri. As part of the act she sang an aria from Madame Butterfly, and a duet with a phonograph recording of Enrico Caruso. Variety gave her a good review commenting that the act gave La Rue the "opportunity to display her Parisian cultivated voice."

La Rue made her debut at the Palace Theatre on August 4, 1913. Her act featured the song "You Made Me Love You (I Didn't Want to Do It)", from the show Honeymoon Express, a musical she had appeared in with Al Jolson. Later that year, she brought her Vaudeville act to Britain, appearing at the London Palace on August 4, 1913 and other Broadway shows; Hitchy-Koo (1917), Dear Me (1921) and Nothing But Love (1919).

In 1919, La Rue made her screen debut opposite American stage and film actor Hale Hamilton in the melodrama "That's Good". She married Hamilton on May 29, 1920, amid a whirl of controversy surrounding a lawsuit filed by Hamilton's first wife.

In 1922-23, La Rue appeared in Irving Berlin's second "Music Box Revue" at the Music Box in New York. In 1924, she appeared at the Coliseum in London with Hamilton. For the rest of the decade she worked mainly in the United States alternating between Vaudeville and in musical comedies and revues. One of her last big time appearances was in the "1928 Greenwich Village Follies" at the Winter Garden in New York. She appeared in a 1929 Vitaphone short called "Grace La Rue: The International Star of Song". By the early 1930s, she had retired to California, where she made a brief appearance in the 1933 Mae West film "She Done Him Wrong".
---
---