Little Jim
"The Bear With A Human Brain" / 1910s-1920s

- 1918 -
("Little Jim" the Grizzly Bear With The College
Education, at the Hippodrome)
---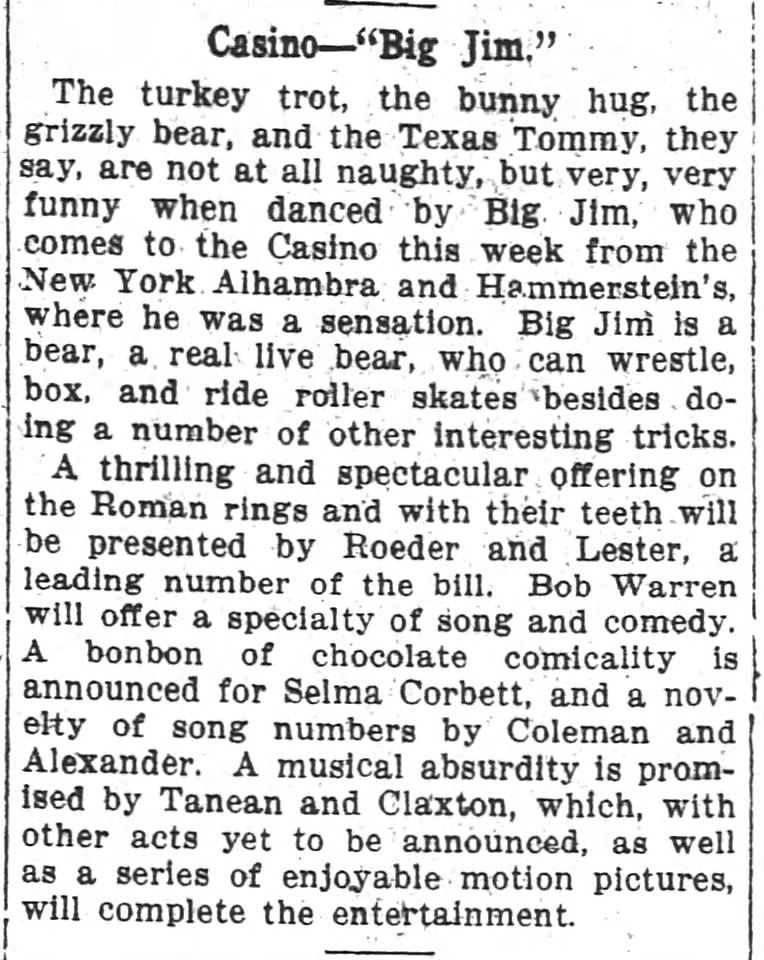 Washington Post; November 24, 1912 (pg.3)
Fort Wayne Journal Gazette; October 19, 1913
- "Big Jim The Bear, Headliner For Bill At Empress'
&nbsp&nbsp&nbsp&nbsp 'Big Jim' is sure 'some bear.' A real bear and a whopping big bear, a bruin with all the ambling,
shamblin' ungainly and keen humor of his species. 'Big Jim' is the announced headliner for the
forecoming week, starting with Sunday afternoon at the Empress Theatre, and if the Detroit news-
papers are to be relied on, is easily the strongest magnet for attracting crowds the Sullivan and
Considine has yet had.

'Big Jim' is a native of the Maine forests and was discovered by William Hammerstein for the latter's
Victoria Theatre in New York. This fellow Hammerstein has a faculty for uncovering more vaudeville
novelties than any other vaudeville manager in the world and the fact that he retained the big bear
for four weeks at his big house on Forty-seventh and Broadway is proof positive that 'Big Jim' is a
marvel. First of all, 'Big Jim' is a wrestler. He will meet all comers on the Empress stage in the
coming week, barring neither weight, race, creed or color, the only stipulation being that his opponent
must not tickle him, for his sense of humor is so marked he may laugh himself to death.

Probably you do not believe that 'Big Jim can laugh, but to see this shaggy, good-natured comedian
bare his dangerous-looking tusks in a silly grin is convincing enough that Big Jim has the power of
facially expressing his mirth. Along with his other talents, 'Big Jim' is a tango dancer. He is also
familiar with the 'Turkey Trot' and was the original 'Grizzly Bear' dancer of the universe. The average
animal act, to many, has lost its charm, but in the performance of 'Big Jim' laughs come in such rapid
succession that one forgets it's an animal act he is watching."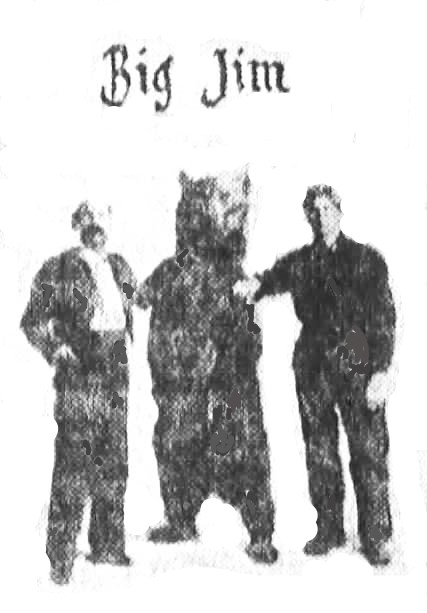 Big Jim - 1913
- Question: This is "Big Jim," obviously the original bear act.
When was he replaced by "Little Jim"?
&nbsp&nbsp&nbsp&nbsp Some time between 1913 and 1916, if we rely on the clippings.
---
The Sunday Oregonian. (Portland, Ore.); November 12, 1916 (pg.44)
- "College Educated Bear Is Big Vaudeville Feature:
&nbsp&nbsp&nbsp&nbsp Seldom, if ever, will Portland vaudeville fans have an opportunity to see
such a remarkable act as that about to open at the Hippodrome this afternoon, in which 'Little Jim,'
a young grizzly bear, is featured. This sagacious bruin has a college education and his work
is more than marvelous. He dances the tango and turkey trot, together with other steps,
performs on roller skates, plays dead and wrestles, all at the command of his trainer.
He will wrestle any man in Oregon at catch weights."
---
Waterloo Evening Courier; Monday, April 26, 1920 (pg.11)
- Majestic Theatre: "Little Jim, a genuine grizzly bear from the Alps mountains in Switzerland.
Geo. Stevens, famous animal trainer, is responsible for Little Jim's tutelage and present
knowledge of his ideas of modern dancing."
---
The Pittsburgh Press - Apr 27, 1924 (pg.49)
- "Let's Go,' called one of the best burlesques on the Columbus circuit for features,
is to be the attraction for the Gayety this week... 'Little Jim,' a trained bear,'
also has a notable part in the production."
---
Programs:
Orpheum Theatre / NYC / Vaudeville Program / December 5, 1921

---
---