Mannings Minstrels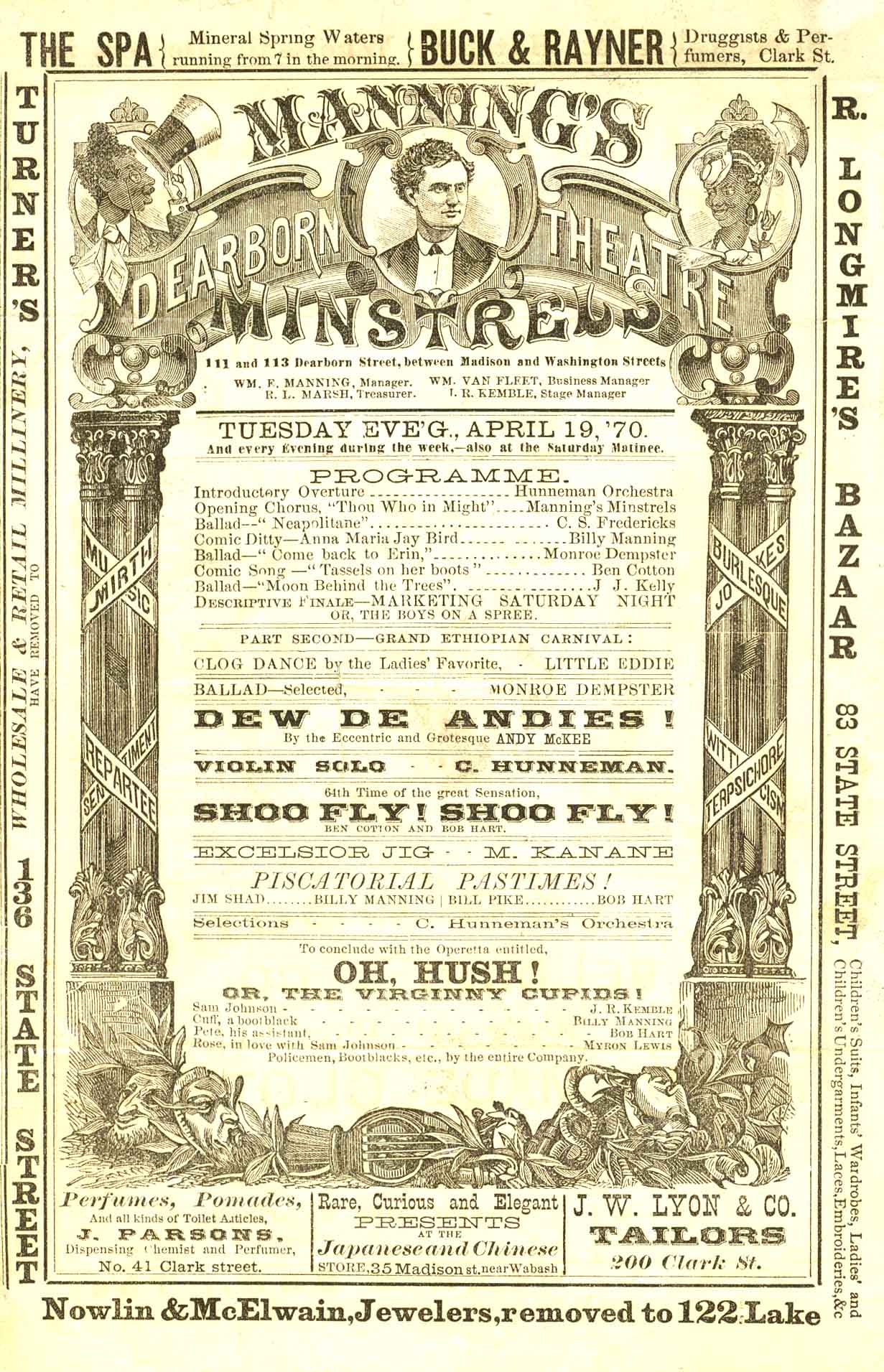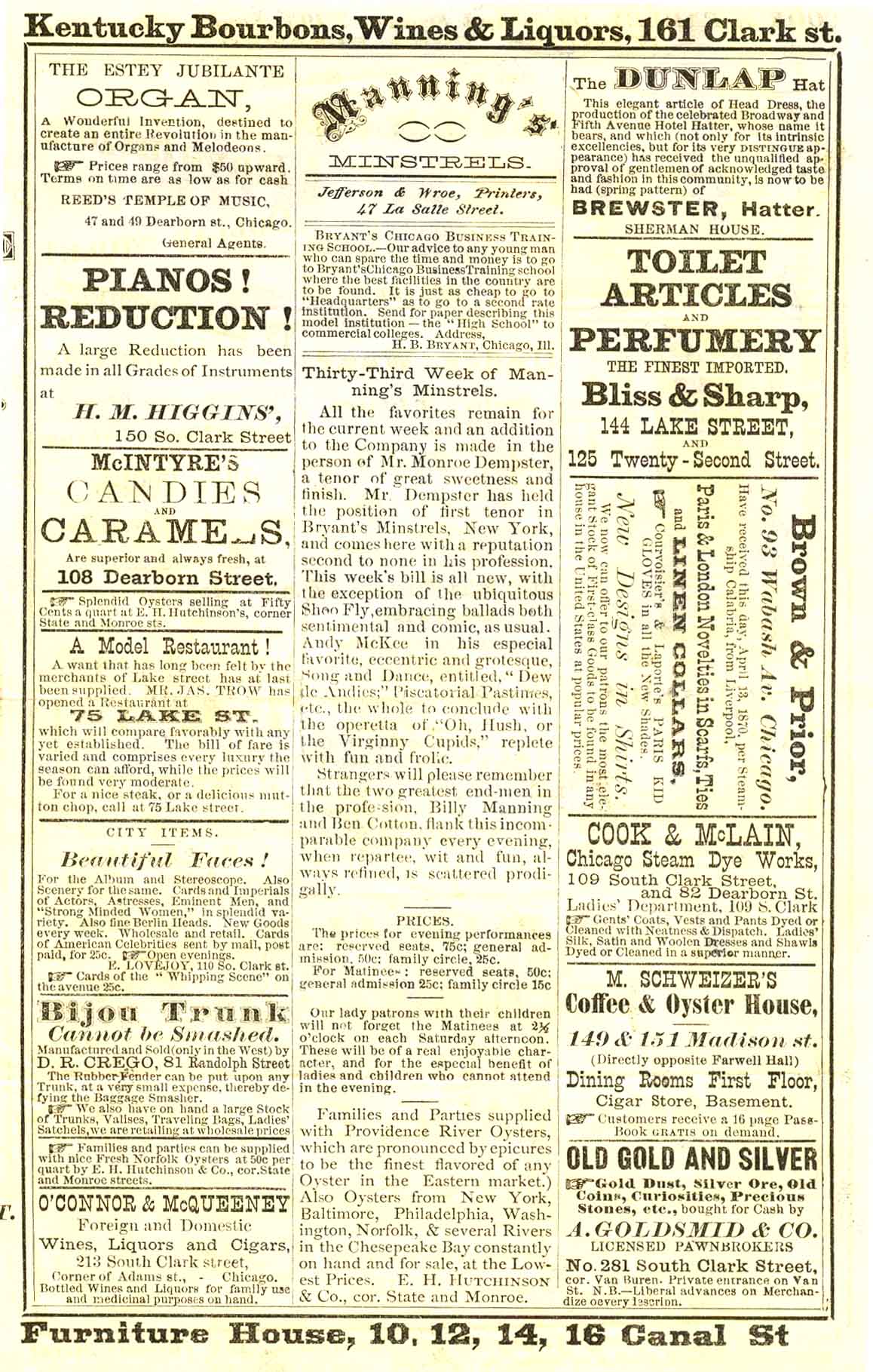 from "The Younger Generation in Minstrelsy and Reminiscences of the Past," by Frank Dumont, New York Clipper, March 27, 1915:
"In 1868 another stir was created by the organizing of Emerson, Allen & Manning's Minstrels. They had in their company a great many 'lured or borrowed' from La Rue's Minstrels.
They had Dr. Hanmer, C. S. Fredericks, E. S. Rosenthal, Charles Wheaton, Kelly and Holly, Master Eddie, Frank Bowles, C. A. Boyd, leader, and Willie Guy, and later Stevie Rogers.
They opened at Tony Pastor's Opera House, No. 201 Bowery, June 30, 1868. They remained but two weeks."
---
---
from "Early History of Negro Minstrelsy," by Col. T. Allson Brown
"EMERSON, ALLEN & MANNING'S MINSTRELS: gave their first show at Williamsburg, L. I., early in June, 1868. In the organization were Emerson, Manning, bones; Johnny Allen, tambo; Dr. J. Hanmer,
E. S. Rosenthal, C. Wheaton, G. H. Clark, Edwin Holmes, C. A. Boyd, Frank Bowles, Harry French, Richard Willis, Harry Kelly, Charles Holly, William King, P. Hanratler, Henry Elliott, Martin Setz,
and Master Eddie Manning. They opened at Tony Pastor's Opera House, on the Bowery, New York, June 29, 1868. On July 20, George F. McDonald, the actor, made his bow in burnt cork. They opened in
Cincinnati, August 3, at Pike's Music Hall. They then made a tour of the country, opening at the Fourth Street Theatre, Cincinnati, Ohio, October 26, 1868, and then made another traveling trip.
They returned to Cincinnati and opened at Mozart Hall on April 26, 1869, where they stayed one week and then went to St. Louis. Johnny Allen left in May, 1869, and J. R. Kemble, C. S. Fredericks,
Jules Seidel and Sig. Marks joined them. The party then became known as EMERSON & MANNING'S.
EMERSON & MANNING'S MINSTRELS: formerly EMERSON, ALLEN & MANNING'S, re-appeared in Cincinnati, at Wood's Theatre, May 31. They located at the Dearborn Street Theatre, situated on Dearborn Street,
between Madison and Washington, Chicago, Ill., in September, 1869, with the following company: Emerson, Manning, Bob Hart, J. R. Kemble, Rollin Howard, Lew Brimmer, Mike Kannane, C. S. Fredericks,
G. W. Jackson, Harry Norman, J. F. Dunnie, J. J. Kirby, Charles Hunnneman, Frank Bowles, Jules Seidel, H. Anson, J. Pfeifer, W. Ross, and W. Hathaway. Emerson withdrew late in January, 1870,
and the company was then known as MANNING'S MINSTRELS.
MANNING'S MINSTRELS: formerly EMERSON & MANNING'S, closed their season in Chicago, May 28, and traveled. For several weeks after this party had opened in Chicago, the theatre was inadequate to accommodate
the crowds, the receipts ranging from $1,000 to $1,200 nightly. Billy Emerson could not stand success and the consequence was a dissolution of copartnership. Ben Cotton happened to arrive in Chicago from
California just at that time and he took Emerson's place and became a great favorite. The company closed in Chicago, June 3, 1871, but re-opened the season in that city August 21 with Kemble, Cotton,
J. H. Budworth, Schoolcraft, Coes, Harry Talbot, Peasley, Fitzgerald, Stevie Rogers, C. S. Fredericks, James Lamont, C. Markham, Long, Frank Kent and Charles Hunneman. The house was burned down during
the great fire of October 1871 and the party traveled. They located in St. Louis, in October, but closed there on December 21."
---
[ibid]

"And it was here that Billy Emerson, Johnny Allen and Billy Manning organized and started Emerson, Allen and Manning's Minstrels, one of the most popular organizations of its kind ever placed before the
public. This was, indeed, a splendid minstrel company, and met with great prosperity and this very great prosperity caused its final dissolution, which began in internal dissensions between the owners and
ended in fisticuffs and separation. This "agreement to disagree," however, was not phenomenal, since it really appears as if the minstrel boys of ability, from that day to this, were all equally well developed
in the art of "slugging." And no minstrel company was ever organized, in which performers were owners, that failed sooner or later to develop prolific internal dissensions that often resulted in first class
fights and finally in separation."
---
---