McWatters & Tyson
singing comedians / 1900-20s

Tyson & McWatters, ca. 1916
(edited from Kalamazoo Public Library, by Keith Howard)
Grace Tyson: A Clever Variety Star: "Kalamazoo's Favorite Little Soubrette"
Born in Scotts, Michigan, on 6 February 1881, Grace Tyson was the second child and the eldest daughter of George W. and Helen Tyson, and a cousin of Charles and Burton Fischer, leaders of Fischer's Exposition Orchestra. Grace began performing at the age of five, and her talent was evident whenever she took part in the many local programs, concerts and recitals. She attended Lovell Street School, No. 3, in Kalamazoo, and by the age of nine had already become a seasoned entertainer.
In April 1890, Grace and more than a hundred of her fellow classmates "pleased an immense gathering of people" as part of Mrs. Foster's Kermiss, a Belgian festival held at the Academy of Music. With musical assistance from Chet Bronson and Deal Richards, "the tots both big and little were in their element" and the show was called "an immense success"
(Kalamazoo Gazette, 9 April 1890).
Getter's Mastodon Minstrels

"Mrs. Geo. Tyson and daughter, Grace, went to Three Rivers yesterday.
Miss Grace appeared with Getter's minstrels."
—Kalamazoo Gazette; May 19, 1892
Grace was quickly becoming known for her singing abilities, her "very accomplished" piano skills, and for her commanding stage presence. By 1892, Grace was performing throughout West Michigan with Getter's Mastodon Minstrels, a troupe made up of several noted local performers, including Frank Wilson, Ollie Stafford, Pierre Dodge, Frank Ryan, and Eddie Mayo. But it was eleven-year-old Gracie Tyson, "who captured the house with her sweet, graceful and winning stage manner, as well as with her solo 'Sweet Apple Blossoms.' She was loudly recalled" (Kalamazoo Gazette, 19 April 1892).

"That Charming Little Soubrette": Kalamazoo Gazette; April 14, 1892
During the 1890s, Grace took part in many of the local benefit minstrel shows that were being staged by C. Z. Bronson, Sam Folz, the Elks organization, and others. Her "clever" performances of such songs as Won't You Come Out and Play and Sweet Dreams of Love became featured concert attractions. Even at this early age, Grace excelled at making people laugh with her comedic wit and creative impersonations. During an Elks' benefit minstrel show in February 1894, "that charming little soubrette, Miss Grace Tyson, rendered Georgia in a way that made the audience roar" (Kalamazoo Gazette, 6 February 1894).
Frank Tucker and his Big Stock Company
By the age of twelve, Grace had begun performing professionally with Frank Tucker's repertory company, and was soon the star attraction. Tucker was a Kalamazoo native who managed a circuit of theaters throughout the Midwest and Canada. According to Ethel Tucker, who booked the talent for the company, they "practically 'owned' Michigan, Indiana, Ontario and Wisconsin" at the time, which prominently placed young Grace in front of large influential audiences.
By 1895, Grace was starring in a production of Mugg's Landing, called the "Greatest Laughing Success of the Age." She later played a role in George H. Emerick's McNulty's Visit, and toured with the Columbian Stock Company on the Mittenthal Brothers' circuit.
Arthur J. McWatters
While on the road with the Columbian Stock Company, Tyson was paired with a young actor named Arthur J. McWatters, a native of Saginaw. Tyson and McWatters were a powerful act together on stage, and in the process, they developed a lifelong relationship off stage, as well.
From about 1896, McWatters, a former church organist, composed the music and lyrics for several songs, many of which were featured by McWatters and Tyson in their stage routines. Given the nature of their titles and lyrical content, one might imagine that a certain Miss Tyson could have been an inspiration for some of those songs.
Songs composed by Arthur J. McWatters:
The Girl Whom We All Admire (1896)
Bess, My Bess (1896)
The Society Belle (1897)
Now You Think You're Awful Smart (ca. 1897)
Oh, Child of Mine (ca. 1897)
You're the Girl I Love (ca. 1898)
We'll Meet Again (ca. 1898)
My Alabama Lady (Coon Song) (1898)
Hearts or Diamonds (1899)
Without Thee, Dear Heart (1900)
Call Me Darling (1901)
My Lily Queen (1901)
Delilah Waltz (n.d.)


McWatters & Tyson; 1899
McWatters & Tyson
Soon, Tyson began playing soubrette roles with actor Oliver Doud Byron, "one of the leading actors of the closing quarter of the [19th] century" (New York Times, 23 October 1920). She played the lead juvenile in The Turn of the Tide, and also appeared in O'Hooligan's Wedding and Finnegan's Courtship. During the summer of 1897, Tyson and McWatters booked a successful four week run at fashionable Wenona Beach, a lakefront resort in Bay City, Michigan.
After appearing in a vaudeville sketch at Proctor's 23rd Street Theatre in New York City in 1898, Tyson and McWatters formed a business partnership, the McWatters-Tyson Company, and began performing together as a singing and dancing act. The couple shared the stage with Kate Byron and Oliver Doud Byron in The Plunger, and during the summer of 1898, were one of the first acts booked by the Mittenthal Brothers at the new Lake View Park Casino in Kalamazoo. Appearing with the Columbian Stock Company, Tyson drew some of the largest crowds of the season with her "excellent coon song and cake walk."
Kalamazoo Gazette, 10 February 1900
But Grace wasn't the only one in the Tyson family to develop a strong stage presence at an early age. Her sisters Lena and Pearl both commanded attention from local audiences with their clever singing and dancing routines. At the age of 15, Lena played a prominent role in the Maccabees' Minstrel Show at Kalamazoo's Grand Opera House in January 1899 with her "singing specialty." Later in December, twelve-year-old Pearl Tyson put on an exhibition cakewalk in front of a crowd of more than five hundred during Herman Mittenthal's celebrated cakewalk contest in Kalamazoo. By 1901, Lena, Pearl and Grace were performing together professionally in Chicago with a popular production of Herrmann the Great. Nearly two decades later, Lena Tyson would return to Kalamazoo as an internationally famous stage personality for a series of shows at the Majestic Theater.
"The Tyson sisters did a cake-walk that was really quite clever."
— Kalamazoo Gazette; February 10, 1900
"A Children's Cake Walk"
While spending time with her family during the early months of 1899, Grace was enlisted to direct "A Children's Cake Walk" in Kalamazoo at the Turn Verein Hall. Relying on her "world of experience in arranging entertainments of this nature," Grace "introduced her celebrated cake walk of different nations, which won for her an enviable reputation in the larger cities throughout the country." The evening was to include "special entertainment and dance" with music "furnished by one of the leading orchestras of the city"
- Kalamazoo Gazette; February 2, 1899
McIntyre & Heath's Comedians
Later in the spring, McWatters and Tyson joined Robert Fitzsimmons' famous vaudeville company and began working with McIntyre & Heath's Refined Vaudeville Company, regarded as one of the top blackface minstrel acts of all time. Their production of Scenes in a Dressing Room began to draw rave reviews, and it soon became McWatters and Tyson's signature piece. The couple would perform the play countless times for years to come.
"Hearts or Diamonds"
Scenes in a Dressing Room became a tremendous hit in 1899, and McWatters and Tyson were well on their way to stardom. During the year, Arthur McWatters penned a song called Hearts or Diamonds for one of their stage productions. The lyrics tell of a card game, a simple metaphor for love's triumph over material wealth. "Never were there diamonds brighter than those eyes of thine, my dear. Your heart has won my diamonds and my love I can't deny." Earlier in the year, it was reported that the eighteen-year-old Tyson had given Arthur McWatters a diamond as a gift.
"The Epitome of Vaudeville"
"Grace Tyson, the charming and dainty little comedienne of the McWatters-Tyson Company, is not only popular with the general public, but is especially well-liked by her fellow performers."
National Police Gazette, New York City; October 3, 1903
In January 1900, McWatters & Tyson were back on the road with McIntyre & Heath's Comedians, billed as "the epitome of vaudeville." The entourage appeared in Kalamazoo at the Academy of Music on Tuesday evening, the 9th of January. Of McWatters, one reporter commented, "he's a nice boy and has a lovely, rollicking mate in Gracie. They did a sketch, which they are pleased to call 'Scenes in a Dressing Room.' It was full of ginger, rag-time music and fun and was applauded to the echo. Miss Tyson was most pleasing in her coon songs and the cakewalk she and McWatters did at the finale of the act was a winner. Friends of Miss Tyson presented her with a beautiful bouquet at the close of her specialty"
- Kalamazoo Gazette; January 10, 1900
In March, McWatters and Tyson were appearing nightly at the Schley Music Hall in New York with (future Academy Award winner) Marie Dressler and Richard Harlow (a 6-foot-tall, 200-pound female impersonator). By May, McWatters and Tyson were performing two shows a day on the famous Proctor circuit.
During the fall, McWatters & Tyson were the featured act in Gus Hill's McFadden's Rows of Flats. "Miss Tyson has been blessed with a charming personality in her work and shows great earnestness of purpose," said the New York Clipper, "her cleverness and the equally capable efforts of Mr. McWatters having kept their act 'Scenes in a Dressing Room' prominently to the fore during several seasons"
- New York Clipper; September 7, 1901

Lily Queen - 1901
A Return Appearance in Kalamazoo
Although she spent most of her time on the road, Tyson claimed Kalamazoo as her home until about 1901. During the summer that year, Grace made a return visit to Kalamazoo to visit friends and family, and to give one final round of her "specialties and coon songs" for her hometown fans at the Lake View Casino.
"Mrs. McWatters"
Shortly thereafter, McWatters and Tyson would leave to begin a tour of North America with Leon Herrmann's Herrmann the Great. But when it was announced in the local papers that "Miss Grace Tyson of Kalamazoo" was in fact "in her private life Mrs. McWatters, her husband [being] well known in the vaudeville theatres of the country," Tyson's mother was not the least bit amused. The elder Mrs. Tyson issued an immediate response, stating that the report was false, and that Grace and Mr. McWatters were simply "team mates" and that her sisters, Lena and Pearl, were with Grace and "meeting with gratifying successes." But as truth would have it, the couple were in fact married, though the exact date and location of the ceremony remains a mystery. Tyson would retain her stage name, "Miss Grace Tyson," throughout her professional career.
- 1901 -
"Miss Tyson puts a regular May Irwin ginger into her work."
— Grand Rapids Press; July 2, 1906
"Scenes in a Dressing Room"
McWatters and Tyson continued to hone their acting skills and the improvements did not go unnoticed. Even after several seasons of production, critics continued to rave about their work in Scenes in a Dressing Room. Both were experts at emulating the characters they portrayed. McWatters had perfected the art of vocal impersonation while Tyson was being recognized for her "clever imitations, particularly Maria Dressler's 'Drunk Song' and Eddie Gerard's monkey act" (Syracuse Journal, 29 July 1905). "She has the faculty of contorting her countenance so as to be unrecognizable even to her own mother, but, unlike many of the grimacers, she does not sacrifice her daintiness"
- The Evening World's Home Magazine; June 25, 1903
"A Rather Clever Soubrette"
"McWatters and Tyson, In 'Scenes in a Dressing Room,' have hit upon an idea that is well worked up," raved a well known New York vaudeville critic. "Miss Grace Tyson is a rather clever soubrette who would rather have it said that she has a mobile face than that she is clever. The various contortions she puts it through are liable to damage it in time, crack it around the edges and wear it off at the corners, but she goes ahead as though utterly fearless. Her imitation of a monkey inclines one to foster a belief in the Darwinian theory. Her facial resemblance to one of our little simian brothers in this imitation is so close as to cause wonder. Special settings are carried for the act, including a transformation scene which changes the dressing room into a swamp scene with huge water lilies, which open and disclose Miss Tyson and her feminine associates comfortably ensconced among the petals."
—Rochester Democrat and Chronicle; April 12, 1903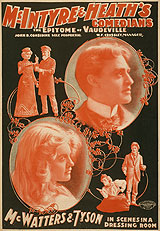 Despite her skyrocketing success, 1903 would hold a few unpleasant surprises for Grace and her family. In August, the Tyson sisters were called back to Kalamazoo after the surprise death of their father, George Tyson. Grace and her sisters returned to work immediately following the funeral, only to be informed a few weeks later of the death of their grandmother, Elizabeth Tyson. Many of her fellow performers sent gifts as a display of their support and admiration for the young actress.
-San Francisco Chronicle; Saturday, October 31, 1903 (pg.15 - listing at Orpheum)


Pride of the Prairie - 1907
(w/inset photo of Grace Tyson)
Pride of the Prairie, 1907
In 1907, Grace took a break from vaudeville and played a role in The Girl Rangers in Chicago with Will Rogers. Rogers' novel rope tricks were "in many instances wonderful," while "Grace Tyson, whose bright personality is temporarily withdrawn from vaudeville, added much life to the performance, and her topical song was one or the big hits"
- New York Daily Mirror; September 14, 1907
"The past summer brought out some clever popular songs, but none to take the public fancy more than 'Pride of the Prairie.' It was heard in vaudeville, in illustrated songs at the moving picture shows; the bands took it up in the parks and passed it on to the orchestras on excursion boats. It is just the type of song that starts the gallery whistling."
— Edison Phonograph Monthly, August 1908

Grace Tyson postcard - 1915
"They possess real talent"
"Characteristically impulsive are the words that best describe Mr. McWatters and Miss Tyson. Their rise in the profession has been meteoric and deservedly so, as they possess real talent. The work of Miss Tyson is not unlike that of the lively Lottie Gilson. Their sketch deals with the inner side of theatrical life, which is always eagerly accepted by the general public."
— Trenton Sunday Advertiser; April 19, 1905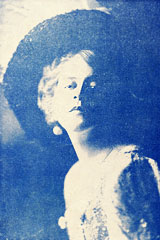 Grace Tyson - Ziegfeld Follies of 1910
The Follies of 1910
A major break for Tyson came in 1910 when she was cast for a role in the Ziegfeld Follies. The fourth in Florenz Ziegfeld's famous series of elaborate stage productions, The Follies of 1910 gave nearly ninety performances over a six month period at the Jardin de Paris, on top of the New York Theater. Tyson appeared in a skit called "In the Music Publisher's Office" with Fannie Brice where her rendition of That Mesmerizing Mendelssohn Tune (Mendelssohn Rag) by Irving Berlin won frequent encores, and helped elevate Tyson' status as a performer to that of a true star.
"Eyes, Eyes, Eyes"
In 1908, Tyson starred in a burlesque called "Mimic World" in Philadelphia where she sang a song called Eyes, Eyes, Eyes. In fact, her own eyes, it seems, had become a popular attraction for the young actress. After her appearance in the Follies of 1910, Tyson caused a stir by taking out a $15,000 insurance policy on her eyes (more than $360,000 in today's currency), a highly unusual move for its day. Tyson made it known that she regarded her eyes as her primary professional asset and felt she was right to value them accordingly. The policy ran for a year with an annual premium of $30. "Miss Tyson's eyes are certainly her fortune. They are capable of expressing all the emotions of which frail mortality is capable, overwhelming woe and uncontrollable mirth alternating with slightly any effort."
— The News of the World (London), September 1913
"That Versatile Team of Entertainers"

Following the success of the Follies, McWatters and Tyson were billed as "that versatile team of entertainers," and continued to headline some of the most prestigious performance venues in the country. With a new production that kept the couple on stage for more than 40 minutes (unusual for a variety show), they appeared at the Grand Opera House in Brooklyn, the Alhambra on Broadway, and a host of others. During the opening of the Green Room Club at New York's Broadway Theatre in March 1912, McWatters and Tyson shared the bill with some of the biggest names in the business, including Weber & Fields, Lew Dockstader, George M. Cohen and Louise LeBaron.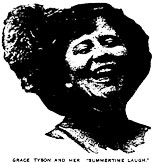 "The Summertime Laugh"
Syracuse Journal (NY); July 19, 1910
"Grace Tyson, who took the part formerly played by May Irwin, is a person of amazing energy. She went at least 60 horse-power from the time the curtain rose and looked crosseyed at least three times during the evening. It was rather interesting to speculate as to the means of finally stopping her when the curtain fell."
— New York; Sun, May 26, 1912

Arthur McWatters postcard - 1915
"Kalamazoo Vaudeville Artiste"
During what was perhaps the peak of the couple's popularity, Colonel Butterfield attempted to book McWatters and Tyson for an extended appearance at Kalamazoo's Majestic Theater in 1912, but his efforts were of no avail. Butterfield offered $2,000 plus expenses for a four week engagement, said to be the largest offer he had ever made for vaudeville in Michigan. The couple, however, was already earning in excess of $1,000 nightly (nearly $22,000 today). For obvious reasons, the Kalamazoo engagement never materialized.

Arthur McWatters and Grace Tyson,
probably enroute or returning from a South African tour, ca. 1913
McWatters and Tyson World Tour
During 1913 and 1914, Tyson and McWatters embarked on a grand tour of England and South Africa. While enroute to Europe, their ship encountered a severe storm that lasted several days. Naturally, some of the passengers became uneasy after being so tossed about. In their own inimitable style, McWatters and Tyson responded with an impromptu performance to help calm the storm-weary travelers. The couple sang nearly every song about the high seas they could think of, including Sailing (a Burton Fischer tune), Rocking in the Cradle of the Deep "and everything else along that line, except 'Down in the Deep Let Me Sleep When I Die'"(!) (Kalamazoo Gazette-Telegraph; October 14, 1916). Upon their safe arrival in Liverpool, the passengers presented Tyson with a handsome gift as a token of their appreciation.
The couple made "a decided hit" (New York Clipper; September 20, 1913) at the London Opera House with their review called Come Over Here, then continued with an extended run of London's music halls with a burlesque skit called The Thief.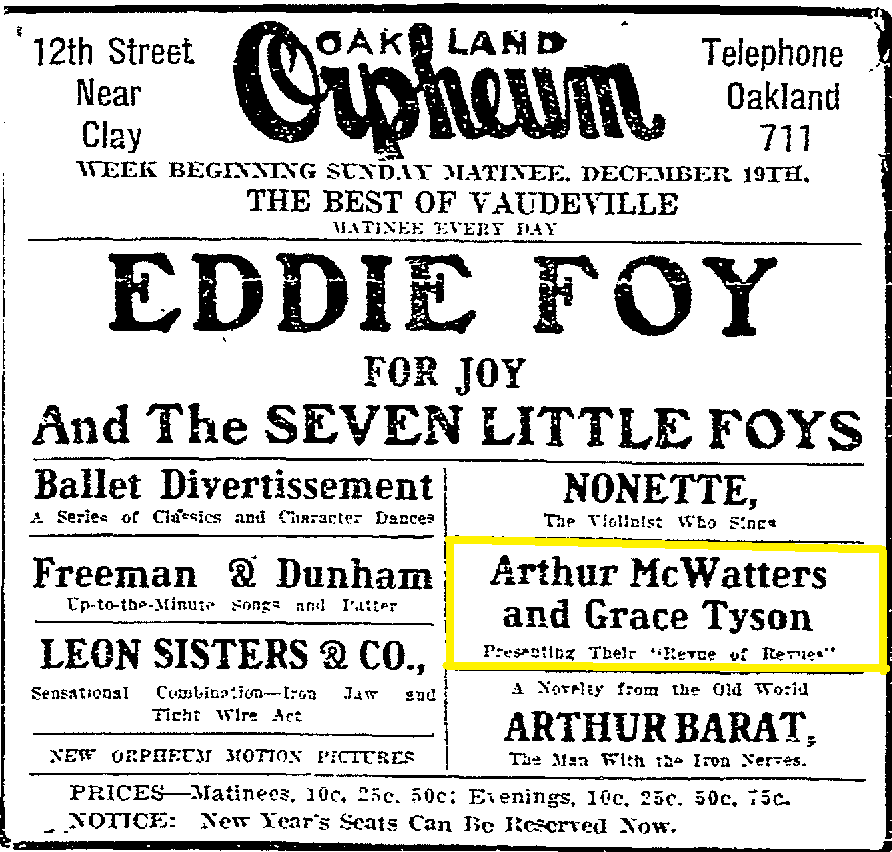 - Oakland Tribune; Sun. December 19, 1915 (pg25) -
1916 Revue of Revues
Following the tour abroad, the couple returned to the United States for a series of shows dubbed the Revue of Revues, which included a week-long stopover at Keith's Empress Theatre in Grand Rapids. In December 1916, Arthur McWatters made a recording of My Old Chum by Sam Louis for Victor Records. Whether or not the recording was released commercially is unknown.
---
Boston Globe (pg46)
Sun. November 19, 1916
"Arthur McWatters and Grace Tyson in their Revue of the Best in Dance and Comedy"
- Boston Post (pg36) / Sun. November 26, 1916 -
---
Fort Wayne Journal Gazette (pg7)
Thursday, February 6, 1919 Palace Theatre

"Arthur McWatters & Grace Tyson presenting 'Revue of Revues' here direct from the Mary Anderson Theatre, Louisville
where they are scoring a wonderful hit."
---
"The Eyes of Vaudeville"
By the time of the Great War, the advent of motion pictures and the dawn of the Jazz Age ushered in new audiences and a new generation of performers. Although their popularity had clearly peaked, McWatters & Tyson continued to perform throughout the nineteen teens and into the 1920s. The couple performed "a medley of dances, chatter and travesty" (Grand Rapids Press; October 14, 1916) called "Revue of Revues" during the 1916-1917 season, and toured with a "Revised, Reincarnated, Refreshed and "Refined Revue of 1919" entitled "The Eyes of Vaudeville" to conclude the decade. And even as the popularity of vaudeville began to fade, the couple continued to attract enthusiastic audiences well into the 1920s with a series of shows called "There is Nothing New Beneath the Sun". Four decades after she began entertaining, Tyson was still hailed as "one of the best mimics on the stage, possessing magnetism to a marked degree"
- Fayetteville Bulletin; May 4, 1925
Schenectady Gazette; Saturday Morning, April 28, 1924
Proctor's: "Other offerings on the bill Include Arthur McWatters and Grace Tyson
in their skit of songs, dances, chatter, travesty, drama and other bits."
Final Curtain
After their 1916 Revue of Revues, McWatters and Tyson settled in the village of Freeport, Long Island,
where the couple would remain residents for some 25 years.
While working in Hollywood in 1939, Tyson suffered a stroke, from which she never fully recovered.
After spending her final years confined to a convalescent home, Grace Tyson passed away on
October 20 , 1942 at the age of 61. She was survived by her husband, Arthur McWatters, and three sisters.
---
Listed only:
Berkeley (CA) Daily Gazette (pg3); Wed. December 22, 1915 at Oakland Orpheum -
(Philadelphia) Evening Public Ledger; January 18, 1915 (pg9), at the Globe, "the Musical Comedy Stars" - Seattle Orpheum Theatre Program, November 28, 1915; McWatters & Grace Tyson in "Revue of Revues" - (Portland) Morning Oregonian; April 07, 1917 (pg16) -
---
Programs:
Proctor's Theatre, Newark / Vaudeville program / 1904
Orpheum Theatre / NYC / Vaudeville Program / December 5, 1921

---
---