Rixford Brothers
acrobats / 1900s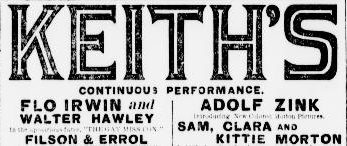 Sunday New York Sun / April 22, 1900 (pg.10)
---


Rixford Brothers - Boston Daily Globe - Tuesday; March 12, 1901 (pg.8)
---

courtesy of: New Central Theatre program
Duke University
David M. Rubenstein Rare Book & Manuscript Library
Description:
Double-sided program for the April 4th, 1879 evening performance at the New Central Theatre in Baltimore.
Performances include: Married men beware! (a comic farce); Irish songs and American jig performed by Henry Flaherty;
The Rixford Brothers (George and Henry), gymnasts; The Grinnells (Hattie and Bennie) performing song medleys and dances...
and finally, the Carncross & Dixie's Minstrels performing H.M.S. Pinafore. Illustration on back with instruction to
"cut this out and put it on your door." The left side of the image shows a foot kicking a caricature of a Black man
out the door; on the right side of the image is written "Shut the door" with an image of a devil holding a baseball bat
on which is inscribed "a gentle reminder". The door displays a sign for Jas. Young Book & Job Printer...Baltimore".
---