Rossow Midgets
midget act / late 1800s
---
New York Supplement, Volume 101 (1907: Includes decisions of the Supreme Court and various intermediate and
lower courts of record; May/Aug. 1888-Sept/Dec. 1895, Superior Court of New York City; Ma./Ap. 1926-Dec. 1937/Jan 1938, Court of Appeals)
"The plaintiff herein is the proprietor of a theatrical troupe known as 'Rossow's Midgets.' In January 1904, as appears by the contract
annexed by the complaint, the plaintiff entered into an agreement with the Lilliputia Company, described therein as a
'corporation trading under the laws of the state of New York,' to furnish performances of the above-named troupe during
the summer season of 1904 in the Midget City at the Amusement Resort called 'Dreamland' on Coney Island. The contract for
these performances was $250 per week. Pursuant to this contract the Rossow Midgets went to Dreamland on or about May 15, 1904
and give (sic) their performances daily up to and including June 15, 1904, upon which date they were discharged, having
received two-weeks' notice theretofore from the manager of the Midget City that their employment would be terminated on that
date. Upon the trial it was stipulated that the amusement season for which the plaintiff's troupe was engaged terminated on
September 25, 1904, and the plaintiff wishes to recover in this action the difference between what his troupe earned between
June 15, 1904, the date of the discharge, and what it would have received had it been allowed to continue the performances
for the entire season."
(Note: Complaint dismissed on the grounds that the plaintiff's contract with the troupe was invalid.)
---
Milwaukee Journal; March 14, 1898
"ROSSOW MIDGETS SUED: Manager Herman Rossow of the Rossow Midget s has been sued by Bart J. Ruddles, press agent of the Bijou Theatre for $140 in damages alleged to have been committed to his furniture during the engagement of the company here two years ago."
---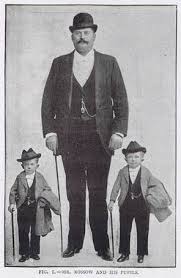 NY Times; March 8, 1908
"MIDGETS ARE SUING GIANT FOR $50,000; Little Subjects of the Kaiser Seek to Recover Money They Earned in Vaudeville.
INDIANA FARM INCLUDED Frugal Giant, They Say, Kept Them on a Pittance for Years and Took All Profits."
---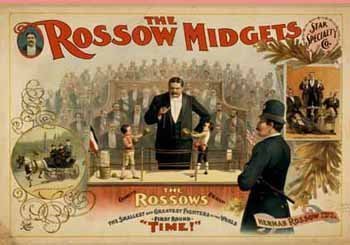 ---