Sheridan & Flynn
Irish comedians & songwriters / 1890s

Sheridan & Flynn's Greatest Hit!
- Down Went McGinty -
(from: Vaudeville Old & New: An Encyclopedia of Variety Performers in America, Volume 1 By Frank Cullen(
"Active in the period from the 1870s through the 1890s, Frank B. Sheridan and Joe Flynn were song-and-dance comedians who specialized in characterizactions of old-sod Irishmen that became as stereotypical as the plantation Negro, the whiny Jew or the thick-skulled German.

In the 1880s, Sheridan & Flynn toured with William Muldoon's Variety Players, a unit show that starred heavyweight prizefighter John L. Sullivan. Flynn wrote the patter songs that he and his partner performed. Their most famous number, "Down Went McGinty" was written while they were with Muldoon, but Sheridan's lack of confidence in the song deferred its introduction for a few years until the pair was performing on their own on a vaudeville bill at Hyde & Behman's Adams Street Theatre in Brooklyn.

The lyrics offer an example of the boisterous humor of the day:

"Sunday morning just at nine, Dan McGinty dressed so fine
Stood looking up at a very high stone wall
When his friend Pat McCann says, 'I'll bet five dollars, Dan,
I could carry you up to the top without a fall.'
So on his shoulder he took Dan, to climb the ladder he began
And soon he commenced to reach up to the top;
When Dan McGinty, cute old rogue, to win the five he did let go
Never thinking how far he'd have to drop.

Down went McGinty to the bottom of the wall,
And although he won the five he was more dead than alive,
Sure his ribs and nose and back were broke from getting such a fall
Dressed in his best suit of clothes."

Over the next three verses and choruses, McGinty went to the hospital, got out, jumped down a coal pit,
got tossed in jail, finally jumped in the river - but always "dressed in his best suit of clothes."
---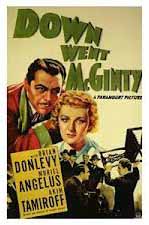 - 1940 Paramount movie based on the song title -
---
Tony Pastor's 14th Street Theatre / NYC / Vaudeville Program / November 18, 1889

---
---