St. John & Lefevre
song and dance/ early 1900s
(Frankie St. John & Johnnie Levre)
---
Cambridge Chronicle
May 26, 1906
Keith's Theatre-Vaudeville
"... St. John and LeFevre in a singing and dancing specialty..."
---
The Billboard (pg19)
February 3, 1906.

"St. John & LeFevre: En route with the Funn; .Mr. Dooley Co. See Musical Routes."
---
Manager's Report; Union Square Theatre
June 12, 1905
Criticism list:
Man and woman, singing, dancing and a few imitations.
The same act as presented here before. Always goes over well here and an excellent three show act.
Fourteen minutes in one."
---
The Index, Volume 11
1904 - Pennsylvania Grand Opera House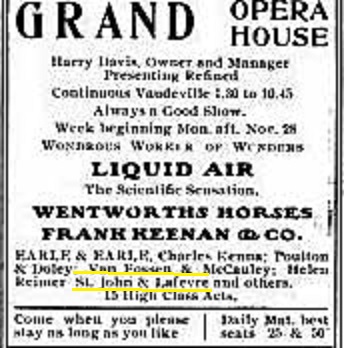 ---
Programs: