Friganza was born Delia O'Callaghan in Kansas and raised in Ohio by her mother with two younger sisters, four women forming a tightly knit unit. She was educated at St. Patrick's School in Cincinnati, beginning what would become a lifelong allegiance to the Catholic Church. "Friganza" is her mother's maiden name , which she found to be suitable for the stage. A friend christened her "Trixie" and the name stuck.
Motivated by the desire to provide more for her family and the responsibility she must have felt due to being the oldest of the three daughters, she auditioned for a chorus girl position in The Pearl of Pekin' (1889). She got the part but in order to avoid any embarrassment to her mother and family (stage careers for women were not considered proper at the time) she opted to begin performing once the production moved up to Cleveland, Ohio.
Her mother was devastated at her daughter's decision to take to the stage. She notified Cleveland authorities who brought Trixie before a Cleveland judge to justify her decision to work in theater. She presented such a compelling and rational case for this career move (she had to prove to the judge that she was neither "silly" nor "stage-struck", that this was a business move) that the judge granted her clemency and telegraphed her mother saying that Trixie was doing the right thing. She remained on stage in some form or another for the next fifty years.
Trixie Friganza was civic minded and socially attuned. On October 28, 1908, Trixie attended a women's suffrage rally at New York City Hall where she delivered a speech for women's rights. She donated money to the cause and repeatedly went on record as an advocate for women's rights, equality and independence. Her own personal life is consistent with those ideals; having taken her mother's maiden name and refusing to leave her career in spite of marriage, she defied society's proprieties and norms, modeling what Susan Glenn calls "New Woman". Friganza used her celebrity status to promote and further the rights of women as well as other causes such as promoting the arts to the economically disenfranshised. Newspapers noted that many performances in which she was involved held performances for orphans and children from lower income families.
Trixie Friganza was quite a beauty, thick or thin, and though she used her occasional single status to sing songs like "No Wedding Bells for Me" and make jokes about being desperate for a man, she had many beaus. Her first marriage was to an unknown man in the late 1890s and newspapers reported that she was divorced from this "John Doe" in September 1899. Her second marriage, which took place during the summer of 1901, was to a Dr. Barry, the physician hired aboard the steamship Bohemian, upon which the cast sailed from Boston. The wedding was held at Stermin's Hotel and those in attendance were fellow actors and cast members of Belle of Bohemia. She and the Doctor were divorced several years later, though the exact date is unknown. On August 20, 1909, tabloids reported that Trixie was to be engaged to Nat M. Wills, but nothing more was said of this and she did not in fact marry him. Her third marriage, taking place in New York on March 10, 1912, was to her manager, Charles A. Goettler. She filed for a divorce in the summer of 1914 on the grounds of "failure to provide" and "cruelty". Records do not indicate that she was ever married again. During all of her marriages she never changed her name and was adamant about continuing her career in show business. There were no children.
Canary Cottage – 1916–17 (role of "Blanche Moss")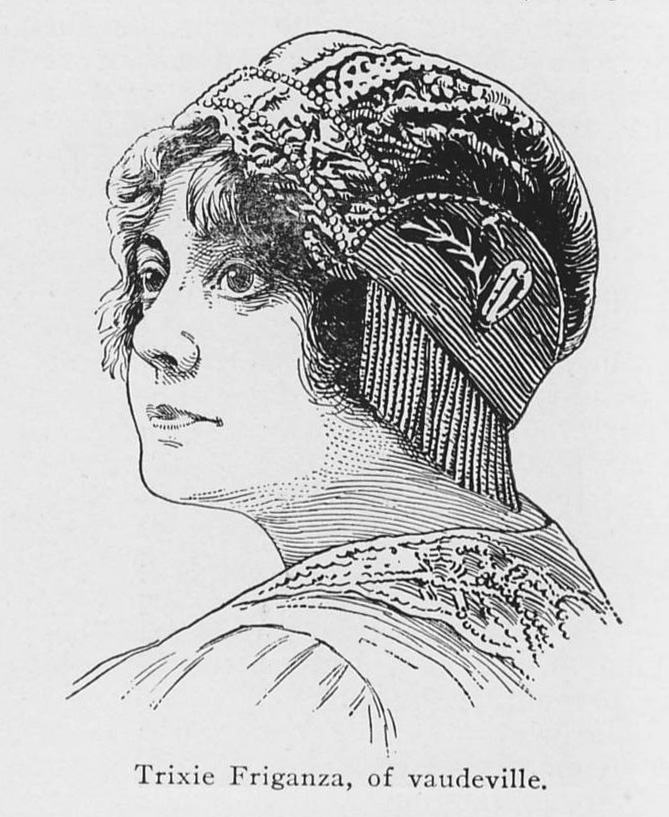 Vaudeville career:
(1906–1932) Trixie Friganza easily made the transition from musical comedy to vaudeville though her first vaudeville appearance is a contested matter. The newspaper, Brooklyn Eagle claims that her debut was at Keeney's Theatre, May 6, 1905, whereas the Encyclopedia of Vaudeville lists her first appearance at the Hammerstein's Theatre in New York, NY, in the summer of 1906. Regardless, from that time forward she shuttled back and forth between the theatre and the vaudeville stage until 1912–1913 when she began working primarily within the vaudeville circuit. Her fame as a comic actress buoyed her success and she soon became a headliner, given top billing in the shows.

During her career she appeared at B.F. Keith's Palace Theatre in New York no fewer than ten times, headlining five times from April 1924 through April 1929. Records from the Theatre documented performers' success by rating their reception, applause, counting the number of laughs received and how they finished. Records from appearances during the week ending April 28, 1918 indicate that the audience's response to Trixie Friganza was huge, where she elicited a total of 29 laughs, second only to Charlie Chaplin's motion picture A Dog's Life. In 1919 she toured with an act called "At A Block Party," which featured songs and witty repartee representative of an actual city block party. Frederick James Smith, writing for the Dramatic Mirror (February 8, 1919) called her show "a vigorous comedy act" (Slide, Selected Vaudeville Criticism, pg. 88). During one appearance at the Palace, Variety Magazine called her act, "My Little Bag O' Trix," "a riotous hit" (March, 1920). Other one-woman shows included the "Trixie Friganza Road Show" (1921) and numerous others that she performed untitled.

She performed many successful acts, many of which revolved around her plus-sized figure, which she described as the "perfect forty-six", and the trials and tribulations of love (Slide, Encyclopedia of Vaudeville, pg. 199). She was an advocate for being plump, topping the scales herself at 180 lbs, and went as far as suggesting that her success as a comic correlated directly to her mass. On July 21, 1915, the Dramatic Mirror reported successful completion of a 75-week tour on the Keith vaudeville circuit; during that span of time she never missed a performance, never was late or was involved in any altercations with the stage or house manager.

In 1929, Trixie made a ten-minute Vitaphone short titled "My Bag O' Tricks," available in the Warner Bros. DVD of The Jazz Singer. The first minute of the picture is lost to nitrate decomposition, but the entire Vitaphone soundtrack survives, preserving a glimpse of what must have been part of her vaudeville act of the time.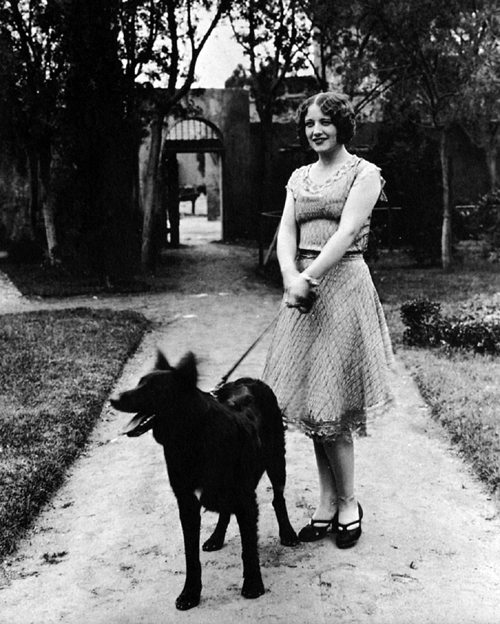 Filmography:
Mind Over Motor (1923)
The Charmer (1925)
Proud Flesh (1925)
The White Desert (1925)
The Coming of Amos (1925)
The Road to Yesterday (1925)
Borrowed Finery (1925)
The Waiter from the Ritz (1926)(* not released)
Monte Carlo (1926)
Almost a Lady (1926)
The Whole Town's Talking (1926)
A Racing Romeo (1927)
Gentlemen Prefer Blondes (1928)
Thanks for the Buggy Ride (1928)
My Bag o'Trix (1929) (*short)
Free and Easy (1930)
Strong and Willing (1930) (*short)
The Unholy Three (1930) (*uncredited)
Myrt and Marge (1933)
Wanderer of the Wasteland (1935)
Silks and Saddles (1936)
A Star is Born (1937)
How to Undress in Front of Your Husband (1937)

Written works:
During her career Trixie Friganza published articles and poems in newspapers, some of which still exist today in the Robinson Locke Collection at the New York Public Library for the Performing Arts. Those still available (mostly on microfilm) are listed below accompanied by a short description of content.
-"Ballad" – From the "Trixie Ballads," published in 1903 in an unknown newspaper
-"Comediennes Chosen By Weight" – April 1907, Newspaper Article (This article written by Trixie argued that in the future female comics would be selected not based on reputation, rather on their excess pounds. She recognized the value of having thin actresses play leading dramatic and romantic roles, but if any woman would succeed in comedy it would be the larger lady of the two.)
-"Six Trixie Friganza Tricks Which Make Women Laugh" – May 16, 1909, Chicago Tribune The article derived from an interview in which the reporter quoted T.F. at length, her dialogue comprising over 70% of the text. In it she shares her desire to play to women's sense of humor, encouraging their laughter, and the theatrical strategies necessary to do so.
-"These Stories" – June 26, 1910, published in an unknown newspaper A collection of humorous short anecdotes, most of which seem to derive from real life experiences and place the woman as the humorist or satirist.
-"Bromides" – February 3, 1915, poem in New Jersey Star The poem documented the internal questions and worries of a stage actor. [edit] Quotes"Once I asked Miss Friganza, why people laughed at her. 'They don't', she said, 'they laugh with me. Or at least I like to jolly myself into believing that they do. You know I wasted a lot of time trying to be pretty and cute and all that sort of thing." From Dramatic Section, "Her Breadth is Her Meal Ticket, Quoth the Mirthful Trixie" by Archie Bell
-"'I do not believe any man –at least no man I know –is better fitted to form a political opinion than I am.'" From the New York Telegraph, Oct. 27, 1908 (archived in the Robinson Locke Collection, Vol. 220).
-"I make it my business to compel women to laugh. Now you will understand that I understand when I tell you that I can always do this. When one woman can compel another woman to laugh heartily and earnestly, she understands her sex pretty well, eh?" From the Chicago Tribune, "Six Trixie Friganza Tricks Which Make Woman Laugh," published May 16, 1909
Nicknames: "The Cincinnati Girl", "The Perpetual Flapper"" ( Billboard / 1931), "The Champagne Girl"
References:

- Trixie Friganza at IBDb.com database
- Encyclopedia of Vaudeville, Anthony Slide, p. 199
-Glenn, Susan. Female Spectacle: The Theatrical Roots of Modern Feminism. Cambridge, Mass. & London, England: Harvard UP, 2000.
-Odell, George C.D. Annals of the New York Stage, Vol. 15: 1891–94. New York, NY: Columbia UP, 1949. (Chapter I & VII)
-Robinson Locke Collection of Theatrical Scrapbooks, New York Public Library for the Performing Arts, Lincoln Center, Volume 220 (Microfilm).
-Slide, Anthony. Encyclopedia of Vaudeville. Westport, Connecticut & London: Greenwood Press, 1994, pp. 198–99.
-Slide, Anthony (Ed.). Selected Vaudeville Criticism. Metuchen, New Jersey & London: The Scarecrow Press, Inc., 1988, 88.
---

The Daily Review; Sunday, January 02, 1910, Decatur, Ill (pg.12)
-Three Big Stars Here This Week: Bose Stahl, Trixie Friganza and Blanche Bates.
"The American Idea'...'Trixie Friganza herself is known as one o£ the most attractive musical comedy stars.
She has a long line of successes behind her, but at no time has she exceeded her present high mark."
---
- Interview -
Syracuse Herald; Sunday, November 22, 1931, Syracuse, NY (pg.43)
- Trixie Friganza, Grand Old Trouper, Discusses Boys and Girls of Today and Those of 40 Years Ago

"I'm glad I've lived in both ages." smiled Trixie, as she reclined — wrapped in a gorgeous Spanish shawl—on her chaise longue in the theater, waiting the call boy, pardon me, the electric bells. "I played right across the street, about 40 years ago. It looks like a shooting gallery now.

This getting up in the unearthly hours of the morning before noon is what kills me; these milkman matinees. But it goes with the trend of the times. If they want to laugh at 9 o'clock in the morning, why that's just great."

"The good old days, now," I began timidly.

"There's no comparison," laughed Trixie Friganza. "between those and these, it's like a lemonade with a wicked dash of phosphate compared to one of those sun-kist lemonades of today With a big slug of gin. And the old parties, what simple, innocent fun they were. Can you imagine a lot of college girls playing postoffice? Can you imagine them gleefully tying a large male silk handerchief about a student's eyes, today. and them all dancing around him, crying. 'Pick out the girl you love the best?

Blind-man's bluff indeed! About that time of the evening nowadays the boys would need toothpicks to keep their eyes open." (This may. not seem to apply to these fast times, but It's a little subtle -- think it over.)

"Imagine a 1931 debutante taking her spinning-wheel and a lot of yarn, or a lot of patches out in the country to make a patch-quilt. 'From Aunt Dinah's Quilting Party, I was seeing Nellie Home'," sang Trixie in the voice that has held two continents In its magic spell.

"Now they tote along a lot of cigarettes and a bottle of gin. Well, I'm glad I lived In both ages, yes, indeed. And the days of the hoop-skirt? My dear, how many of them could walk down a street now on a Sunday afternoon - about three to a block - and how many dozen could you get in a football stadium? Oh, that was a wonderful age. But this one is marvelous.

If a gentleman today should stop to bow and murmur over a lady's hand as in those good old days — why, before he could say 'How do you do,' he'd be trampled to death. And you remember the big hats, 'picture hats' they called them. And the big, long hatpins? What a protection they were from a too forward gentleman friend. When they dared to take away our hatpins, that was the beginning of the end. Her great weapon gone, what did women do at once, why shorten her skirts, so she could run faster, make better speed. Naturally, her daughter was a flapper. Evolution!

And the dear old dances; the quadrille and the gavotte. Were they stately! Heel and toe, and away you go. With soft, entrancing music — mellow as harvest moonlight - you would bow and he would courtesy and you'd both change hands, and when the prompter directed you, not before, you'd changed partners! Now In the middle of a perfect African pandemonium, you just knock a guy on the head and grab his girl away. The days of 'do-se-do' and 'forward and back' are gone for-ev-er."

"The sleigh-rides." I suggested.

"Indeed, a straw-ride was an event. And you were darn glad to have a guy sit beside you, even with dignity, for they were cold, those cold old New England nights. Now, if you don't sit on the gent's lap, you skate home, that's all. Oh, but the New Year's Eve calls. That was a ceremony. All dressed up in furs and veils and feather boas, vou Would jingle from house to house in the one-or-two or four-horse open sleigh. The air was filled with the sound of bells and laughter and song. The champing steeds would be drawn up with a flourish in front of the brownstone front. How many of these there are in Boston, and how lonely they look today. With much bowing and scraping, and many a jest, the party would troop into the house ablaze with candelabra, and good wishes and happy New Years would fly around. The cup of good cheer would be drunk — hot splendid wine, or hot rum punch, from the Indies, while friends gathered round the great log fire to sing an old-time ballad. Then on to the next house where the happy scene was repeated.

Now, everybody gets together all the alky possible, and try to see how many tables they can tip over, how many heads they can break before breakfast, while the young folks run screaming through the streets, blowing horns, and smashing windows. Now it takes you till the I5th of January to pay up and get caught up. In the old days a lady was always the lady, even after many calls, and with her hat over one ear - it did happen — they would still wish you a happy New Year. That was in the days when the motto on the wall, 'God Bless Our Home.' really meant something. Now it's a target, and about all it gets is the Bronx cheer.

They made resolutions in those days,"laughed Trixie, "and what's funnier yet, they usually kept them. For two weeks after New Year's, if you saw a friend looking very serious, you knew how hard he was trying, and tried to help him, too. Now they make fun of you all the time if you are that rash, and do all they can to pull you off the wagon, and where are you? And Valentine's Day. A day to send gorgeous lacy tokens of love, crimson hearts pierced by golden Cupid's arrow. Now it's a mud-slinglng contest. Fourth of July used to be a solemn national holiday when we celebrated our freedom. Now, while one fellow is popping a giant cracker, another guy takes the opportunity to get a machine-gun Into action, shoot a few warm personal enemies, perhaps wing a baby or two. Christmas we sang carols and rejoiced in the coming of the world's Saviour. Many forget all about His birth now in a frantic effort to outdo their friends sending presents. Thanksgiving was a day of prayer remembrance of God's bounty; a day of simple graces and family reunions. Now it's out to the football game most of the day, and all night in the night club or the road house. Don't think I don't like these days. I love them!"

"The theater has changed considerably, I imagine, since you played 'Sally in Our Alley," said I.

"Ah! the theater." smiled Trixie Friganza, "the gorgeous ballets and the lovely music. We haven't time for that any more. You spend years and years accomplishing something, and then you have to 'show them' in 12 minutes. And they say my diction is marvelous. Ha, ha! Could you picture E. H. Sothern or Julia Marlowe doing their stuff In a modern show? By the time E. H. walked across the stage, before he had really got his hand out in a fine gesture, they would have rung down the curtain. People wonder what has became of the fine old theater. Imagine Booth declaring 'To be or not to be.' Why, dearie, I have to go three songs while he would be doing that.

I could throw an orange from my dressing-room here and hit the theater where I played 'Venus.' with Henry K. Dixie and Anne Southerly in 1893. The story was laid In Olympus, and Venus was The Star Queen of the heavenly regions. She sent Ganymede down to earth. When he failed to re-appear, she sent Jupiter after Ganymede. And that gent brought Jupiter back on top of a cloud, stiff, plastered, a little bit pickled, as they used lo say. Tnen Venus gave us both the dickens, or 'hell,' as the boys would say. That was considered awful rough. Now they would say, 'Don't show us how. Let's have action. Start with the drink.' And Venus would be ihe one who was lit up like a movie cathedral. In one of my movies I slaved over a song for days to make it perfect according to the fine old standards, and when the picture appeared it wasn't there at all. If the movies send for me, it's great. And if they don't, that's great, too. I don't stand up with a bow in my whlte hair and a big sash on the piano, singing an old ballad. I snap my fingers and go into a tap dance. I use the present-day lingo, so they'll get it. It's just too bad If you try to high-hat the modern generation.

A lot of folks kill me when they say, 'Don't you think the dear old "Drahmer" will return?' Oh, how I'd like to go somewhere and see somebody chew up a lot of scenery. We really ought to have a theater for the old-timers. They couid take all day to get there in carriages and carryalls. They could cheer the Hero — to the Echo — and roughly hiss the villain when he took his bow. That would be marvelous! "When the villain had sneaked away, leaving the Poor, Abandoned, Betrayed, Despairing, Tearful, Young Female with a tiny, pink bit of squalling humanity, who was it stepped forward, crying 'I will be the Father of this Child:' Who, but the Hero?

Can you picture how the Balcony Scene from 'Romeo and Juliet' would go with the present generation? A dressily, romantic girl, with long braids, handing a flower to a guy in tights. She would throw the whole flowerpot at him in the 1931 model, and he would go into a tap dance. I'm so glad I've lived in both eras. And now I'm enjoying the show. Age don't matter a bit now," declared Trixie. "All you need Is a sense of humor and health."

"Styles have changed in love-making, too, I imagine." I said.

"Have they? And considerably," she replied. "Shall I picture one of those furious declarations for you? The man would coyly approach the Woman, of his dreams and put his arm half-way around her waist. In a very reluctant manner, she would allow the arm about said waist. Then she would put her head on his shoulder shyly. We would glance down with a 'God-give-me-strength' look in his eyes. And she would look up at him murmuring to herself, 'God give me strength to be weak.' Then both would look up, each asking for strength in their own way. yOU remember 'Hearts and Flowers'? — that's the tempo of this scene. Very slowly and carefully, the Lover would then separate his mustache, and getting the rest of his beard out of the way way, give the Beloved just a peck -- it took nine years to prepare just for that; to get set, you might say — and half a second to do it. That was in the days when Romance was a Grande Passion. Why, lots of boys and girls were 'engaged' all their lives. Nowawadays they kiss first and ask for strength afterwards. Yes. Dearie, today it's a racket. They see each, other. He says, 'Babe!'—They kiss, clinch — and so what?"

"What athletics did you engage and excel in when you were in school," Trixie Friganza was asked. "Wrestling with spelling and writing." she continued.

"And if you had your whole life to live over again, what profession would you choose?"

"The same one. and I'd start right in where I did, in the chorus."

Someone once put the bright question to her. "What would you do with a million dollars, if a legacy suddenly fell in your lap?" Trixie replied, "I'd give one quarter to orphans; one quarter to disabled soldiers; one quarter to my sister; and one quarter to the actors' fund." Which is just about what she'd do. One mere bright question occurred to your correspondent. "The Stage Door Johnnies?"

"If I ever walked out the stage door," replied Trixie, "and saw an old time Stage Door Johnnie, with white kid. gloves, tall silk hat and a bouquet of flowers in his mit — and he'd invite me out to have a 'bottle and a bird,' I'd faint and I wouldn't come to till I was on my own back porch out in California — and retired!"
---
B.F. Keith's Brooklyn Theatre / Vaudeville Program / April 9, 1923

---
---