Chin-Chin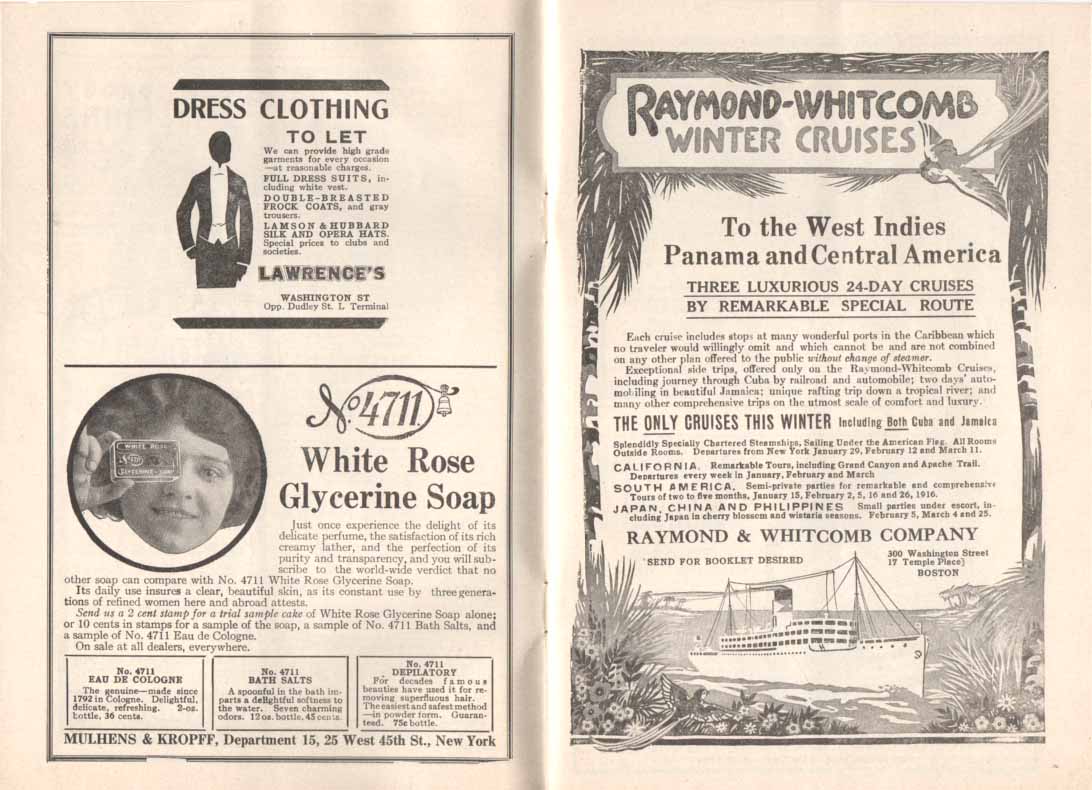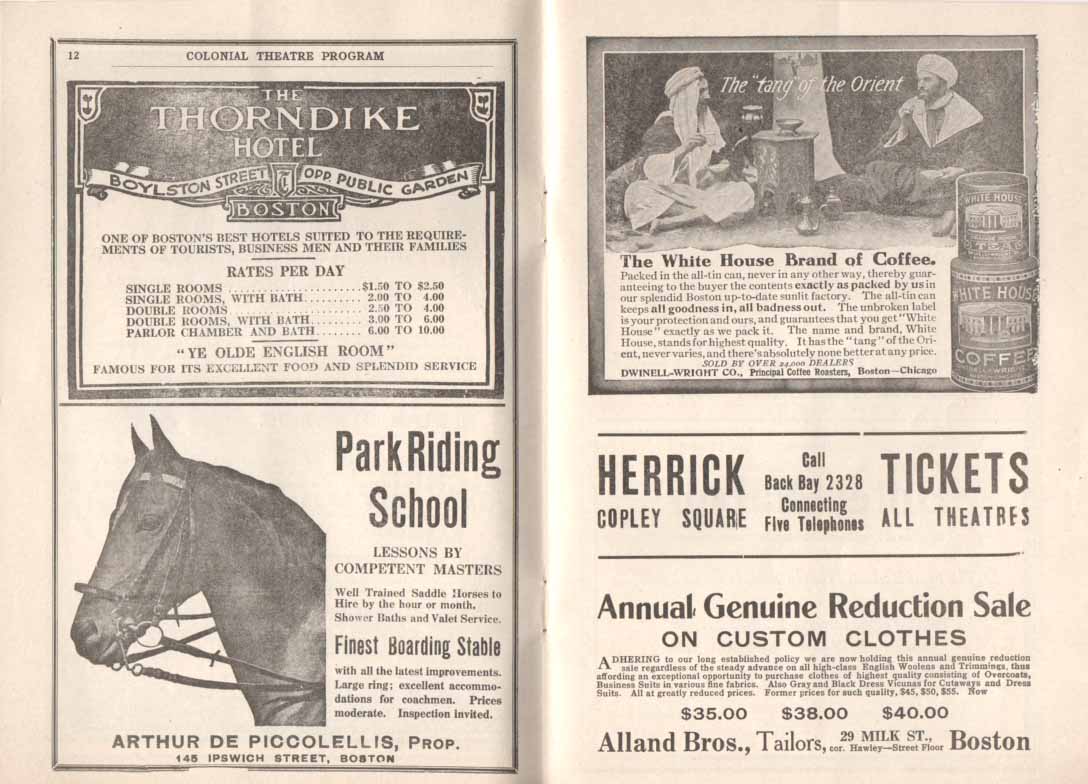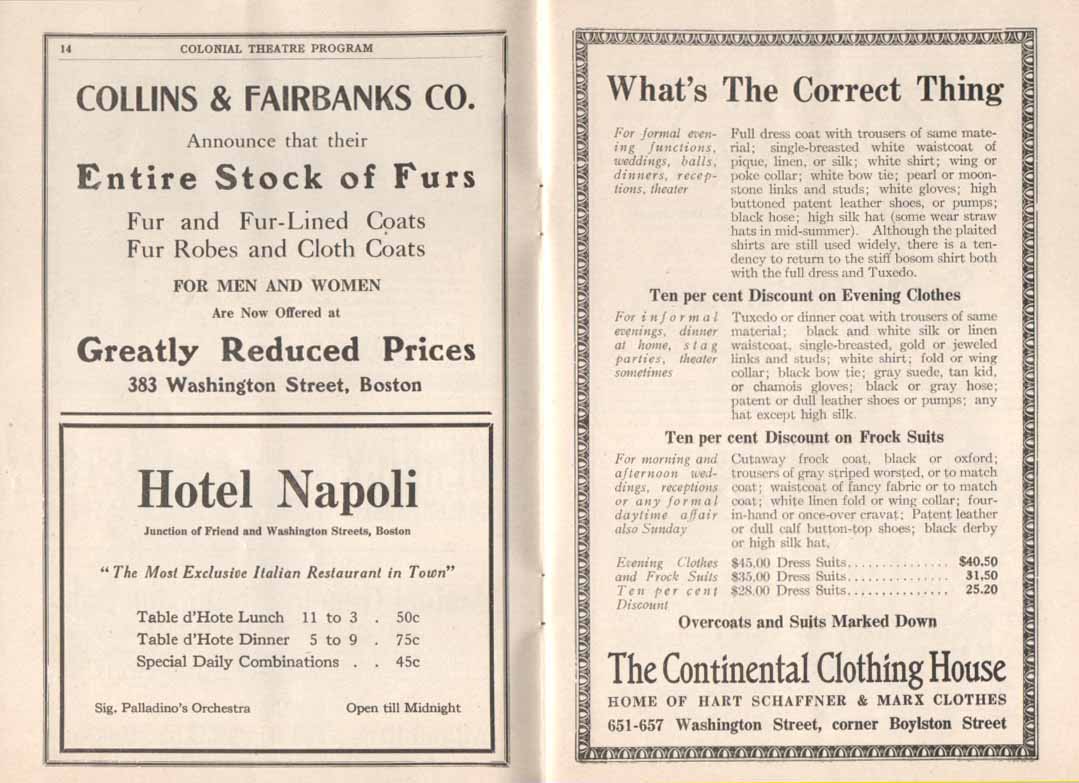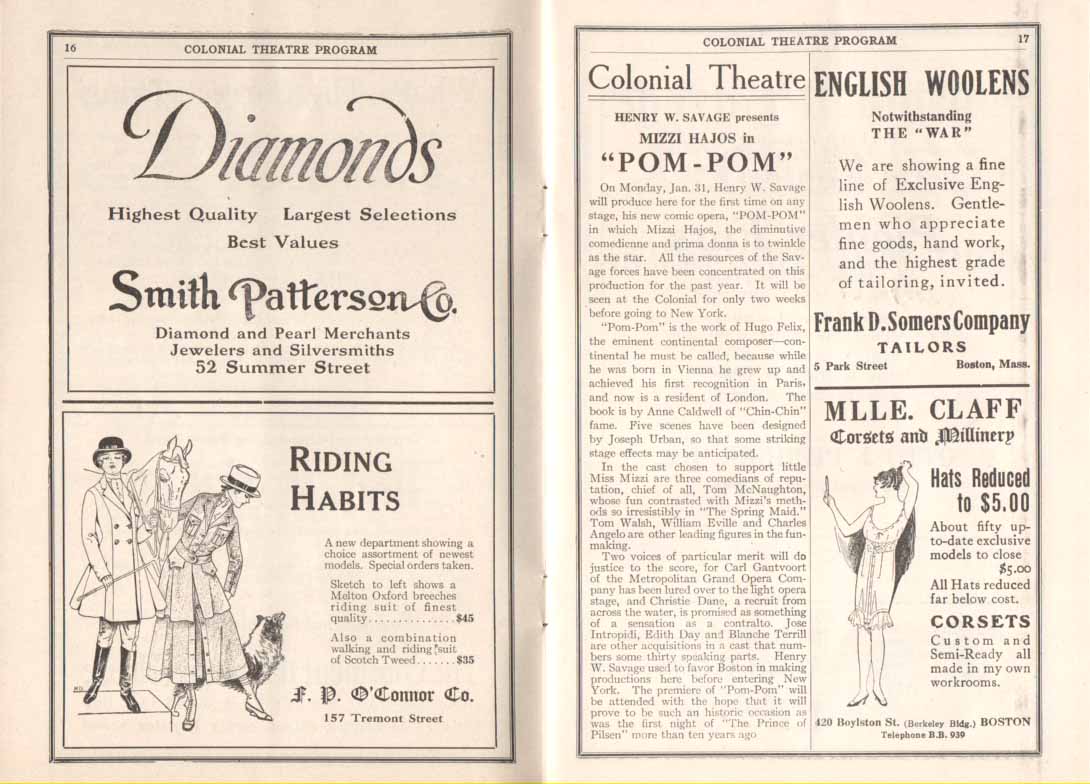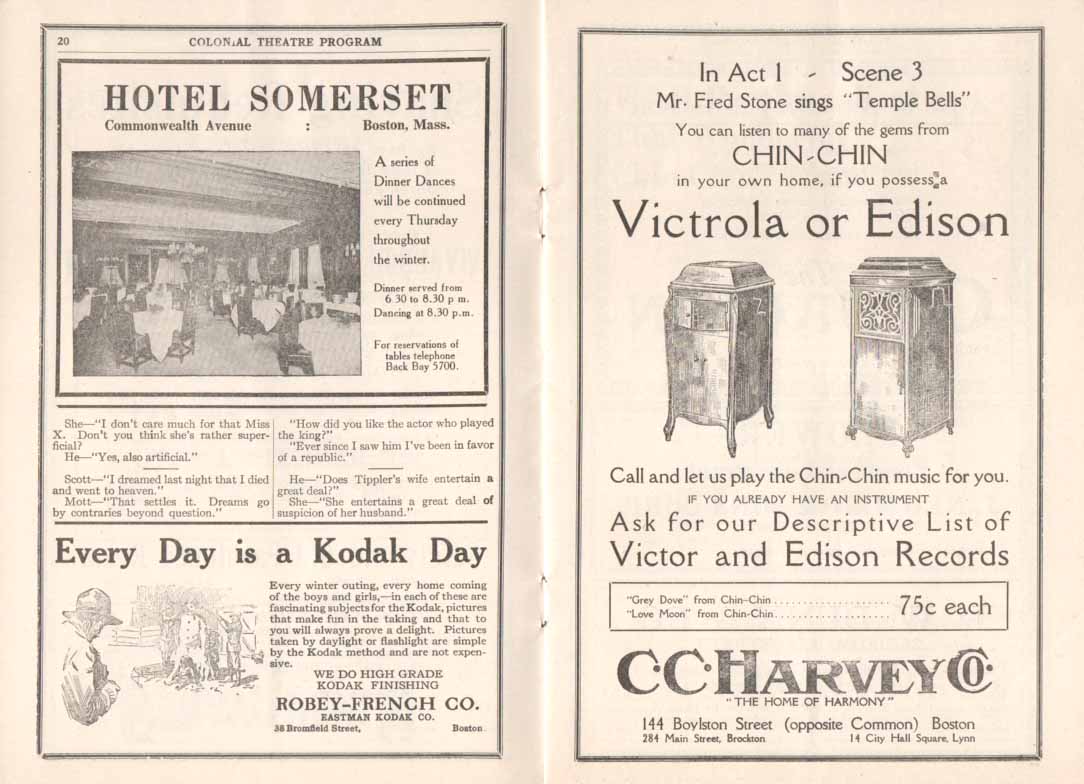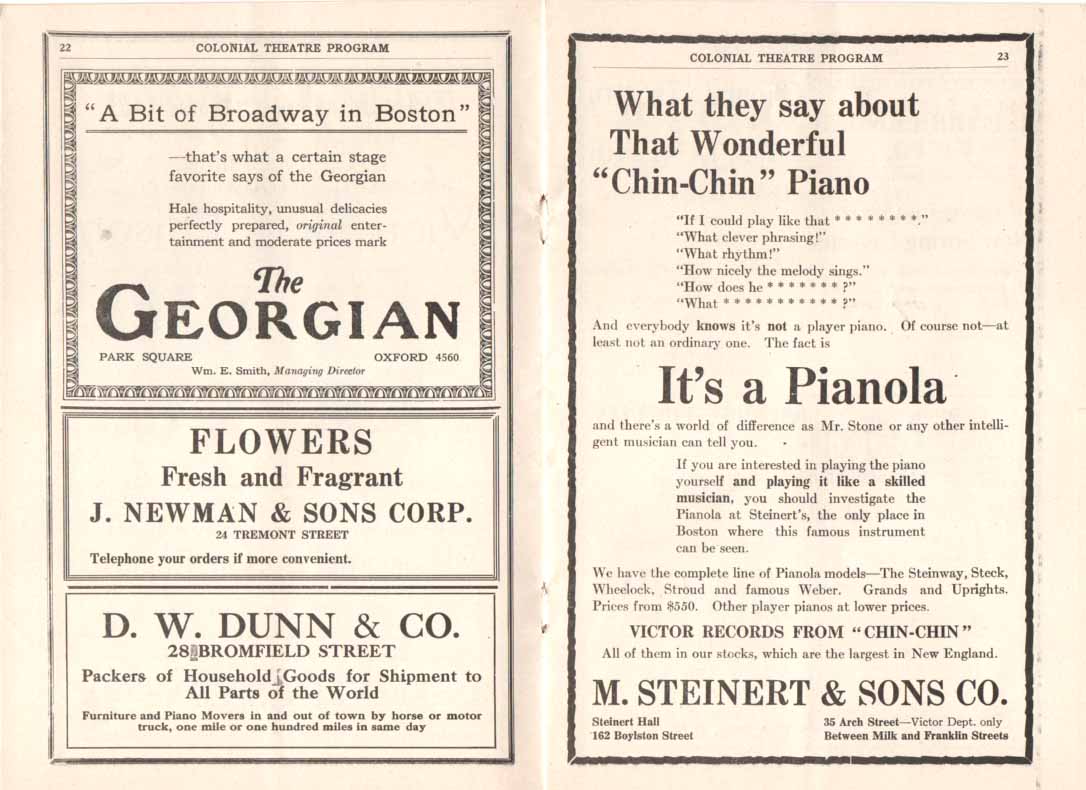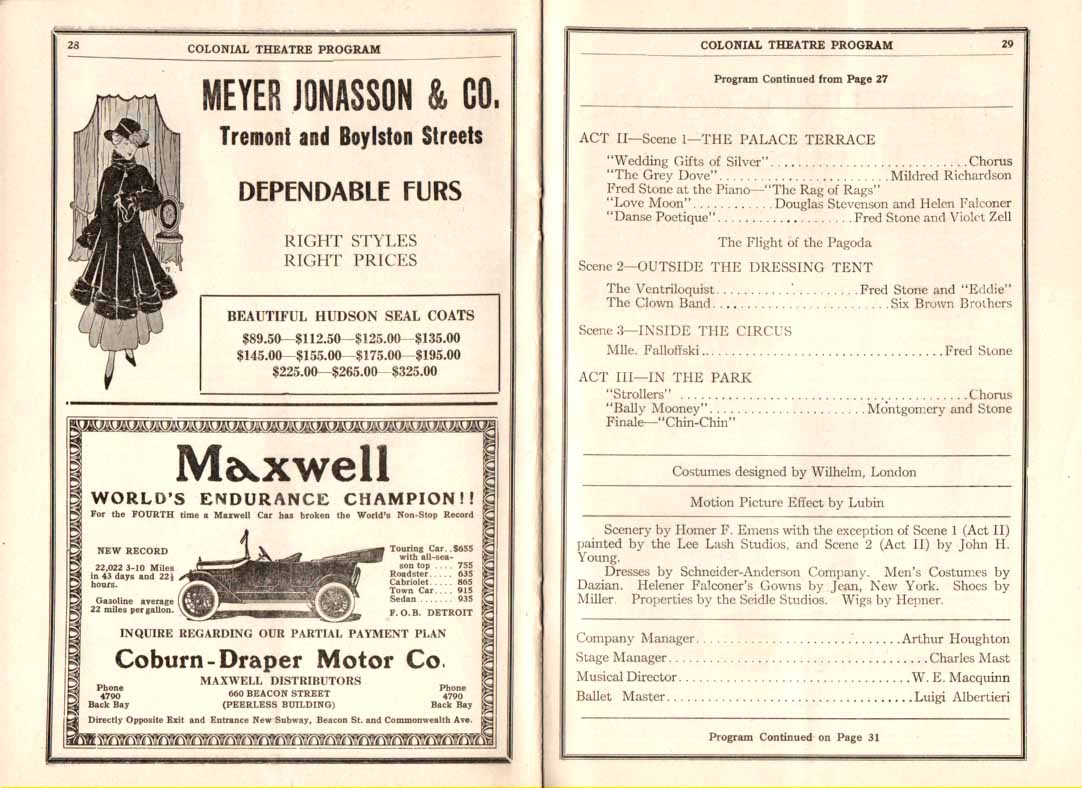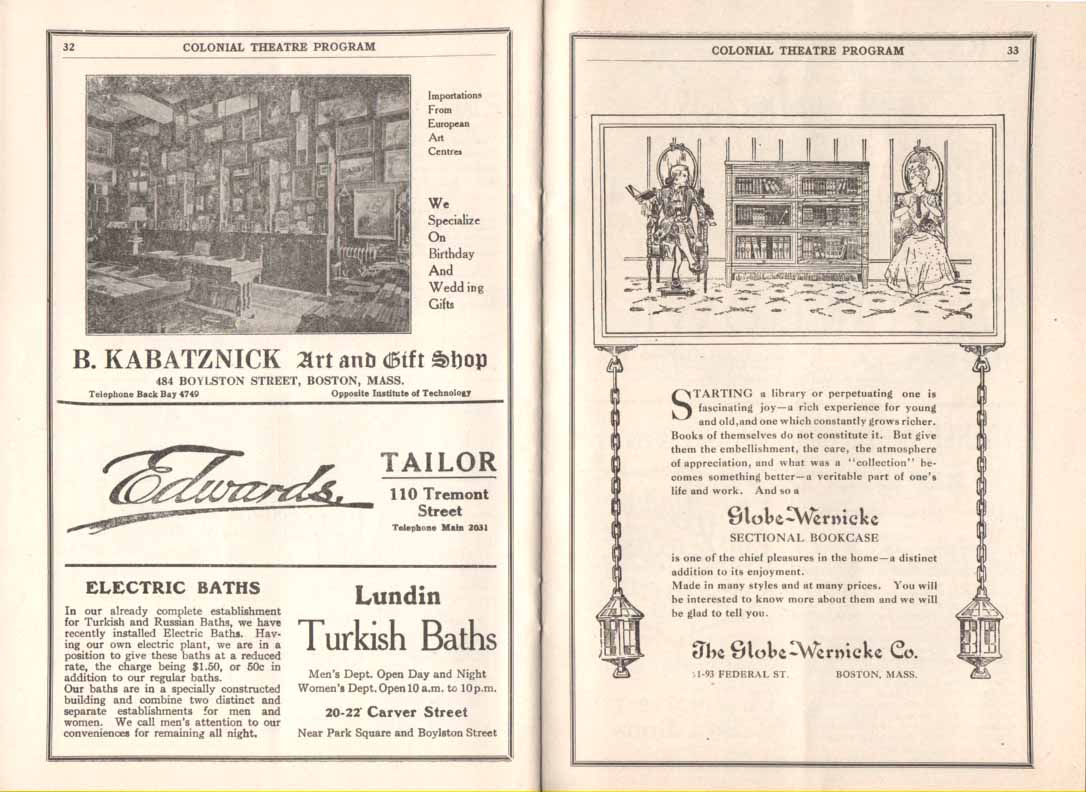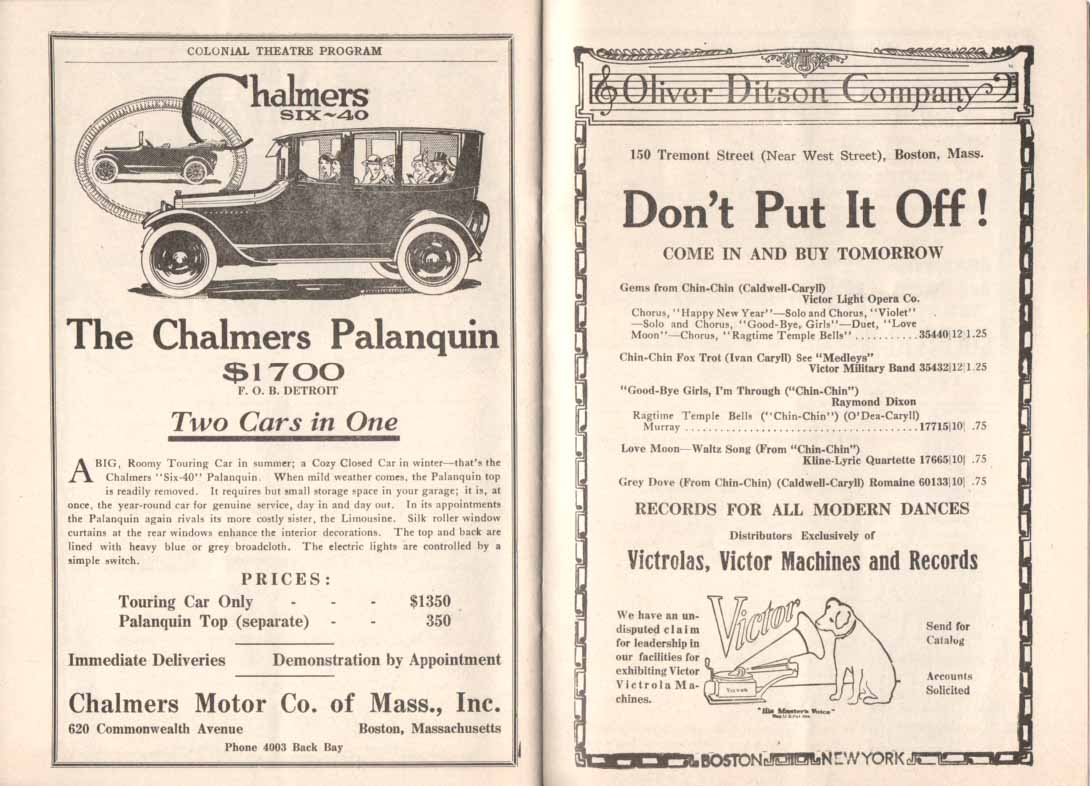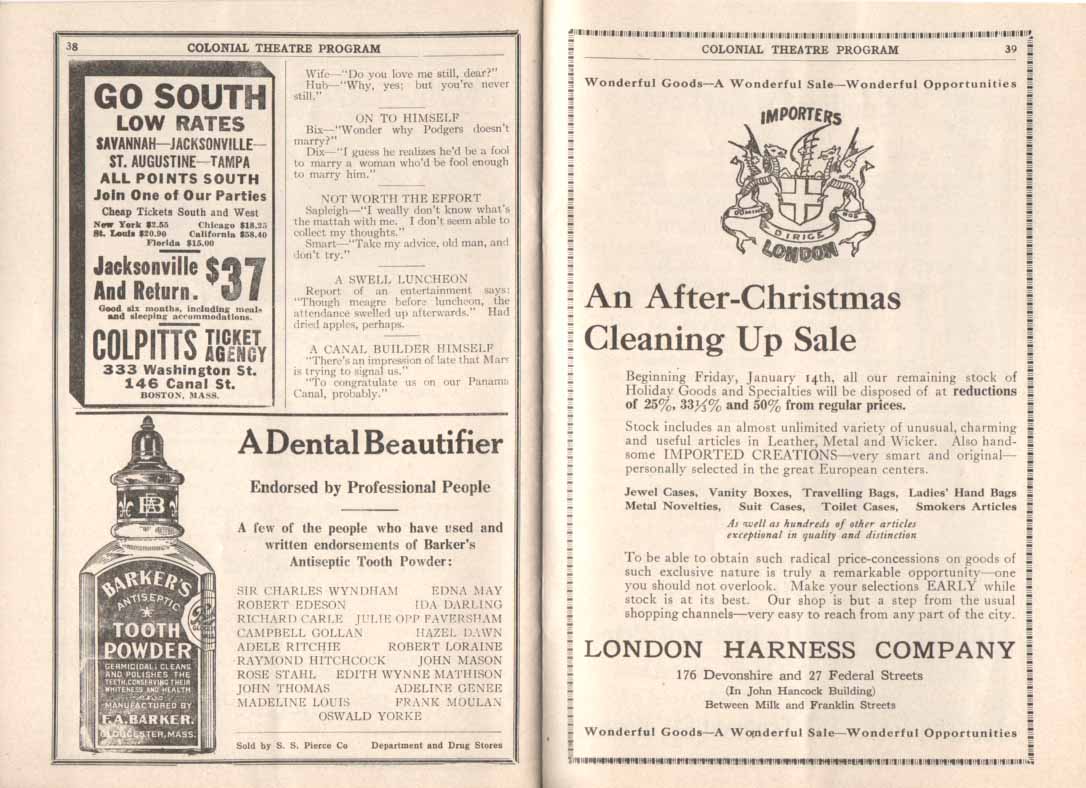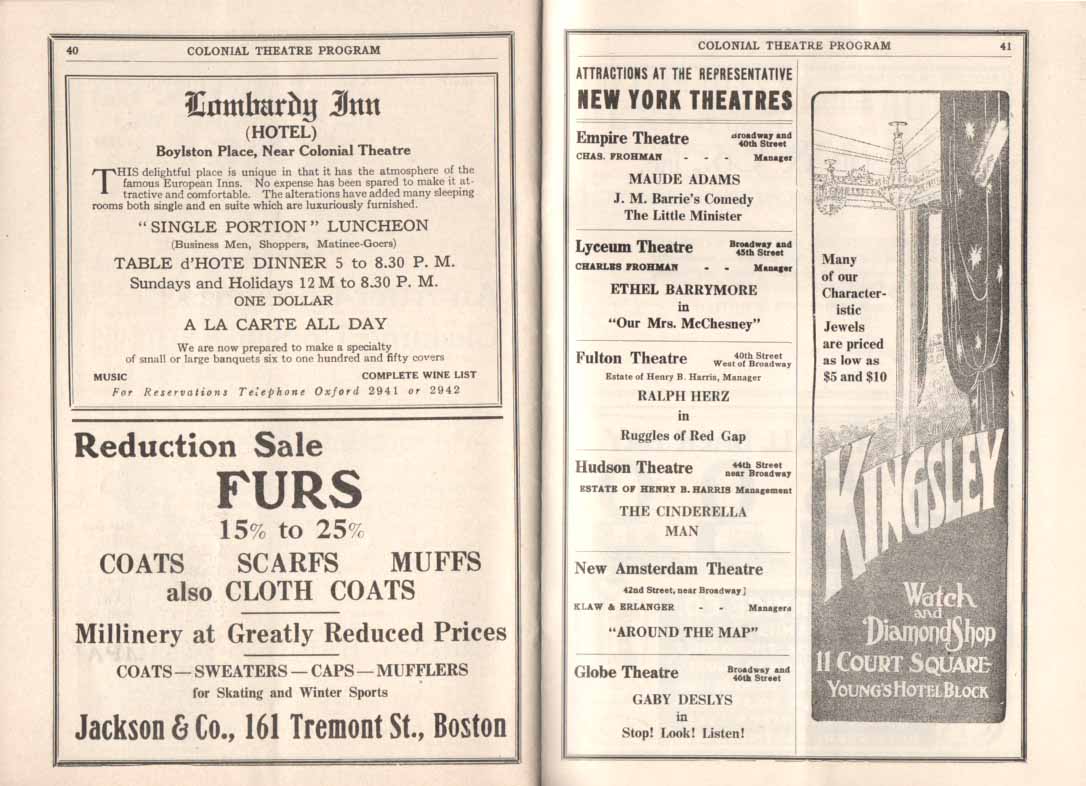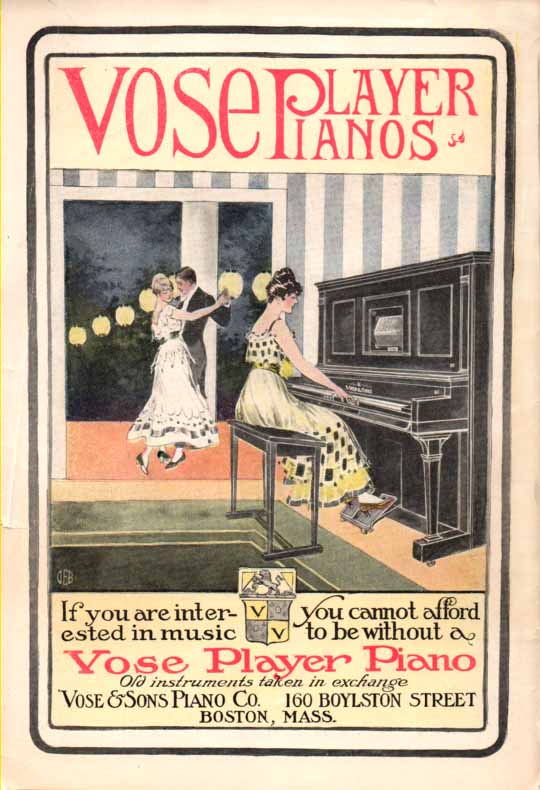 On Broadway, Chin-Chin opened October 20, 1914 and closed July 3, 1915 at the Globe Theatre.
Montgomery and Stone were the original stars and many of the performers here were in the opening night cast.
(Actual program measures 5 1/2"x 8")
---
Montgomery & Stone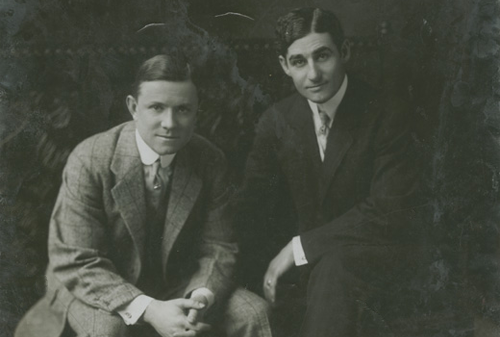 Versatile performers Fred A. Stone and David C. Montgomery formed a unique twenty-two-year partnership that took them from circuses to Broadway stardom.
Acrobat/tightrope walker Stone (1873-1959) from Valmont, Colorado and dancer/contortionist Montgomery (1870-1917) from St. Joseph Missouri gained extraordinary
success on vaudeville circuits and Broadway. They were the original portrayers of the Scarecrow and Tin Woodman in The Wizard of Oz.
Montgomery and Stone Chicago to New York
Stranded and broke in 1895 when Haverly's minstrel company folded in New Orleans, Stone and Montgomery entertained in a music hall, performed in a Chicago casino,
and were invited to entertain at Miner's Bowery Theatre in A World of Novelties.
The Girl from Up There at the old Herald Square Theatre was their first musical comedy appearance. Credited by critics as the most significant cast members,
they travelled to England with the show after its New York run. While there, they learned that director Julian Mitchell wanted to engage them for his next venture.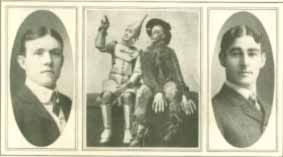 The Scarecrow and Tin Woodman in The Wizard of Oz
Loosley based on L. Frank Baum's book, The Wizard of Oz went into rehearsal with Stone as the Scarecrow and Montgomery in a role that did not allow the usual
comedic interaction between the partners. With some urging, Mitchell relented and Dave Montgomery presented the Tin Woodman (Niccolo Chopper) with sensational results.
With creaky movements and a broad grin, the comic contortionist appeared as a funny and endearing character. Fred Stone's hilarious loose-limbed Scarecrow was given
additional speaking lines after opening night.
The comics' hilarious physical specialties and nonsense songs earned them great applause and long-lasting Broadway stardom.
They stayed with the show through cross-country tours and return engagements until 1905. Additionally, cast member Allene Crater married Fred Stone,
and in their lengthy marriage they raised three daughters who were also performers.
The Red Mill and More Broadway Success
Stone and Montgomery stole the show with their performances as disguise-happy detectives Con Kidder and Kid Connor in Victor Herbert's operetta The Red Mill
which opened September 24, 1906 at New York's Knickerbocker Theatre.
They continued to amaze with performances in The Old Town, produced by Charles Dillingham which opened at the brand new Globe Theatre January 10, 1910.
Critics declared that the show's success was due to Montgomery and Stone's performances as stranded circus entertainers.
A 1912 musical fantasy with music by Victor Herbert, The Lady of the Slipper was the season's most successful production with Montgomery and Stone cavorting
with Elsie Janis who played Cinderella. Stone tied himself "into all sorts of dancing knots and twists" and he and his agile partner Montgomery presented more nonsense
routines that resembled singing, and mocked the old-time style of dancing.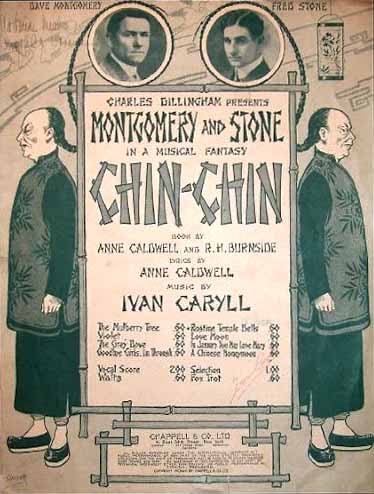 Stone and Montgomery in Chin-Chin at the Globe
The biggest success of the 1914-1915 season was Chin-Chin, the story of childhood playthings coming to life in a Peking toyshop. Montgomery and Stone led the way
"to their unique never-never-land" where painted dolls, tin soldiers, and other toys meet Aladdin and the famous lamp.
The universally-appealing entertainment provided by Montgomery and Stone drew extra-large audiences with children and adults loving their style.
During one period when a serious box office slump occurred, Chin-Chin was the only Broadway show playing to absolute capacity.
---
---
---